BASE Bootcamp - Introduction to Meditation for Entrepreneurs and Leaders

Tuesday, 8 November 2016 from 19:00 to 20:00 (HKT)
Event Details
Description
Are you feeling TIRED, EXHAUSTED, UNINSPIRED? As a leader or entrepreneurs, we could easily have brain and stress overload. Without proper relaxation, our efficiency and emotions will be harmed in the long run. Feeling tired exhausted uninspired? Come rejuvenate your joy and rekindle your creativity with Aarshi Asmita from The Art of Living. Are you ready to join us in this journey to inner peace?
你是否感覺到疲累、虛脫、無靈感? 作為領導者或企業家,我們常常不經意地讓大腦和壓力超載。 沒有適當的放鬆,我們的效率和情緒將從長遠受到影響。 是時候花時間振興你的創造力,通過冥想與The Ar of Living的Aarshi Asmita喚醒你。 準備好加入我們這個通往內心和平的旅程嗎?
Activity Details
Dates and Time:         Nov 8, 15, 22, 29 (Tue)  | 19:00 – 20:00
Location:                     The BASE Indoor Area, 1/F, Lift 29-30, HKUST
Language:                   English
Quota:                         25 (First-come-first served by payment)
Program Fee:              HK$ 200 (The Application Fee will be refunded if the HKUST Staffs & Students attend all sessions)
Note:                            Your application is registered successfully only when your application fee is well received.
Reminders
- Wear comfortable clothes that you can do stretches and simple yoga in
- Bring your own yoga matt if possible and a bottle of water
- 穿著輕便服裝來做拉筋和瑜伽
- 帶備瑜伽墊和一瓶水
Payment Methods
All (HKUST & Non-HKUST Participants)
HKUST Students & Staffs:
Pay Cash to the Cafeology Representative at The BASE on Friday from 12:30 to 18:00

Pay Cash to Mr. Endy Chow during the office hour (10:00 - 17:00) at Room 3611, Lift 29-30 in the following date: Nov 2 (Wed), 4 (Fri), 7 (Mon) & 8 (Tue)
Workshop Contents
Nov 8 (Tues) | 19:00 - 20:00 - Introduction to Meditation
A talk on understanding what is meditation and what it is not. Warm-up, breathing exercises and Yoga followed by a twenty minute guided meditation.
Nov 15 (Tues) | 19:00 - 20:00 - Understanding the Mind
A talk on the five modulations of the mind and how to observe them. Ashtanga Yoga and Bhastrika (The Bellows Breath) followed Five Elements Guided Mediation.
Nov 22 (Tues) | 19:00 - 20:00 - The Breath and Emotions
A talk on Understanding the connection between the Breath and Emotions. Followed by Sun Salutations and Transforming Emotions Guided Meditation.
Nov 29 (Tues) | 19:00 - 20:00 - Bringing Meditation into Daily Life
Methods of incorporating meditation into daily practice. Sukhsma (Subtle) Yoga followed by Guided Meditation called, "Contentment."
Enquiry
Please contact The BASE Team (base@ust.hk)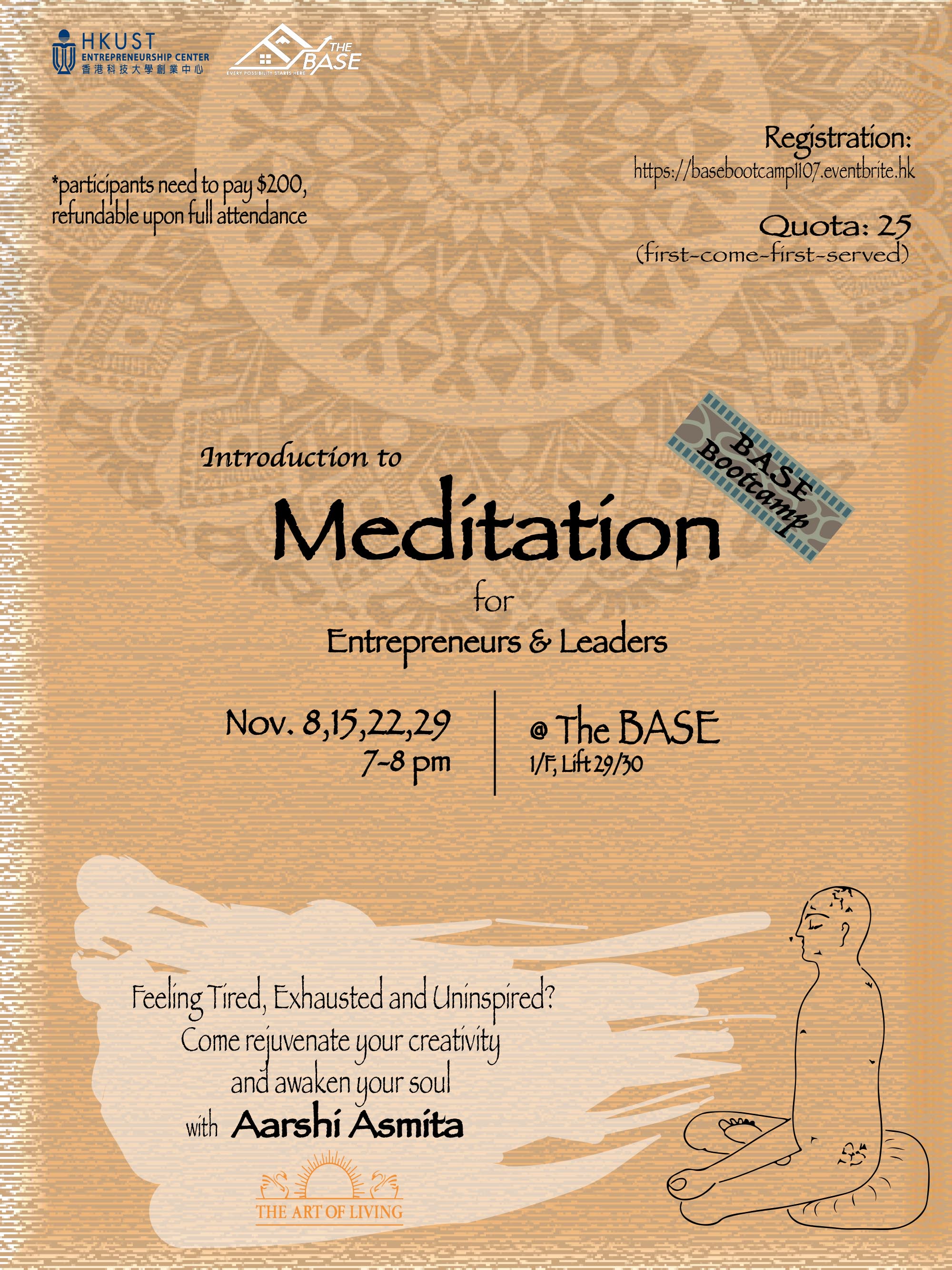 Do you have questions about BASE Bootcamp - Introduction to Meditation for Entrepreneurs and Leaders?
Contact The BASE
When & Where

Hong Kong University of Science and Technology
The BASE, 1/F, Lift 29-30
Clear Water Bay
New Territories
Hong Kong SAR China

Tuesday, 8 November 2016 from 19:00 to 20:00 (HKT)
Add to my calendar
Organiser
The BASE is a student-driven community supported by HKUST Entrepreneurship Center with a physical co-working space, which aims to promote and cultivate the Entrepreneurial Spirit through different kinds of activities such as seminars and workshops in HKUST & Hong Kong.