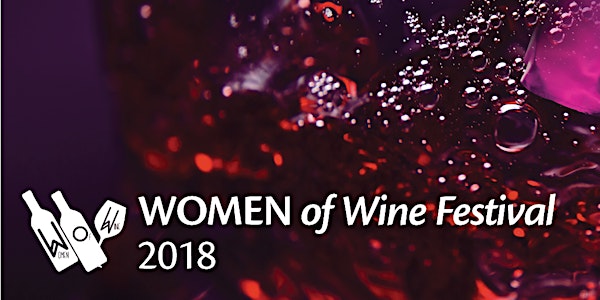 Women of Wine Festival 2018
When and where
Location
25/F, The Murray, Hong Kong, a Niccolo Hotel 22 Cotton Tree Drive Hong Kong Island Hong Kong
Description

100+ global wines by women | Inspirational seminars | Wine workshop
WOW! - Celebrate the International Women's Day – blending wine with inspiration, learning and networking, to enjoy a vibrant and festive evening, with 20 of Hong Kong's trendsetters, business leaders and cultural trailblazers.
Women of Wine (aka WoW) Festival is the ultimate pairing of global wines by women with Hong Kong's top businesswomen and inspirational leaders in celebration of International Women's Day. The event features:
WoW Festival is a fantastic evening of entertainment, education and inspiration and the perfect way to mark International Women's Day.
Please visit our official Facebook page for more details: Wine of Women Festival
Women of Wine Festival 2018
Date: 1st March, 2018
Time: 6:00pm - 9:30pm
Venue: 25/F, The Murray, Hong Kong, a Niccolo Hotel
Address: 22 Cotton Tree Drive, Central, Hong Kong
Price: General admission HK$450 | Premium access HK$780 | Full package HK$950
19:00 – 20:00 Inspirational Seminar 1: Future Leaders – Modern Leadership and Defining Your Leadership Style (FULL)
Modern-day leadership styles have rapidly evolved, with sound leadership qualities essential to gaining executive roles and top job opportunities. Share in a frank discussion with leaders from some of Hong Kong's top companies and key opinion leaders as they share their personal experiences and road to success.
Panel Chair: Ms. Lori Granito, Award-winning Entrepreneur, Professional Speaker Women's Success & Leadership Coach, TEDx Coach
Panelists:
Ms. Randy Lai – CEO, McDonald's Hong Kong
Mr. Nick Marsh – Managing Director Executive Search APAC, Harvey Nash Executive Search
Ms. Gina Wong – Filmmaker and founder, Pineapple Underground Film Festival & Experimentia Art Space
Ms. Elizabeth L. Thomson – Honourary Chairwoman, The Women Entrepreneur's Network; Director, Teach for Hong Kong
Ms. Xania Wong – CEO, JobDOH, Xantana Wine Society
20:00 – 21:00 Inspirational Seminar 2: Next Gen – Next Decade's Top Industries & Growth Opportunities to Prime Your Career
Hong Kong has long been a city of opportunity! Honing in on the top growth sectors for the next decade, we've invited leaders from tech, hospitality, the arts, health/wellness and wealth management to share an update on their industries, discuss and forecast the growth opportunities, and offer insights into gearing or steering your career in the right direction to take advantage of these emerging opportunities.
Panel Chair: Ms. Debra Meiburg MW – Founding Director, Meiburg Wine Media & MWM Wine School; Chair, Education Committee, Institute of Masters of Wine; Wine Consultant, Cathay Pacific Airways & Cathay Dragon.
Panelists:
Dr. Jennifer Cronin

– President, Wharf Hotels (Niccolo Hotels & Marco Polo Hotels)

Mr. Andrew Strachan

– General Manager, Art Basel Hong Kong

Ms. Tricia Yap

– Founder & Owner, Warrior Academy & Goji Studios

Ms. Karen Contet Farzam

– Co-Founder, WHub; Founding Board Member FinTech Association HK

Ms. May Tan

– Managing Director, M3 Capital
19:00 - 19:45 Wine Workshop 1: Rethink Pink - Explore & Celebrate 200 Years of Rosé Champagne, featuring Veuve Clicquot (FULL)
Widely regarded as the world's first female entrepreneur, Madame Barbe-Nicole Clicquot of Veuve Clicquot revolutionised both Champagne production and the business of Champagne. One of her major achievements was creating the world's first blended rosé Champagne. Explore the history of Champagne and rosé Champagne, discover how it is made, and taste examples of the finest quality rosé Champagnes, as well as still wines to demonstrate flavor profiles. This is the ultimate workshop celebrate women and wine all at once!
Speaker: Ms. Gaëlle Goossens, Winemaker and Development Innovation Wine Communication Projects Manager of Veuve Clicquot
20:15 – 21:00 Wine Workshop 2: Old Vs New - Discover Classic & Trending Wines from Key Wine Regions (FULL)
Are you stuck in a wine rut? Or not sure how to begin exploring different styles or varieties? With so many incredible wines being produced all over the world, don't limit yourself to the same styles or regions! In this workshop, learn foolproof wine tasting tips, understand the difference between Old and New World wines, taste the classics that benchmark quality and style, and explore the hottest trends in winemaking globally. Open your mind and your palate to better understand traditional favourites and trending wines from around the world.
Speaker: Ms. Sarah Heller MW, newest Master of Wine in Hong Kong
A few of WoW 2018 speakers

General Admission – HK$450
Inclusive of:
Premium Access – HK$780
Inclusive of:
Full Package – HK$950
Inclusive of:
If you prefer to book your tickets via bank transfer, please click here.
For more information, please visit our official website, Facebook page or email info@mwminternational.com
Venue Partner: The Murray, Hong Kong, a Niccolo Hotel
The Murray, Hong Kong is a high-profile preservation project by British international studio for architecture and integrated design Foster + Partners. The hotel, part of Hong Kong's Conserving Central Project, was previously the stand-alone Murray Building, one of the city's most iconic landmarks. A member of Global Hotel Alliance's Ultratravel Collection, the US$1 billion contemporary sanctuary will feature 336 oversized rooms and suites spanning 25 floors. Other facilities include a stunning rooftop bar with breath-taking views of the central business district and the green oasis of Hong Kong Park, a series of signature restaurants and bars, as well as creative meeting and event spaces.