Location
馬哥孛羅香港酒店 Cucina
3 廣東道
Level 6, Marco Polo Hongkong Hotel
Tsim Sha Tsui, KOW
Hong Kong
Tikves Wine Dinner The best winery from North Macedonia
About this event
Countless hardworking and skillful vine-growers from the past and the present have been part of the birth of the long winemaking tradition in North Macedonia, especially in the region of Tikveš. The immense emerge and promotion of Tikveš fine wines all around the world is the result of the significant contribution of the visionaries at Tikveš Winery.
The supreme wines which are the result of a perfect synergy of Tikveš vineyards, the sky, the sun and the best grape varieties from the Tikveš region, alongside with state-of-the-art technology and knowledge of wine-masters, proudly create Tikveš Winery.
Since 1885, it is the symbol of the centuries-long winemaking tradition, the largest and most awarded winery in South Eastern Europe and beyond.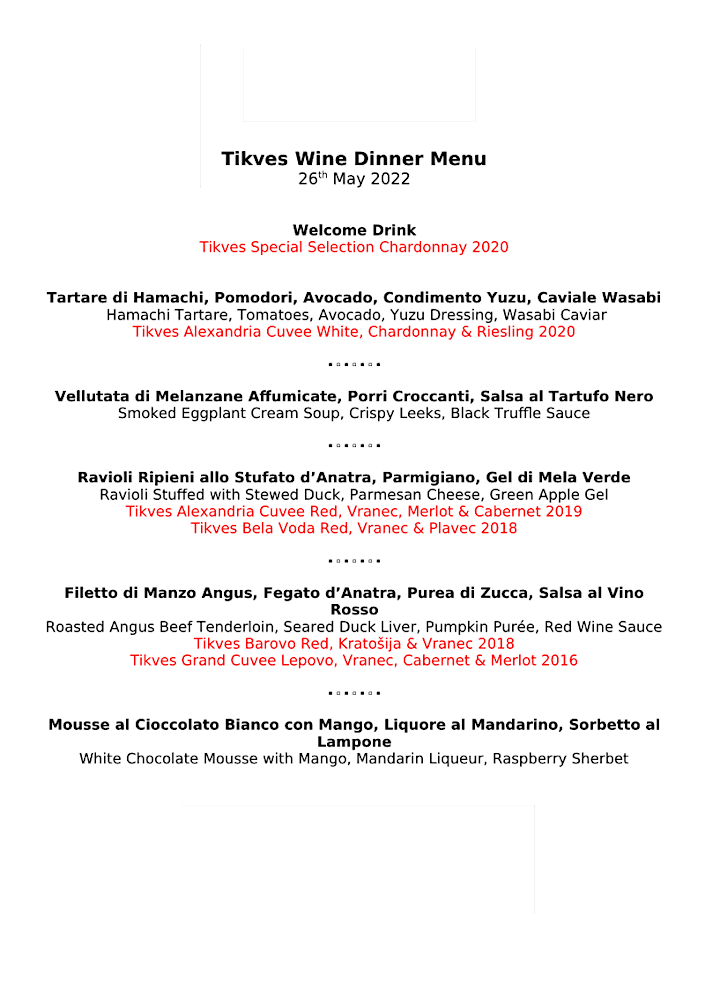 Event Details:
Date: 26th May 2022 Thursday
Time: 7pm Cocktail, 730pm Dinner
Venue: Cucina Italian Restaurant
Address: 6/F, Marco Polo Hongkong Hotel, Harbour City, 3 Canton Road, Tsim Sha Tsui
Price:
General Admission HKD$998
--------------------------------------------