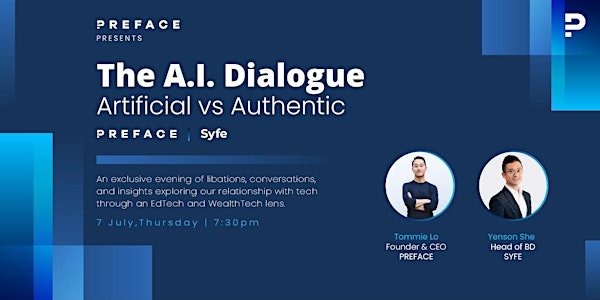 The A.I. Dialogue: Artificial vs Authentic | Preface x Syfe
The A.I. Dialogue: Artificial vs Authentic | To explore our relationship with tech through an EdTech and Finance lens
When and where
Location
WEBINAR ONLINE EVENT Hong Kong, HKI Hong Kong
About this event
The A.I. Dialogue: Artificial vs Authentic
As technology and its development continue to infiltrate day to day life, we are constantly challenged to redefine our relationship with tech. From how we consume and create information, to utilizing technology in making more informed decisions, the question that has emerged is: Is our usage and reliance on technology eroding the significance of human perception and judgment, furthermore, the 'authentic' human experience?
Preface and Syfe are thrilled to invite you to an evening of insights and ideas, to explore the push-and-pull of 'Artificial' Intelligence versus 'Authentic' Intelligence, and partake in the conversation about its implications through an EdTech and WealthTech lens.
Join us on our live Zoom broadcast and be a part of The A.I. Dialogue!
Webinar Details
Date: 7 July, 2022
Time: 07:30PM HKT⁠ [Zoom: Doors Open at 7:15PM]
Language: English
Meet Our Speakers
Tommie Lo | Found & CEO, Preface
Yenson She | Head of Business Development, Syfe
Set-up requirement and support:
A webinar invitation email will be sent to you with a guided set-up manual. You can join Zoom webinar in 2 different ways:
Through the Zoom app downloaded on your device.
Through the webinar link in the Eventbrite confirmation email.
About Preface
Preface is an industry-leading EdTech company. By tech-enabling learners of all ages, corporates, and schools around the world with dynamic tech education and experiences, we empower individuals and businesses to thrive in the Web 3.0 era. Over the years, we've collaborated with and provided training for leading academic institutions including MIT, UCLA, LSE, and global MNCs such as Meta, Google, AWS, BlackRock and HSBC.
We offer flexible, dynamic, and efficient tech training for individuals and corporations alike through 1-on-1 or group settings. Driven by AI and machine learning, our courses can be tailor-made to the interests, schedules, and paces of our learners, making learning personalised, enjoyable, and applicable. Find your next big idea, break into a new career field, and seize the biggest opportunities of the future with Preface.
For all course details please visit: https://www.preface.ai
Find us on Social Media!
Instagram: www.instagram.com/prefacecoding
Facebook: www.facebook.com/preface.coding
About Syfe
Syfe is the digital investment platform for investors who expect more – greater transparency, smarter personalised portfolios, and better investment outcomes.
Syfe combines proven investment strategies with game-changing technology to give investors globally diversified portfolios that are in sync with their personal risk profiles. Unlike traditional investment management, there are no high fees or hidden costs involved, so investors can be sure they are always earning the best possible return on their investment.
Syfe. The way you do better.
Start investing: https://www.syfe.com/en-hk/
Instagram: www.instagram.com/syfehk
Facebook: www.facebook.com/SyfeHongKong
Disclaimer: The activity and information contained in advertisement is not and should not be construed as an offer to sell, or a solicitation of an offer to buy any security, investment product or service, nor a distribution of information for any such purpose. All forms of investment carry risks, including the possibility of loss of the capital invested, investors should bear all the risks associated with their investment decisions. Please seek professional advice from an independent financial consultant where necessary.
Before making any investment decision, investors should consider his/her own circumstances including but not limited to his/her financial situation, investment experience and investment objectives, and should understand the nature, terms and risks of the relevant investment funds in detail.
*Please note that Preface reserves the right to use any photographs, videos or audios taken from workshops for marketing or internal use. Should you have any problems, please contact us at hello@preface.education.