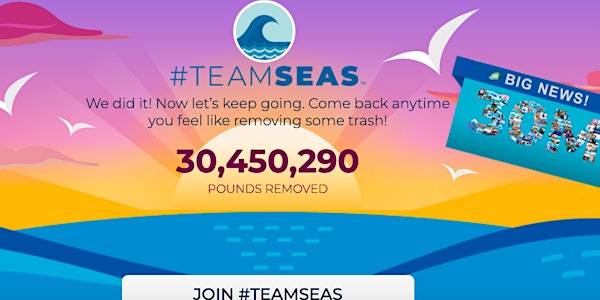 #TEAMSEAS CHALLENGE Hong Kong Cleanup X Ocean Conservancy
#TEAMSEAS COMMUNITY CLEANUP CHALLENGE Powered By Hong Kong Cleanup x Ocean Conservancy We're back for another epic year of hands-on fun!
About this event
FREE #TEAMSEAS COMMUNITY CLEANUP EVENTS
Join One or Join Them All!
Hong Kong Cleanup is excited to be leading the largest global cleanup initiative ever, in partnership with Ocean Conservancy. Over 11 million pounds of trash has already been collected, by 600,000 volunteers from 200 countries!
#TeamSeas Is Transformational for Our Ocean—Let's Go!!
February Schedule 2023
4/2 (Sat) 10am -12pm @ ShekO, leader: Robert +852 93725228 (Difficulty: Easy)
12/2 (Sun) 10am -12pm @Silverstrand , leader: Tiffany +852 92626200 (Difficulty: Medium)
18/2 (Sat) 10am -12pm @Lap Sap Wan, Cape D'Aguilar Peninsula, Robert +852 93725228 (Difficulty: Hard)
25/2 (Sat) 10am -12pm @South Lamma , leader: Robert +852 93725228 (Difficulty: Medium)
PLEASE NOTE:
1. MUST RSVP HERE on Eventbright. Ticket sales for this free community event close 12 hours in advance, and kindly note that we do not check emails sent to info@HKcleanup.org, or DM's on social media 24/7. Please whatsapp the event leader listed here if you have any last min Q's, 24 hr before each event.
2. CANCELLATION: If you have registerred but cant make it, please notify us so someone can take your spot, since many of our events sell out.
3. WEATHER: We only cancel if there is a government issued warning such as T3 and above, red rain warning, or severe thunder storm.
4. MEETUP DETAILS: PLEASE ARRIVE 15 MIN EARLY TO CHECK-IN - Google pins will be shared in the reminder email sent to all registered guests 48 hours before cleanup, when registration closes.
5. LEVELS OF DIFFICULTY:
💙EASY: No walk to site, sandy beach
💛MEDIUM: Short walk to beach, steps, part sandy/part rocky
💚HARD: Longer walk to beach, mostly rocky shore, heavier trash
***We advise those with young children to not attend the hard events, and to please ensure to bring plenty of water(in your reusable bottle), snacks, and wear good hiking shoes.
💙It's free! 💛All are welcome! 💚HKC will provide materials!
DOs:
✅ Sign up + show up!
✅ Wear gloves, mask and closed-toe shoes
✅ Wear long-sleeved light clothing, a hat and sun block to protect you from the sun
✅ Bring water in reusable, refillable bottles
✅Make sure children are supervised
✅ Work in small teams of max 4
✅ Download, collect + share your data on our FREE CleanSwell App
✅ Like, follow and tag @HKCleanup
✅ Have fun!!!
DO NOTs:
🚫 Pick up dead animals/fish
🚫 Pick up syringes, needles, glass, any sharp objects, or medical waste materials.
🚫 Clean in any flowing storm drain outlets
🚫 Pick up anything too heavy
🚫 Pick up natural items, like wood, shells, seaweed
All the plastics and other trash removed will be carefully weighed prior to being properly disposed of and, where possible, recycled. Whether using hand-scales to go bag-by-bag; using the mobile data app, Clean Swell®, to calculate the weight of collected items —every item of trash counts towards the global TeamSeas goal of 30 million pounds in 3 years!
Email: info@HKcleanup.org
Social Media: @HKcleanup - IG
@HongKongCleanup - FB and LI
REMINDER: Volunteers are urged to operate with an abundance of caution during beach cleanups as your safety is our top priority. All must adhere to safety precautions put in place by HK government.
PLEASE DOWNLOAD + USE THE FREE CLEAN SWELL APP:
Hong Kong Cleanup has been the official country leader of Ocean Conservancy's International Coastal Cleanup, since 2000. You can find out more about our work in Hong Kong, and globally right here, along with detailed instructions on HOW TO USE the CLEANSWELL app:
https://oceanconservancy.org/trash-free-seas/international-coastal-cleanup/cleanswell/
Don't forget to tag us! @HKcleanup @TeamSeas @Oceanconservancy
#TeamSeas #TeamSeasHK #HKCleanup #OceanConservancy
With thanks and love,
- Team Hong Kong Cleanup
***PLEASE NOTE ***
HONG KONG CLEANUP requires that all volunteers:
1. Register on EventBright
2. Adhere to all volunteer registration requirements
3. Follow all current guidelines: https://www.coronavirus.gov.hk/