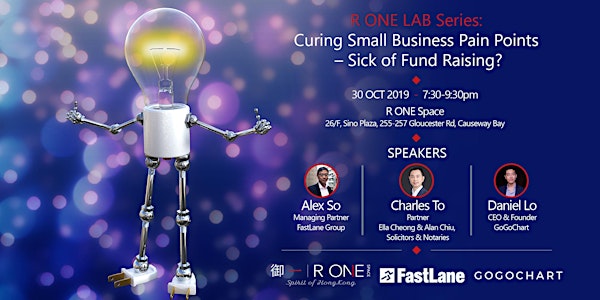 R ONE LAB Series: Curing Small Business Pain Points – Sick of Fundraising?
When and where
Location
R ONE Space 26F, Sino Plaza, Causeway Bay Hong Kong, Hong Kong Hong Kong
Description
R ONE LAB Series: Curing Small Business Pain Points – Sick of Fund Raising?
As a small business owner, there are a lot of roles and responsibilities to juggle. You can be the CEO, CFO, Marketing & Business Development Manager and Human Resource Specialist, all rolled into one.
Certain pain points that are fairly common, from dealing with financial management, brand and marketing, business development to hiring and retaining talent.
R ONE LAB is a series of events for entrepreneurs to connect with a panel of thought leaders, and identify these pain points and their cures as soon as possible, before they become a major sticking point. In the upcoming session, we'll look at some important elements of building a good fundraising process.
What we'll cover:
1. The common mistakes startup make during fund raising
2. When should you start raising funds?
3. How to connect with investors?
4. Think like an investor in order to close them
5. Dual diligence on investor background, startups they invested in
6. How to determine valuation and fundraising amount?
Speakers Bio:
Alex So, Managing Partner of FastLane Group
Alex is responsible for the strategic development of FastLane Group. He is a fellow member of CPA Australia and has over 20 years of professional finance and accounting, corporate finance, and investment experience in the financial services and asset management companies. Alex held regional Chief Financial Officer and Chief Operations Officer roles in a number of global financial institutions including Deutsche Bank, Bank of America, a Hong Kong listed company and an Asian private equity firm. He is an investor for early-stage and high growth companies. Alex enjoys travelling to different countries, where he can indulge in his passion for photography and hiking. Alex is also Oxfam Trailwalker and has completed the trail 10 times!
Charles To, Partner of Ella Cheong & Alan Chiu, Solicitors & Notaries
Charles To is a Partner of Ella Cheong & Alan Chiu, Solicitors & Notaries. Charles has a diversified practice covering commercial, corporate, entertainment, licensing, intellectual property, advertising, data privacy, e-commerce, employment, and general commercial matters in the TMT industry. He had extensive practical in-house experience where he served as Senior Legal Counsel for Tencent's Technology Transactions Group and Fox Networks' APAC Senior Legal Counsel where he was responsible for advising the businesses' international commercialization of its services and platforms, covering music, video OTT, mobile games, advertising, social media, and cloud technology. Charles was also recognized as a five-star employee by Tencent, a highly distinguished recognition. In addition to Charles' engineering background, he is also pursuing his Kellogg-HKUST EMBA (ranked 1st globally by Financial Times). With both a technical and business background, Charles is often praised for being able to understand complex business models, identify potential legal pitfalls and provide timely and practical advice.
Daniel Lo, CEO & Founder of GoGoChart
Daniel is the Founder and CEO of GoGoChart, an award-winning advertising technology company specialises in go to market strategy, user acquisition, and global mass scale for companies all over the world.
With over 7 years of digital marketing experience in e-commerce, web, and mobile app marketing, Daniel consulted for Fortune 500 clients and helped over 2000+ products globally.
Prior to founding GoGoChart, Daniel spent 15 years in the UK and he's a keen runner.
Daniel is also active in the startup entrepreneur community and was nominated speaker at RISE Conference HK in 2018.
---

About R ONE Space
Founded in 2018, R ONE Space is a co-working space which provides a wide range of room capacity, 24 hours access, butler service and professional network support for freelancers, entrepreneurs, small and mid-sized companies and corporates. We connect people of different professions, background and nationalities by organizing different kind of community events in our space. Through the community synergy effect, we are devoted to help our tenants to develop their career and business. R ONE Space now have two locations at Causeway Bay and Kwun Tong respectively.

R ONE Space was founded by Mr Mark Chan who was born in Hong Kong and developed his business empire here, therefore, the Spirit of Hong Kong is ingrained in our space. R ONE Space is aimed to nurture different types of entrepreneurs, at the same time helps them to develop and grow their business in Hong Kong by providing flexible workspaces solution and one-stop business support.
Diligence, perseverance and high efficiency are the core values of R ONE Space. Inheriting the Spirit of Hong Kong, we strive to be the cornerstone of your future success and walk with you throughout your career path. We target to be the leading international brand of co-working space by expanding locally and internationally.
To learn more about us, please visit Official website; Facebook; Instagram; Linkedin

About FastLane Group
The FastLane Group was founded in 2013 as an accountancy and advisory firm that combines innovation and technology to provide professional services that focus on Entrepreneurs, Startups, Fast Growing Technology Companies, Startup Angel Investors and Venture Capitalists. The FastLane Group provides best in class service for businesses wishing to launch and operate in Hong Kong, ensuring they maintain the financial and compliance requirements as regulated in Hong Kong.
Offering a diverse range of professional services including accountancy, auditing, company formation and payroll management and HR advisory assistance, the FastLane Group is able to provide a holistic and comprehensive suite of services for our clients.
The FastLane Group currently supports over 500 companies and is experiencing rapid growth with business partners and supporting networks.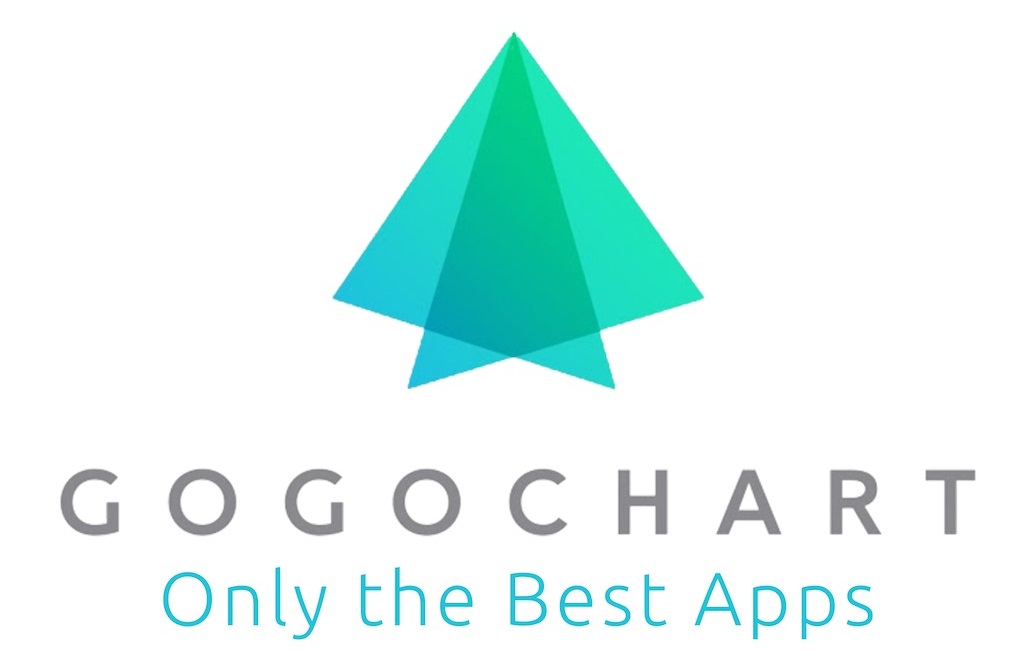 About GoGoChart
Linkedin: https://hk.linkedin.com/company/gogochart
GoGoChart is an award-winning mobile advertising technology company which specialise in growth strategy, user acquisition & ASO (App Store Optimisation) for mobile apps globally.

As a performance-driven technology company, GoGoChart empowers partners and their apps to be elevated with maximum exposure in the App Stores. Since 2015, GoGoChart has helped over 2000 mobile apps and worked with over 300 publishers globally!
#Startups #Fundraising #Tips