Description
Description
"Write without Fear. Edit without Mercy", we all know how photos look ten times more sophisticated when it's been edited. From product shots to social media marketing materials, let's conceal blemishes and look professional! Join our workshop and make your photography shine from now on.
從產品相片到社交媒體,圖像無處不在。一張搶眼的照片勝於千言萬語,塑造你公司的專業形象。Photo Editing by Adobe Lightroom Workshop 教你將相片變得更完美。
Activity Details
Dates and Time:
Mar 21 &
28 (Tue) | 18:00 -
20:00
Location:
The BASE, 1/F, Lift 29-30, HKUST
Language:
Cantonese
Event Facilitator:
Miffy and Zoe
Series:
BASE Bootcamp & GT Startup Series
Quota:
30 (The Dream Builder Accelerator's teams have a higher priority)
Application Start:
Mar 7, 2017 - 13:00
Refundable Reservation Fee:
HK$ 200
(The Application Fee will be refunded if the participants attend all sessions)
The Policy of Refundable Reservation Fee:
To ensure that all participants can have a whole learning process, the BASE team organizers will collect the Reservation Fee of HKD200 during the registration at the first session. This Reservation Fee is refunded to those participants who take the full attendance at the end of session.
Reminder to students
Participants have to bring their own laptop and install the Lightroom software. You can find the trail version here: http://www.adobe.com/hk_en/downloads.html
Enquiry
Please contact The BASE Team (base@ust.hk)
Organizer:

The BASE Team is a student-driven community supported HKUST Entrepreneurship Center with a physical co-workspace, which aims to promote and cultivate the Entrepreneurial Spirit in HKUST & Hong Kong.

Partner Organization:

Green Tomato Limited, a regional leader in mobile enterprise solutions and mobile innovation powerhouse. We are proud of our sustainable creativity and innovativeness on mobile. GreenTomato is a Hong Kong Business Awards Company, Computerworld Tech Company of the Year, Red Herring Global 100 & Red Herring Asia 100 company, being a proud winner of over 50 local and global awards including Hong Kong ICT Awards & Asia Pacific ICT Alliance grand award winner.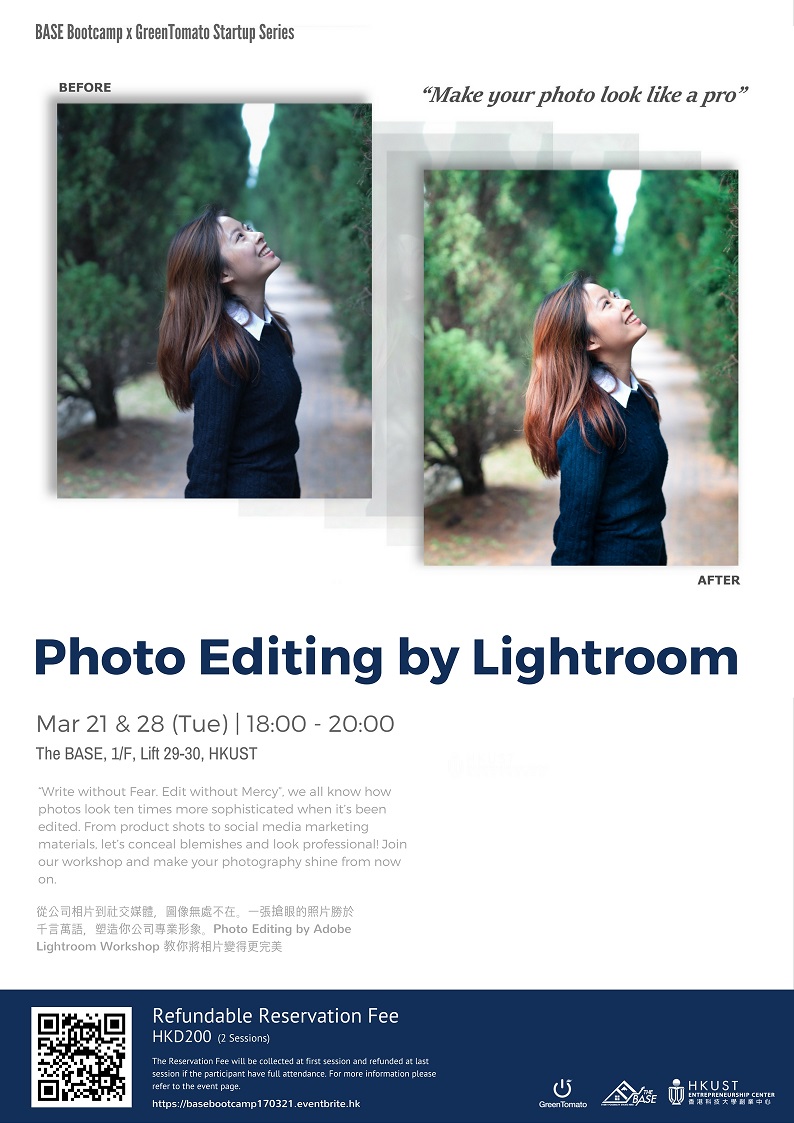 Organiser of Photo Editing by Lightroom