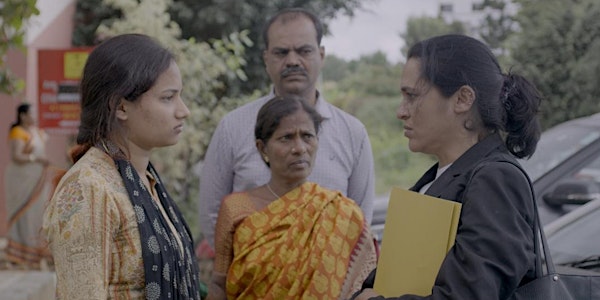 HKIFF47 社區放映會 Community Screening - 十七禁 Seventeeners
第47屆香港國際電影節社區放映會 HKIFF47 Community Screening
By 香港國際電影節協會 Hong Kong International Film Festival Society
Date and time
Starts on Sunday, April 2 · 2:30pm HKT
Location
PREMIERE Elements 2/F, Elements 1 Austin Road West Hong Kong, KOW Hong Kong
About this event
承蒙香港藝術發展局資助,香港國際電影節協會精選四部電影,免費招待學生、慈善團體及公眾人士,並安排影評人於放映後與觀眾分享,以增觀影樂趣,長電影知識。
Financially supported by Hong Kong Arts Development Council, the Hong Kong International Film Festival Society has chosen four films for schools and the community. Post-screening discussions (in Cantonese) will follow.
3月20日(一)上午10時起接受登記。每位觀眾只可登記門票乙張。名額有限,先到先得,額滿即止。
《十七禁》
日期及時間:4月2日(日)下午2時30分
地點:PREMIERE Elements
講者:吳月華(粵語主講)
2022 | 123分鐘
資助:香港藝術發展局
香港藝術發展局全力支持藝術表達自由,本計劃內容並不反映當局意見。
Online registration will start at 10 am on 20 March (Mon). Each person is entitled to ONE ticket only. Seats are available on a first-come, first-served basis.
Seventeeners
Date & Time: 2 April (Sun) 2:30pm
Venue: PREMIERE Elements
Speaker: Stephanie Ng (in Cantonese)
2022 | 123min
Supported by: Hong Kong Arts Development Council
Hong Kong Arts Development Council fully supports freedom of artistic expression. The views and opinions expressed in this project do not represent the stand of the Council.
影片簡介:
少男少女下課後在課室自拍情慾短片意外流出,事件驚動校方。校方的處分疑似種姓歧視,人權律師仗義出手,但沒想最終每個人都陷入難以擺脫的困局。康納努善於藉小事反映印度事社會問題,這次透過一對高中男女的不幸遭遇,層層剝開制度與人性的醜惡。
Synopsis:
The inherent corruption and biases in India's education system are laid bare in this drama. When two highschoolers from different castes foolishly make a sex tape on campus, which is then leaked online, the school's unfair ruling sends shockwaves through the families of both children, leading to tragic, life-altering outcomes.
(i)請於放映前30分鐘到達放映場地,並出示有效電子門票或列印本,向本會工作人員登記,換領入場門票。所有於放映開始後仍未完成登記的電子門票或列印本,將作無效。其預留的門票亦會作廢。敬請留意。
Admission tickets redemption will start 30 minutes prior to the screening. Attendees who have made the reservation must present their e-tickets or paper tickets to HKIFFS staff for admission ticket redemption. The reservation will be voided if e-tickets or paper tickets are not redeemed after the screening started. Thank you for your attention.
(ii)如有任何爭議,香港國際電影節協會保留最終決定權。
In the event of a dispute, HKIFFS's decision shall be final.
About the organizer
香港國際電影節協會是一個非牟利及非官方的慈善團體,致力發揚電影文化,推廣光影藝術。
透過全年活動,協會期望加強世界各地對亞洲及中國電影文化的欣賞,並把各地具啟發性的電影帶到香港,豐富本地精神文化生活。
為發展香港及亞洲的電影文化,協會於每年三、四月期間均舉辦兩項旗艦活動,包括:香港國際電影節(HKIFF)及香港亞洲電影投資會(HAF)。
電影能夠連繫不同的文化和世代,激發無窮創造力。憑此信念,協會不斷為成千上萬的影迷,帶來世界各地最優秀及具啟發性的電影作品。 
The Hong Kong International Film Festival Society (HKIFFS) is a charitable, non-profit and non-governmental organisation dedicated to the discovery and promotion of creativity in the art and culture of film.
The Society is committed to making world cinema accessible and affordable to the public. It organizes the annual flagship Hong Kong International Film Festival in March and April, and the HKIFF Cine Fan repertory cinema monthly programme bringing classic and contemporary cinema and filmmakers such as Abbas Kiarostami, to Hong Kong movie goers. Another annual highlight is the Summer International Film Festival held every August.
The Society annually organizes Asia's premier project market, the Hong Kong - Asia Film Financing Forum (HAF); and the HKIFF Industry Screenings for industry attendees, as part of Hong Kong International Film & Television Market (FILMART).
Through its programmes, the Society promotes international appreciation of Asian, Hong Kong and Chinese film culture; introduces world cinema to Hong Kong audiences; and continues to underline Hong Kong's key position in the international film community.