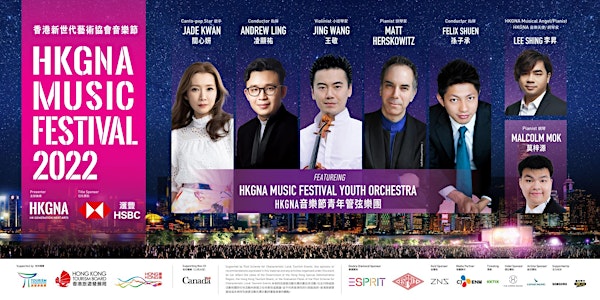 HKGNA Music Festival 2022 - Family Outdoor Extravaganza 合家歡盛會 (Nov 20)
Family Outdoor Extravaganza「合家歡盛會」Movie+ Closing Concert 電影/閉幕音樂會 【Oct21 Presale exclusive for HSBC credit card holders 10月21日滙豐信用卡客戶優先登記】
When and where
Location
West Kowloon Art Park Great Lawn 西九文化區藝術公園大草坪 West Kowloon Cultural District Hong Kong, KOW Hong Kong
About this event
HKGNA音樂節2022 —「樂在維港」 11月20日:「合家歡盛會」
6pm 「合家歡盛會」: 本地歌手關心妍、加拿大鋼琴家Matt Herskowitz、香港管弦樂團樂團首席王敬、指揮凌顯祐,孫子承、HKGNA音樂天使——視障鋼琴家李昇,自閉症青年鋼琴家莫梓源,以及HKGNA音樂節青年管弦樂團的傾力演出。
HKGNA音樂節2022 —「樂在維港」簡介
11月18-20日為期三天的戶外音樂慶典,結合露天電影與及星光熠熠的音樂會,觀衆沉醉於旋律之美時,還能同時飽覽香港標志性的迷人都市夜景。透過音樂,一同感受彼此對香港的愛,展望香港年輕一代的美好未來。
音樂會的精彩演出會透過CJENM的tvN頻道在8個地區播出,同時進行全球直播!
冠名贊助: 滙豐
雙鑽贊助:Esprit
金贊助:ZNS Jewellery
媒體夥伴:CJENM
官方酒店贊助:奕居
航空贊助:國泰航空
支持機構:三星、通利琴行
音樂夥伴:KKBOX
11月20日活動支持機構:加拿大駐港總領事館
全力支持:香港旅遊發展局、旅遊事務署、香港品牌
 活動採用實名制,所有門票一概不得轉讓。若入場人士身份證上的姓名與門票不符,將無法進場。每位購票者最多可購買/登記門票兩張。若購買/登記多於一張門票,購票者須同時提供另一持票人的英文全名,該姓名須與持票人香港身份證或護照上的姓名相同。所有持票人的英文全名將列印於門票上以供入場時核對。


 所有持票人士須於節目開始前準備足夠時間到達西九文化區藝術公園大草坪,進行身份核實。向主辦機構出示附香港身份證或護照正本,以核對持票人士的樣貌、姓名及門票上的姓名是否一致,在核對無誤後,持票人士均需要在入口接受篩查/保安檢查,並配戴工作人員提供的識別手帶後方可入場。
 為避免長時間排隊等候,主辦單位建議持票人士於電影/音樂會開始前至少1小時到場進行身份核實。
HKGNA MUSIC FESTIVAL 2022 "Music on the Harbourfront" November 20: "Family Outdoor Extravaganza"
3:30pm - Open-air movie event "Cinemagic Korea " featuring "In Our Prime" by CJENM
6pm Family Outdoor Extravaganza Concert proudly presents Canto-pop Star Jade Kwan, Canadian Pianist Matt Herskowitz, Canadian-Chinese HK Phil Concertmaster Violinist Jing Wang, Our very own HKGNA Musical Angels Lee Shing and Pianist Malcolm Mok will perform together with HKGNA Music Festival Youth Orchestra under the direction of Conductor Andrew Ling and Felix Shuen.
Our outdoor concert will be set alongside the HK iconic skyline in a celebration of hope and love for Hong Kong and the bright future ahead! All our amazing superstars will perform together with our festival youth orchestra! Our events will uplift and celebrate our beloved HK in front of a global audience!
About HKGNA MUSIC FESTIVAL 2022 "Music on the Harbourfront"
Hong Kong Generation Next Arts (HKGNA) is proud to present HKGNA MUSIC FESTIVAL 2022 – "Music on the Harbourfront" on Nov 18-20 at West Kowloon Great Lawn, showcasing a spectacular open-air movie event "Cinemagic" each day under a starlit sky, followed by our star studded concert performances. Backdropped by Hong Kong's breathtaking iconic skyline, this unmissable outdoor three day music extravaganza will be a celebration of our love for Hong Kong and the bright future ahead for our Hong Kong's youth!
These incredible concert performances will be broadcast through CJENM's tvN networks in eight regions and live streaming globally!
Title Sponsor: HSBC
Double Diamond Sponsor: Esprit
Gold Sponsor: ZNS Jewellery
Media Partner: CJENM
Official Hotel Sponsor: Upper House
Airline Sponsor: Cathay Pacific
Supporting Partners: Samsung, Tom Lee Music
Music Partner: KKBOX
Supporting Nov 20 event: Canadian Consulates in Hong Kong
Supported by the Hong Kong Tourism Board, Tourism Commission and Brand Hong Kong
 Each person can purchase/register a maximum of 2 tickets, and the English full-name of the fellow festival-goer (that matches his/her HKID or Passport) must also be presented during purchase to be printed on the tickets. These names will be verified during concert admission.
 All ticket holders must bring along their HKID or Passport (true copy) for admission. Presenter will check the name on the ticket against the name on the HKID or Passport (true copy). Admission will only be allowed after successful verification. Ticket holders are required for security checks at the entrance, and wear the wristband provided by Presenter before they access the venue.
 It is highly recommended to arrive at the West Kowloon Art Park Great Lawn at least 1 hour prior to the movie/concert for check-in to avoid a long queue.