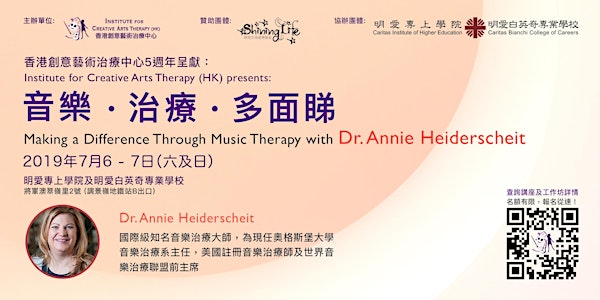 [免費講座 Free Admission] Music Therapy: Discover How Music can Foster your Hea...
Location
Caritas Institute of Higher Education
2 Chui Ling Ln
(MTR Tiu Keng Leng Station Exit B)
Tseung Kwan O, New Territories
Hong Kong
Description
香港創意藝術治療中心成立五週年慶祝典禮暨
免費公眾音樂治療講座
為慶祝香港創意藝術治療中心 ICAT(HK) 成立五週年以及與妍亮生命慈善基金合作一週年,ICAT(HK) 很榮幸邀請了國際級知名音樂治療大師,現任美國奧格斯堡大學音樂治療系主任 / 副教授 Annie Heiderscheit 博士到香港擔任慶祝典禮暨音樂治療講座的主講嘉賓及主持四個專業進修工作坊。
慶祝典禮暨免費音樂治療講座題目為音樂治療與身心靈健康,由 Heiderscheit 博士主講,香港創意藝術治療中心創辦人、美國及加拿大註冊音樂治療師何顯斌先生及梁曉盈小姐作粵語翻譯。本講座乃香港創意藝術治療中心五週年免費公眾活動之一,希望藉此推廣音樂治療服務在香港普及化。
本免費講座適合社會各界對音樂治療有興趣之人士出席,包括中小學生及其家長、社福界人士、教育界人士、醫療界人士、特殊需要人士及其照顧者等。
註:
1)如欲參加2019年7月6號及7號的專業進修工作坊,請按此了解詳情及報名。專業進修工作坊將以英語舉行,適合社工、醫護界從業員、專職治療師、教育界同工及其他有興趣人士參與。
---------------------------------------------------------------------------------
To celebrate ICAT (HK)'s 5th anniversary and the 1st collaboration anniversary with Shining life Limited, we are honored to have the world-renowned music therapist Dr. Annie Heiderscheit to join us in July to conduct 4 workshops and be our keynote speaker at the celebration ceremony.
The music therapy keynote will be delivered by Dr. Heiderscheit, titled "Music Therapy: Discover How Music can Foster your Health & Wellbeing", and will be translated into Cantonese by Ms. Angel Leung and Mr. Pan Ho, US and Canada credentialed music therapy and co-founders of ICAT (HK).
This music therapy keynote is one of the free events organized by ICAT (HK) in celebration of its 5th anniversary, aiming to advocate music therapy service to the general community.
This free music therapy talk is suitable for people who are interested in the profession, including students, parents, people working in the welfare system, educators, medical professionals, people with special needs and their caretakers.
Remarks:
1) Please click here to know more about the 4 music therapy workshops held on June 6 & 7. Workshops will be conducted in English, and are intended for social workers, welfare workers, medical professionals, therapists, educators and people who are interested.
About Dr. Annie Heiderscheit
Annie Heiderscheit, Ph.D., MT-BC, LMFT, Fellow in the Association for Music and Imagery, is the Director of Music Therapy and Associate Professor of Music, overseeing both the undergraduate and graduate music therapy programs at Augsburg University. She has nearly 20 years of experience teaching undergraduate and graduate courses and almost 30 years of experience in a variety of healthcare and clinical settings. She has conducted research with clients dealing with a variety of complex mental health and medical issues.
Read more about Dr. Heiderscheit Here>