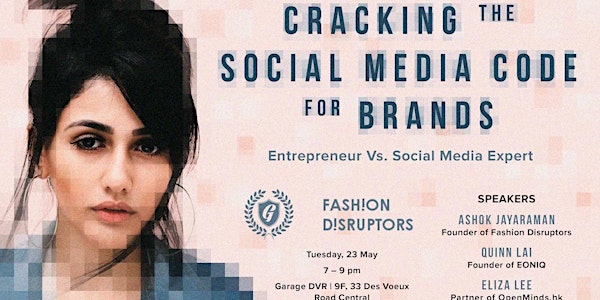 Fashion Disruptors - Cracking The Social Media Code for Brands
When and where
Location
Garage Society DVR 33 Des Voeux Road Central Hong Kong, Hong Kong Island Hong Kong
Description
Cracking The Social Media Code for Brands: Entrepreneur vs. Social Media Expert
In today's crowded digital marketplace fashion brands are adopting many different strategies to battle over consumer's short attention spans – from spreading viral videos, employing shock-marketing tactics, flooding newsfeeds to leveraging Key Opinion Leaders. But with the plethora of social media platforms & tools – what are the most effective strategies and tactics to reach your target consumers? How to get most impact for the least spend? Which KPIs should you pay attention to? What are the most common mistakes startups should avoid?
Join us at Fashion Disruptors (Ashok Jayaraman, founder) to get two different perspectives on this topic & more – from an entrepreneurs perspective (Quinn Lai, founder@ EONIQ) & from a social media expert (Eliza Lee, partner @ OpenMinds) where they share their top tips to cracking the social media code.
Agenda
Opener – Ashok Jayaraman – 5mins

Speaker#1 'The Entrepreneur': Quinn Lai - 30 mins

Speaker# 2 'The Social Media Expert' : Eliza Lee - 30 mins

Panel + Q&A Session – 20mins
Speakers
QUINN LAI : EONIQ, Founder
Quinn Lai is a serial entrepreneur in Hong Kong and the United States. His ventures have achieved impacts in different ways from enabling impoverished students to learn more effectively to prolonging (or even saving) the lives of terminally ill patients. He was also a Hewlett Packard (WebOS) product manager and a McKinsey consultant. His current venture, EONIQ (http://www.eoniq.co) aims to revolutionize how watches are designed and bring custom time pieces to everyone.
ELIZA LEE : OpenMinds.hk, Partner
With over 8 years of experience in digital marketing and entrepreneurship, Eliza has been involved in various startups in Kuala Lumpur, starting her first eCommerce fashion venture at age 20 in university. After discovering her passion for digital marketing, she was a core team member of OpenMinds™, which focuses on digital marketing, social media consultancy & tech development. Bootstrapping the startup alongside her team to grow to over a 5 million USD valuation, she now leads OpenMinds' Hong Kong office. She has been featured in various media and also acts as a mentor in startup events whenever the opportunity arises.
ASHOK JAYARAMAN - Founder, Fashion-Disruptors.Com
Ashok spent the last 9 years working in the US, Europe and Asia leading change management initiatives for the Adidas Group enabling them to evolve to the fast changing fashion and sporting goods industry. He is currently the founder of the Fashion Disruptors community in Hong Kong which supports upcoming entrepreneurs break into the fashion arena and bring fresh concepts to market that challenge industry norms & excite consumers.