About this Event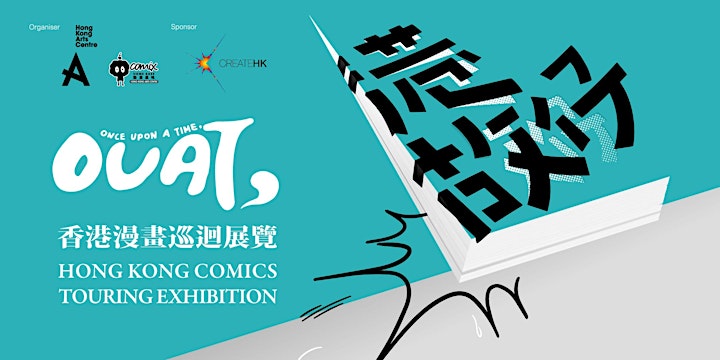 《港故仔︰香港漫畫巡迴展覽》@香港站
OUAT, Hong Kong Comics Touring Exhibition @Hong Kong
日期Date:09.08-03.09.2019
地點Venue:香港藝術中心 Hong Kong Arts Centre
免費入場Free Admission
詳情請前往More details at:https://www.hkac.org.hk/calendar_detail/?u=Tt5Di_Cjbt0
「擔定櫈仔睇故仔!」
《港故仔:香港漫畫巡迴展覽》今年一月於法國安古蘭展出後,第二階段於8月回歸香港藝術中心,展出參與第一階段的五位香港漫畫家及兩位漫畫界專業人士的劇情漫畫創作。此外,亦會邀請兩位海外漫畫家及兩位漫畫界專業人士來港進行連串交流活動,今年特別新增公開徵集劇情漫畫構思,供海外專業人士品評;另有版權法和授權相關課程予公眾參與,助本地人才裝備自己,踏上漫畫「講故路」!最後, 參展的香港漫畫家及漫畫界專業人士亦會以第一階段的參與, 創作一份作品作回應,實行「有圖有真相」,將今趟赴法交流的起承轉合呈現於香港觀眾眼前!
一於齊齊「擔定櫈仔」,看漫畫家「港故仔」!
"Once upon a time, once upon a comics!"
The first phase of OUAT, Hong Kong Comics Touring Exhibition was held successfully in the 46th Angoulême International Comics Festival in France. In August, the second phase of OUAT, will return to HKAC, showcasing drama comics creations of the five Hong Kong comics artists and two comics professionals who participated in the first phase. Two overseas comics artists and two comics professionals will also be invited to Hong Kong for exchange activities too. In addition, there will also be a call for proposals of drama comics from the public for the overseas professionals to comment on. Talks on copyright law and rights licensing will also be offered to the public, helping local talents to better equip themselves for their "story-telling journey" ahead!
Last but not least, as "seeing is believing", the participating Hong Kong comics artists and the comics professionals will jointly create a comic piece as a feedback, presenting their experience in Angoulême to the audience in Hong Kong!
Let's grab our seats and see how comics artists tell the stories of Hong Kong!
「編編」選中你 Editor's Choice
海外漫畫專業人士分享會二 Talk by Overseas Comics Professional #2
日期:18.08.2019(日)
時間︰1300-1430
地點:香港藝術中心四樓包氏畫廊
講者:Thomas GABISON(法國Collection Actes Sud BD總監)
法語主講,粵語傳譯
免費入場
名額:50
Date: 18.08.2019 (SUN)
Time: 1300-1430
Venue: Pao Galleries, 4/F
Speaker: Thomas GABISON (Director of Collection Actes Sud BD)
Conducted in French with Cantonese interpretation
Free Admission
Quota: 50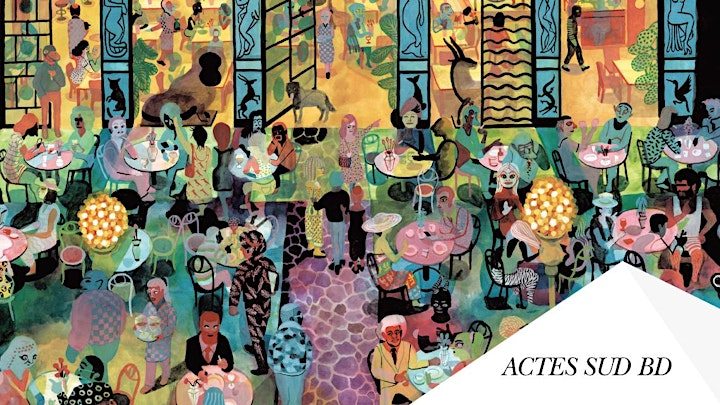 Collection Acte Sud BD在法國漫畫出版界算是新丁一名,但旗下出品都是非凡之作。2005年出版的第一部書《Notes pour une histoire de guerre》就為其取得首捷,奪得安古蘭國際漫畫節的最佳漫畫獎!其後出版的作品也是安古蘭漫畫節頒獎臺的常客,包括2019年新鮮出爐的評審團特別獎《Les Rigoles》及2010年最佳新秀獎《Rosalie Blum》等。
Thomas Gabison作為Acte Sud BD的靈魂人物之一,嚴選合作的漫畫創作人,奉行「不為出版而出版」的宗旨。很多漫畫迷自小立志投身漫畫行業,當漫畫家、漫畫評論員、漫畫專題記者、書刊設計、漫畫書店員、出版、編輯等。而Thomas Gabison的專業?以上皆是!近年他則專注Acte Sud BD的編輯工作,將最好中的最好帶給漫畫迷。
法國的漫畫由1990年代每年出版約700部作品迅速增至近年約5,000部,要在其中突圍,談何容易!因此漫畫編輯的角色非常重要,精挑細選,為了在云云漫畫家和作品中選出潛力之作。Thomas Gabison獨具慧眼,近年備受大眾矚目的Brecht Evens便是由他發掘;2007年他更在家鄉9,000公里以外的香港尋得漫畫鬼才楊學德的《錦繡藍田》,在法國出版這個「港故仔」。
想知點解「編編」選中佢同佢?漫畫編輯點樣同創作者、設計師等等的團隊協作?新晉漫畫家點樣喺歐洲生存?唔駛等被人選中,即刻報名留位就有得聽喇!
Collection Acte Sud BD is a rising star in the French comics industry, yet their titles are all extraordinary works. The first title published in 2005, Notes pour une histoire de guerre (Notes for a war story) was awarded the Prize for Best Album at the Angoulême International Comics Festival. Later publications are also frequently awarded at Angoulême. These include the latest addition of Les Rigoles winning this year's Special Jury Prize and earlier in 2010, with Rosalie Blum winning the Prize of Revelation.
As one of the masterminds of Acte Sud BD, Thomas Gabison is discerning in choosing comics artists to collaborate, with the belief of "Not publishing for publishing sake." Comics fans around the world all dream of joining the comic industry one day, becoming a comics artist, comics critic, comics journalist, book designer, comics bookshop keepers, publisher or an editor. And what is Thomas Gabison's line of work? All of above! He devotes most of his time in recent years on the publication of Acte Sud BD though, presenting the best of the bests to comic fans.
The number of French comics published each year has increased from 700 titles in the 1990s to 5000 in recent years, the competition to stand out is fierce. This makes comics editors highly valued in the industry. With discerning eyes, they choose comics artists and comics works that have potential to stand out. Thomas Gabison is the one who spotted the highly acclaimed Brecht Evens and in 2007, he even got in touch with Yeung Hok-Tak, who works 9,000 km away in Hong Kong and published Yeung's How Blue was My Valley in France.
If you want to know how editors make their choices and how do they collaborate with artists and designers as a team? Or how do new comics artists make a name in Europe? Well, you don't need to wait to be chosen. Come and register for a place!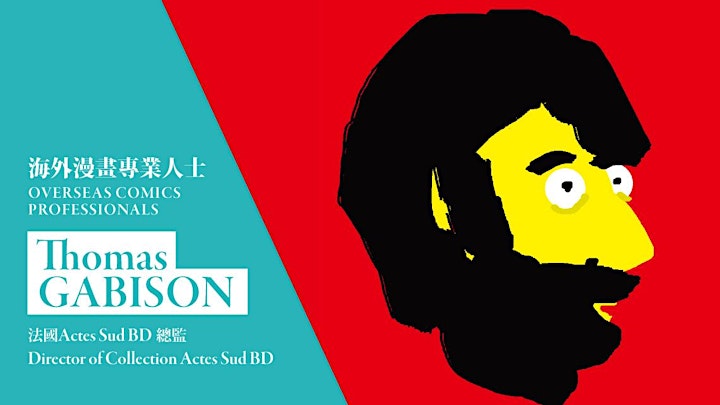 Actes Sud BD總監(法國)
1974年在法國出生,Thomas Gabison 於巴黎修畢平面設計及環境模式研究生課程。在2003年,憑著他在出版社Actes Sud junior平面設計師的工作及在漫畫書零售累積的經驗,他接受了俄羅斯文學及社會政治文章出版商Michel Parfenov的邀請,在以文學出版而聞名的Actes Sud建立漫畫分支Actes Sud BD。Thomas專注漫畫出版之外,他對劇場創作亦特別感興趣,所以也嘗試把劇場及漫畫相連,設計多本劇場舞臺設計及演員指導為題材的圖書,如《50 ans au théâtre du Soleil d'Ariane Mnouchkine》及《Le corps en mouvement de Jacques Lecoq》等。
Director of Collection Actes Sud BD (France)
Born in 1974 in France, Thomas Gabison pursued his studies in graphic design and environment mode in Paris. In 2003, with the solid experience as a bookseller specialised in comics and as freelance graphic designer for Actes Sud junior, he accepted Michel Parfenov's (publisher of Russian literature and socio-political essays) offer, and contribute to the creation of a comic division at Actes Sud, a renowned publishing house that embraces all forms of literature. Alongside with his career as a publisher, he continues his other profession as a graphic designer with a special interest in the field of theater. He designed several beautiful books dedicated to staging and directing of actors── 50 years at Ariane Mnouchkine's Théâtre du Soleil and The Body in Motion of Jacques Lecoq. He has established an enduring connection between theatre and comics.
Actes Sud BD
2005年,Actes Sud BD推出首部漫畫書──意大利漫畫家Gipi的《Notes pour une histoire de guerre》,本書翌年於法國安古蘭國際漫畫節奪得最佳漫畫獎,雖然是由以小說出版為主導的公司所成立的漫畫分部,Actes Sud BD亦得到漫畫業界的肯定。
Actes Sud BD重質不重量,平均每年出版四至五本漫畫書,沒有優秀的作品,編輯部會選擇不出版新書。編劇與漫畫家四手聯寫的創作不常有,但此類佳作仍然叫人期待。Actes Sud BD較常與全職創作人合作,平均以四年的時間完成一部作品。
Actes Sud BD編輯部是建築工程師,出版的書猶如堅實的磚塊,一塊疊一塊的建造大屋。有時候Actes Sud BD會跟其他出版單位合作,為大屋擴建花園,嘗試更多元的漫畫創作。
In 2005, Actes Sud BD has published the first comic, Notes for a War Story by Italian comics artist Gipi, which has won the Prize for Best Album at the Angoulême International Comics Festival a year after its publication. As a signature of Actes Sud's editorial line of contemporary novels, Actes Sud BD has garnered a notable reputation as contemporary comics publisher.
Striking for quality over quantity, on average between four to five comics are published per annual by Actes Sud BD. If there ain't any distinguished books that are fit for publishing, the publisher would prefer not to publish any. Collaboration between scriptwriter and illustrator is hard to come by, as if they are coauthoring a creation in a way of writing with four hands. Actes Sud BD work with sophisticated full-time authors who dedicate on average of four years of writing to completion.
Rome wasn't built in a day ,the editorial line of Actes Sud BD as the architectural engineer of the publishing house they are building , each published book is a piece of solid brick that consolidate the structure of the house. When Actes Sud BD co-produces a book with other publisher, the publishing house is extended with a garden of experiment that would fascinate the contemporary.