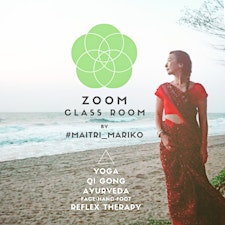 MAITRI ASIA Ltd | Co-Hosted Sitaram Beach Retreat
Mariko Hiyama is the founder of MAITRI ASIA Ltd and a renown Facial Reflexologist.
She has been traveling the world and serving thousands of people through her gifted hands and effective Facial-Hand-Foot Reflex Therapy (Lone Sorensen Method). Mariko also serves as a Yoga & Qi Gong teacher in order to enhance clients' own inner healing.
Since the very early stage of COVID-19 pandemic, Mariko has been actively providing various online classes with her hand-picked-healers. Her online classes are connecting people from all over the world.
Sorry, there are no upcoming events