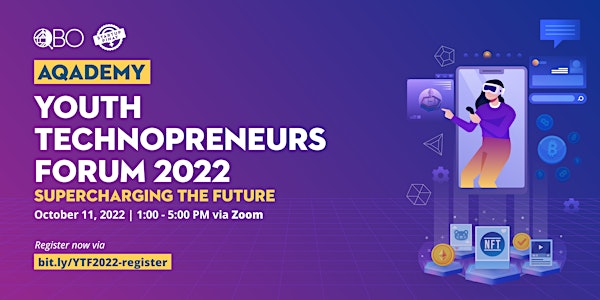 Youth Technopreneurs Forum 2022: Supercharging the Future
Explore how you can supercharge the future through tech, innovation, and entrepreneurship in the digital universe!
About this event
In this digital age, we are seeing the rise of limitless opportunities within the realm of tech. It's time to turn our focus to the possibilities that innovation and technology provide for people, communities, industries, and most especially, the youth.
This year, QBO Innovation Hub brings you the 2022 Youth Technopreneurs Forum: Supercharging the Future, which highlights how digitalization is changing the landscape of the future and reimagines the way we work, live, and play in modern society while ensuring a future-proof digital economy.
Buckle up on October 11 from 1:00 to 5:00 PM to explore how you can supercharge the future and your potential in the startup space by hearing insights from various thought leaders and inspiring stories from young innovators reimagining the tech landscape! In this forum, we will feature talks on how youth technopreneurship reinvents the digital economy; how we can rethink and future-proof the education sector; why metaverse is the next big thing and how will it impact the future of industries; and much more discussions at the intersection of tech and entrepreneurship in light of the digital universe!
Registration is FREE! We'll follow up with more details on the event once you sign up and make sure to also follow us via our Facebook page for updates!
See you virtually at YTF 2022!
Certificates will be provided for active participants 😉
***
Youth Technopreneurs Forum is part of QBO's Startup AQADEMY program dedicated to fostering active collaboration with school partners to support students and their professor mentors in navigating the Philippine startup ecosystem and provide learning and practice opportunities for innovation and immersion and engagement with startups.
***
About QBO Innovation Hub
QBO Innovation Hub is a public-private partnership that aims to develop, grow, and scale a competitive startup ecosystem in the Philippines. We provide an avenue for collaboration and innovation with the vision of helping Filipino startups change the world.