Description
[Level Up with Campfire]
Your Kickstarter 101
Looking to leverage off of a global crowdfunding platform focused on creativity and merchandising? Kickstarter sets out to "help bring creative projects to life" and Antoine d'Haussy, Founder of Side by Side, a leading 21st century travel gear brand, will give you the tools and guidance to properly prepare and execute your own Kickstarter campaign.
What You Will Learn
How to prepare a campaign

How to execute a campaign

Post-campaign follow up
The best practice on how to find good manufacturer, freelancer, social media advertising agency, fulfilment partner, etc

How to fail fast and learn from your mistakes
Who Should Attend
Anyone would like to test the market about their coming product through crowdfunding channel.
---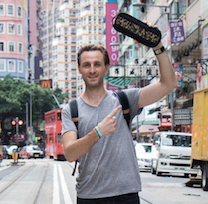 Speaker Bio
Antoine d'Haussy, a French native based in Hong Kong, has worked in the luggage and computer bag industry for over decade. As a first-hand witness to the ever changing needs of carrying modern tech, he launched his own brand Side by Side in 2017 to create travel accessories that can streamline any journey. He achieved 2 successful Kickstarter campaigns with the Power Packer (2017) and the Travel Packer (2018).
Company Description
Side by Side is creating a leading 21st century travel gear brand, aimed at shaking the industry through innovative design, unmatched customer experience and modern distribution channels.
Born out of a passion for detail, design and functional material, Side by Side travel gear is infused with thoughtful and progressive features that cater for the needs of digital nomad. We love to keep making unique travel gear that you'll take along to your next destination.