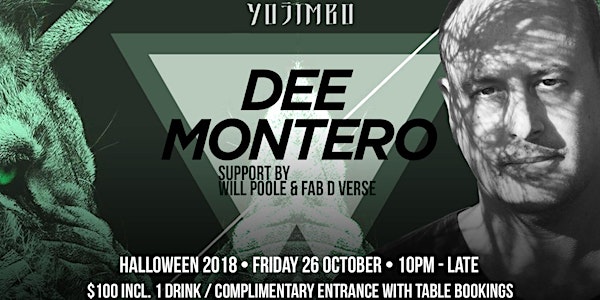 Yojimbo Halloween with Dee Montero, Will Poole & Fab D Verse
Date and time
Fri, 26 Oct 2018 22:00 - Sat, 27 Oct 2018 05:00 HKT
Location
Yojimbo 37-43 Pottinger Street Hong Kong Island Hong Kong
Description
Special guest
Dee Montero
Supported by
Will Poole Music
&
Fab D Verse
Dee Montero is a former Café Mambo DJ resident who played alongside some of the greats before making the move to Hong Kong, where he booked some of the biggest and best DJs in the world, and then returned to the Balearics brighter, faster and stronger. And at the end last year he received the biggest accolade yet: Pete Tong's Essential Tune Of The Year on BBC Radio One for the string-fuelled, epic end-of-nighter 'Halcyon', originally released on Solomun's acclaimed Diynamic imprint at the end of April. It's been quite the trip for Dee Montero.
In the past few years, things have unquestionably gone in an upward direction for Dee. Last year he performed at Burning Man on the Carl Cox stage (a career highlight if ever there was one) and also at Hï with Joris Voorn and Nic Fanciulli at In The Dark. These shows dovetailed with him going solo as a producer and critical releases such as 'Full Body' on Saved and the epic 'Vedra' on Knee Deep In Sound and 'Fade Into Noir' feat Aya on Selador. But the best was yet to come. At the end of 2017, Pete Tong bestowed Dee with 'Essential New Tune Of The Year' for 'Halcyon', released on Solomun's Diynamic label. "I very much believe that a good record is a good record so I try not to follow trends too much," says Dee, in something that sounds very much like a musical manifesto. "I like a Tale Of Us record, I love the Balearic sounds from Tensnake and Crazy P but I also love a driving techno track. Being at Café Mambo definitely helped my horizons. Playing from daytime to sunset to night-time, you can cover every genre. I did a 15-hour set there once, in 2015. I played an eclectic mix of disco and Balearic re-edits and slowly wound down to orchestral and Hans Zimmer-esque soundtracks for sunset. The time between sunset to when the guest DJ comes down to play is my favourite time, that transition into deeper and more tripped out melodic grooves which really sets the tone at dusk and the excitement for the night ahead."
As for the future after 'Halcyon'? While he ponders the importance of an album ("I've been toying with the idea of an artist album for years and now feel more confident about making this a reality in the near future") look out for further key releases in 2018, including his current piano- flecked Beatport-trouncing release 'In The Wild/Polaris' (the former featuring the stunning soulful vocals of Meliha Faisal and again supported by Pete Tong) and forthcoming EP's on Tale & Tone and Knee Deep In Sound due out before the summer season gets underway. The 'Halcyon' days are here: and Dee is just getting started.
FIRST 100 FREE RSVP ON EVENTBRITE
$100+1 DRINK after & on the door