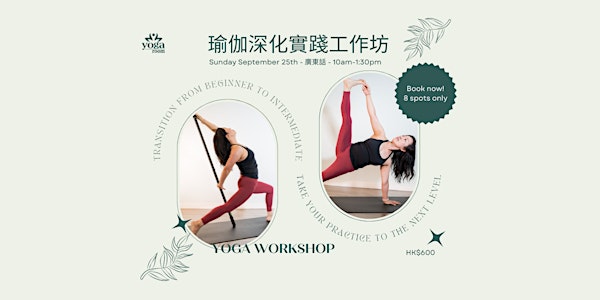 YOGA WORKSHOP WITH CINDY 瑜伽深化實踐工作坊
TAKE YOUR PRACTICE TO THE NEXT LEVEL – YOGA WORKSHOP 瑜伽深化實踐工作坊
When and where
Location
The Yoga Room 104 Jervois Street 4th Floor Hong Kong, HKI Hong Kong
About this event
Transition from Beginner to Intermediate
Date: September 25th Sunday
Time: 10 to 1:30pm (3.5 hours)
Language: Cantonese
Venue: The Yoga Room Studio
Price: HK$600
Capacity: 8 student limit
Content 課程內容:
Foundation 基礎
Yoga eight limbs 瑜伽八支
Pranayama 瑜伽調息法
Dosha 阿育吠陀
Deepen 深化
Body Alignment 身體正列
Yoga props for asanas (poses) 利用道具
Suitable for beginners, those who have been practicing for a number of months or years and want to go further in their yoga journey.
適合所有人包括初學者和鍛鍊了一段時間而希望在瑜伽鍛練旅程更推進一步的人仕
Cindy任教Yoga Room 超過10年,資歷豐富,在這3.5小時的工作坊當中,期待以多年的教學經驗,在直接互動的情況下和學員分析各自在瑜伽旅程上遇見的疑問或困難,透過輕鬆愉快的氣氛對瑜伽有更深厚的認識,藉此提升自己。
課程以廣東話為基礎(英語輔助)
**Space is limited! If you can't make it please cancel your ticket or email us so we can release more spots.
Please drop us an email at info@yogaroomhk.com / call 2544-8398 / WhatsApp +852 6685 9097 for details.