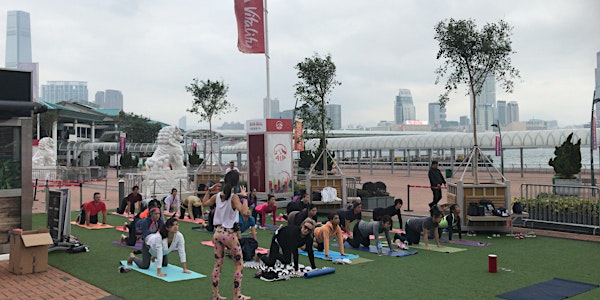 When and where
Location
AIA Vitality Park at the Hong Kong Observation Wheel 33 Man Kwong Street Central Hong Kong
Description
unique workout experience with a skilled yoga master.
想享受中環海濱著名的景觀的同時,免費練習瑜珈?立即到 AIA Vitality Park 與擁有豐富經驗的瑜珈導師一起享受獨特的運動體驗。


About AIA Vitality Park
AIA Vitality Park at the Hong Kong Observation Wheel is a brand new wellness area at the iconic Central Harbour front which promotes fitness, exercise and a healthy living.
位於中環海濱HKOW香港摩天輪旁的AIA Vitality Park是個推廣運動及健康生活為主題的運動公園,各種不同類型的精彩活動將會在此舉行。


About The Yoga Room
The Yoga Room is a boutique yoga studio in the heart of Sheung Wan with four studios. The Yoga Room offers over 100 classes per week designed for the beginner to the advanced. The Yoga Room is proud to offer group classes in Hatha, Vinyasa, Hot Yoga, Hot Flow, Yin & Candlelight Yin, Yin Yang, Ashtanga, Yoga Therapy, Restorative Yoga, Warm Stretch, Gentle Flow, Detox Yoga, Yoga Nidra & Meditation, Mindfulness Yoga, Core, Inversions, Hammock Yoga, Wheel Yoga, Forrest Yoga, Zumba Dance, Pre-natal Yoga, Pre-natal Pilates, Mum & Baby Yoga, Kids Yoga, Mat Pilates and TRX, all taught by Certified instructors. With a focus on small classes and high-quality, personalized instructions, the teachers of The Yoga Room radiate with warmth and knowledge from their extensive and diverse trainings. The Yoga Room also offers many Yoga teacher trainings, workshops, retreats and outdoor events.

About the Instructor
Canadian born with a passion for travel, Emily sees yoga as an opportunity to explore and unveil your true and highest potential, on and off the mat. Too often we forget about the truly extraordinary beings that we are. Emily believes that the practice of yoga is the perfect way to be reminded of this, and to push us past and exceed our previously set limitations into in an expansive, endless journey of self-discovery. Her love for yoga has guided her on her own path of self-inquiry and has inspired her to share her knowledge of this sacred, traditional practice and to adapt it to be practical and accessible to us in our modern world. After discovering yoga while living abroad in Australia, Emily travelled to Bali to complete her initial 200-hr Vinyasa Flow iFlow Teacher Training. Following this training, she then began her teaching experience in New Zealand. Aspiring to deepen her understanding of yoga, Emily proceeded to travel to the USA to attend a 250-hr Integrative Yoga Therapy training at Kripalu Center for Yoga & Health. To complete her 500-hr certification, Emily travelled to Arizona and participated in a 50-hr Functional Yoga Therapy Advanced Assessment & Treatment Planning training. Finally returning back to Canada, teaching yoga became a full-time profession for Emily, gaining experience in teaching a wide variety of students, including athletes, seniors, and everyone in between, in private one-on-one and group settings. As a Yoga Therapist, Emily sees each person as a unique individual with their own specific needs and requirements. Based on the Panchamayakosha model (five subtle layers of the body), the ultimate goal of a one-on-one Yoga Therapy session is to allow the individual to bring balance and to reconnect with themselves, beginning on a physical level, and to continue to explore deeper into their emotional and energetic well-being. Emily's approach to healing is supported by her knowledge of Anatomy – providing relief of chronic pain or conditions and injury rehabilitation. Emily's primary focus of an individual session is to release tension and realign the physical body by identifying muscular imbalances and correcting poor posture, and from here create and follow a unique treatment plan to assist you on your healing journey. Emily believes that Yoga is accessible to anyone, and is a lifelong journey that will allow you to discover acceptance, compassion, and a greater understanding towards others and yourself.
You are recommended to bring your own equipment such as yoga mat and yoga brick, towel and spare clothes. A limited number of yoga mats will be provided but there may not be enough to supply to all participants. Please keep warm and wear comfortable sportswear to enjoy the workshop.
我們建議你攜帶自己的運動用品例如瑜珈墊、瑜珈磚、毛巾和替換的衣服。我們亦會提供有限的瑜伽墊給大家借用,唯數量有限未必足夠供應給所有參與者。請注意保暖以及穿着適當的運動服裝參加工作坊。
RSVP information
TECL reserves the rights in deciding the final RSVP list. We will inform you by email if the workshop is cancelled.
TECL 對是次活動擁有修改及取消的權利。如果取消活動,你將會收到電郵通知。
Accident waiver and release of liability agreement
When you sign up to an AIA Vitality Park Event, you agree to the accident waiver and release of liability agreement here: http://hkow.hk/terms-conditions/
當您登記參加 AIA Vitality Park 的活動時,代表你同意是次活動為風險自負的活動和同意以下條款,請量力而為及注意安全: http://hkow.hk/terms-conditions/
Friendly Reminders
Please be aware that photos taken in events may be used for the promotional purposes in the future.
活動期間我們可能會進行拍攝及錄影以作日後市場推廣用途。