Yoga Nidra, which is Sanskrit for the "Yoga of Sleep" is the practice of conscious deep sleep state that brings you relaxation.
About this event
At the beginning of the class, you will be guided through some gentle asanas to relax your body& mind getting you comfortable before shifting into some deeper states of relaxation. An individual intention or sankalpa is set for the rest of the practice and we reach a deeper state of consciousness exploring our emotions, feelings, beliefs, and memories transforming them into a more positive experience and sensation of well-being as well as a deeper sense of awareness.
Yoga Nidra is a remarkably effective and useful tool to relieve daily stress, to promote deep healing, to reprogram subconscious negative patterns and to release energy blocks that prevent us from growing physically, mentally and spiritually. Benefits have been demonstrated in stress relief, better sleep, boosting the immune system, decreased inflammation, and reduced pain, normalize blood pressure, increased metabolism, and improved mental health.
Catherine is a certified Yoga Therapy teacher that offers 1-1 sessions as well as group sessions and employs Yoga Nidra to bring flow, balance and energy into her client's lives. She is also a Kinesiologist practitioner and Nutrition coach.
Note: Target audience is 30-50 years, experiencing high levels of stress, insomnia& emotional difficulties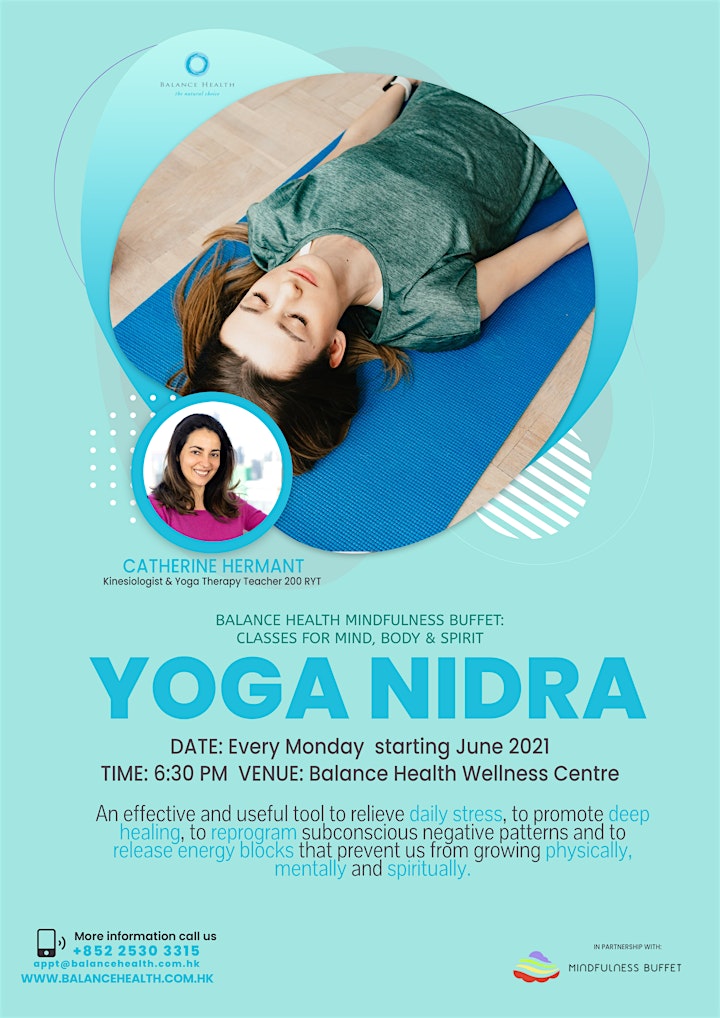 ABOUT CATHERINE HERMANT:
Registered Kinesiologist (Australian Kinesiology Association); Integrative Nutrition Health Coach (IIN); Member of the British Association for Nutrition and Lifestyle Medicine; Member of the Royal Medicine Society; Yoga Therapy Teacher 200 RYT.
Catherine is a Kinesiologist, Nutrition Coach and Detox specialist and has been practicing energy and body therapies with her clients for more than 15 years. She combines Energetic Kinesiology techniques with the latest Functional Nutritional science to provide her clients the best and long-lasting results.
She helps people that have chronic issues, be it physical, emotional, or mental to overcome their fears and their conditions so that they can get back to enjoying their life and fulfilling their purpose, releasing them from the burden of their previous struggles and pain.
Catherine is passionate about seeing transformation within her clients using an integral and functional approach through Nutrition and Detoxification strategies as well as Kinesiology to understand the root cause of individual's issues and to support the person's own healing process.
Her sessions can be conducted fluently in either English or French.
Organiser of Yoga Nidra Meditation
Balance Health is a natural health clinic offering an alternative to the conventional treatments, as no single system of medicine has the answers to every medical problem. As one of Hong Kong's earliest natural alternative clinics, Balance Health has supported thousands achieving health and well-being in body, mind, emotions and spirit.
By integrating the principles of conventional and complementary medicine our international team of therapists is able to take a broader view – lifestyle, nutrition, emotions, behaviour patterns, and beliefs. Health and wellness is more than simply the absence of pain. Balance Health offers alternative therapies to provide the body with the opportunity to heal naturally, making it stronger and less susceptible to illness and disease.
Whether you have health issues and want to facilitate your healing process or are just looking for a moment to escape your busy life: We connect you to practitioners to offer treatments tailored to your individual wishes and needs.