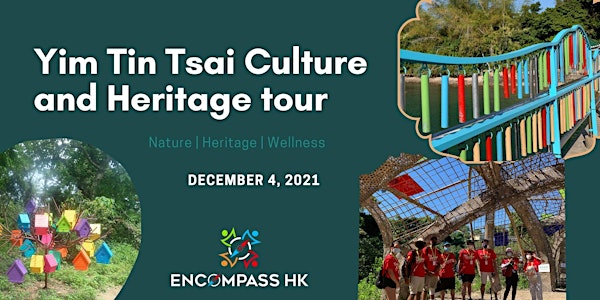 Yim Tin Tsai Culture and Heritage Tour
Explore the culture and heritage in this unique Catholic Hakka Island
When and where
Location
Yim Tin Tsai Heritage Exhibition Centre Yim Tin Tsai Sai Kung, NT Hong Kong
Refund Policy
Contact the organiser to request a refund.
About this event
Yim Tim Tsai Or 'Yim Tin Tsai' is a deserted offshore island situated on the south side of the Sai Kung Peninsula, Hong Kong.
"Yim Tim" in Cantonese means salt farm. In earlier days villagers of the island lived on farming and salt-making. Almost all villagers have migrated to urban areas in Hong Kong but in recent years, there has been efforts to turn the island into a tourist spot.
In recent years, villagers and volunteers have restored the village by renovating the chapel, which went on to receive an Award of Merit as part of the 2005 UNESCO Asia-Pacific Heritage Awards. The saltpans are Hong Kong's only remaining ones, and are now activity used for the harvesting of the salt fields. These have also earned a UNESCO distinction for conserving an important piece of Hong Kong's industrial heritage. This year's Yim Tin Tsai Arts Festival was the climax of a three-year pilot scheme to promote the revitalisation of many abandoned villages.
In our excursion, we'll explore the renovated St Joseph's Chapel, mangrove areas, salt farm and learn about the culture and heritage of this island, and how this island has been revitalized recently as an eco-tour location.
The combination of the island's seclusion with its unusual history, religion, nature and art, provides an enchanting escape from Hong Kong.
Itinerary:
• 12:30 meet at Sai Kung pier then take the ferry to Yim Tin Tsai.
Highlights
Discover centuries-old salt-making techniques
Admire UNESCO award winning St. Joseph's Chapel
Find out the many unique species of insects, butterflies and plants on the pristine island, including three of HK's most poisonous plants
Explore the art installations and learn about the efforts to revitalise the village
Enjoy traditional Hakka dumplings
Walking grade: Easy with paved paths. Around 2km. Suitable for children age 3 and up.
Fee for this tour: HKD 280 per person, HKD 200 for children under 8. Fee includes including ferry and guide fee.