About this event
2020 has been a crazy year full of challenges and opportunities. Now that the year is almost over, it is time to reminisce and celebrate! Join us at Clover Club for a night of positive vibes, beautiful live jazz band music, and fantastic people!
Located in the center of BFC (Bund Finance Center), the venue's elegant and luxurious décor reflects the style of New York's Manhattan private clubs.
Professionals from all fields are invited to come to this special event. Come and get the chance to build new business relationships or friendships on this exclusive night! We are sincerely looking forward to seeing you on Saturday, November 28!
充满挑战和机遇的2020年即将进入尾声
11月28日,周六
我们将带您来到全新揭幕的Clover Club
呈现一场年终全行业商务盛会
场地位于BFC外滩金融中心核心位置
低调奢华的装修和高雅格致的品味
显露出纽约曼哈顿私人俱乐部风格的卓尔不凡
当晚,各个领域的行业精英将汇聚一堂
在优雅华丽的氛围中,浅酌慢饮,举杯飨乐
结交众多沪上精英或商务伙伴
同时,尊享现场爵士乐队高水准演出
一同聆听这座城市的律动
这将是一个复古潮流和摩登风范相互交织的夜晚
期待闪耀的你的到来
共同开启属于你我的黄金时代
本年度绝对不可错过的品质社交体验
我们期待您的莅临!
The only requirement to enter this party is「 Elegant 」
「优雅」是参加这场活动的最佳通行证
TICKET LINK 购票链接:https://yoopay.cn/event/54713458
Attendees 参与人群
More than 150 industry leaders and all industries professionals are expected to attend this event, includes:
将有超过150名来自各个行业的精英加入我们
参与者所在行业包括:
Shanghai's Finest Professionals
(Overseas returnees or from Fortune 500 companies)
各行业精英及外籍人士
(大部分毕业于名校、海归或在500强企业工作等)
Professionals in Finance, Consulting, Investment Legal, Banking, PE/VC, etc.
金融、法律、科技、创投行业人士
Art/Fashion/Media/Luxury Professionals
艺术、时尚、媒体、 奢侈品行业人士
Tech, Medical, Education Professionals
以及科技、医药、教育行业人士
Executives, Entrepreneurs, Business Owners
和公司中高管、创业者、企业家等
WHEN
7:30 pm to midnight
Nov 28, Saturday
11月28日周六
晚上7点半至零点
WHERE
CLOVER CLUB
上海市黄浦区中山东二路600号
BFC外滩金融中心北区2栋2F201
UNIT 201, LEVEL 2, BLOCK 2. NORTH BFC, 600 ZHONGSHAN 2ND ROAD (E) HUANGPU DISTRICT, SHANGHAI
Clover Club is a scale of happiness just like the music scale of the levelling. Happiness can happen at different levels of happiness where people can achieve.
是一个以幸福为理念的俱乐部,在这里,你的幸福感会像音乐的音阶一样,不断攀升。幸福感可以发生在人们可以达到的不同程度的幸福中。
Clover Club started with a group of people who were passionate about cocktails and music, they wanted to create a space to create an atmosphere for people who can come and anticipate with the first cocktail, savour the moment. Express their thoughts with us and reflect after their visit.
Clover Club是由一群对鸡尾酒和音乐无限热爱的人创办的。创造一个空间,为人们制造一种让他们来品尝第一杯鸡尾酒,尽情享受这一刻的氛围是他们的初衷。欣盼、萌动、兴起、雀跃,是他们所期待的人们加入Clover Club以后可以达到的幸福的层次,音乐则是灵魂所在。并且希望在享受后,人们可以主动向我们表达他们真实情感并给予一些反馈。
HIGHLIGHT
1
The venue is located at Bund Finance Center, bringing you a sparkling night surrounded by modern urban architecture
场地位于魔都新坐标:BFC外滩金融中心
以时尚·艺术·设计为三大核心元素,与外滩咫尺距离
为您带来摩登都市的璀璨闪耀夜!
2
Engaging networking games
社交互动游戏,让你更好的融入
Lucky draw and prizes
惊喜抽奖和奖品
3
Live Band Music(from 9:30)
现场乐队表演(九点半后)
Jazz and R&B music performance by the band will create the best vibe for the event, and provide an immersive music experience
驻场乐队带来Jazz和R&B演出
为活动营造最佳音乐氛围
带来沉浸式的视听感受
ADMISSION
RSVP Options:
It includes 1 selected drink
and participation in lucky draw
以下门票费用均包括1杯酒水(或软饮)及参加抽奖
Early Bird Ticket 早鸟票
Sign up before 11 pm Nov 15
11月15日23点前报名(周日)
Single Ticket 单人价
RMB 108 /person
每位108元
Prepaid Ticket (Phase 1) 预售阶段一
Sign up before 11 pm Nov 22
11月22日23点前报名(周日)
Double Ticket 双人价
(Sign up with 2 guests 两人报名)
RMB 118 /person
每位118元
Single Ticket 单人价
RMB 128 /person
每位128元
*Ticket prices will be increased after Phase 1
*「预售阶段一」结束后即涨价
Ticket on spot 现场支付
RMB 160 /person
每位160元
Entrance Fee includes One Drink
票价包含一杯酒水(或软饮)
TICKET LINK 购票链接:https://yoopay.cn/event/54713458
Tickets are not refundable, while you can use it for one of the future events
门票不可退还,提前告知可以在下次活动中使用
如未提前告知,则门票自动过期作废
Spots are limited to 300 people
Please book your tickets ASAP
席位控制在300人,请尽早预订席位
DRESS CODE
Smart & Chic
时髦优雅
着装建议(不强制)
男士:西装 或 正装衬衫
女士:鸡尾酒会礼服
For sponsorship or partnership
Please add WeChat: shfun_official
赞助及合作咨询,请联系微信:shfun_official
Email: erin_tang@126.com
微信公众号WeChat Official Account: ShanghaiFUN上海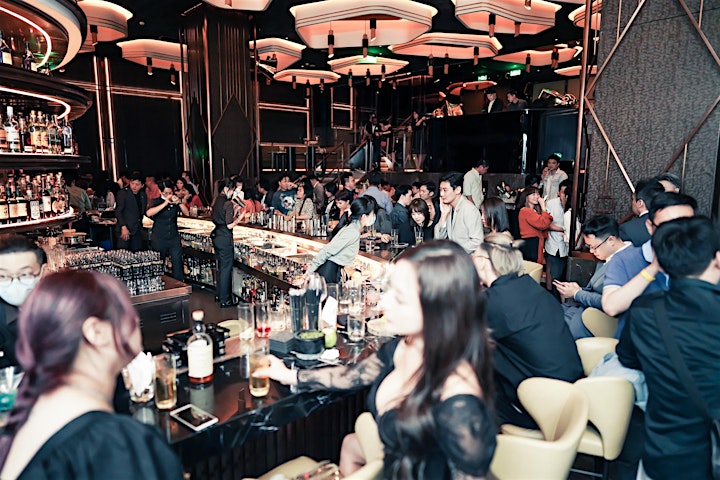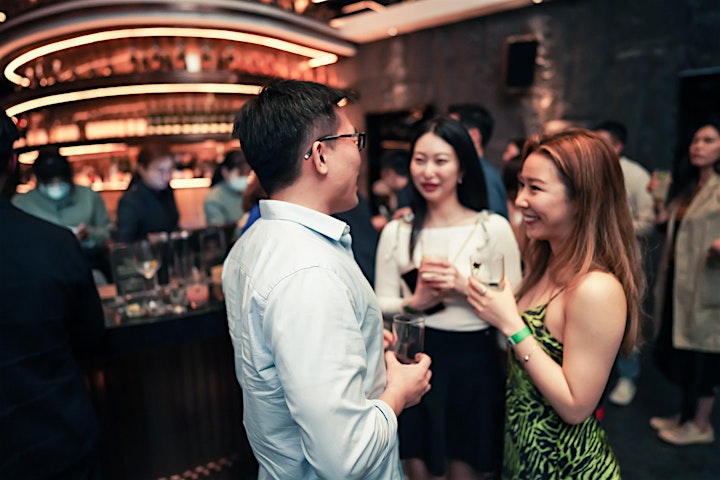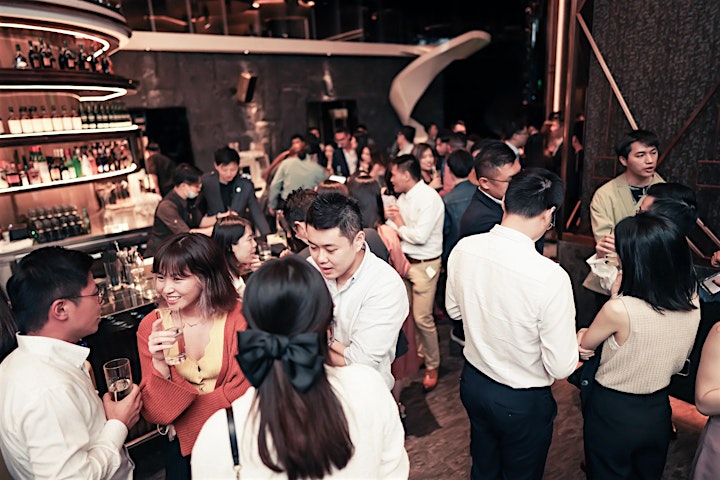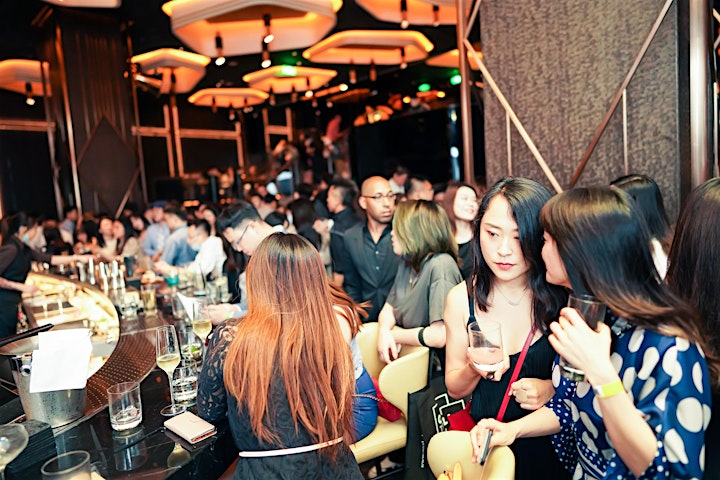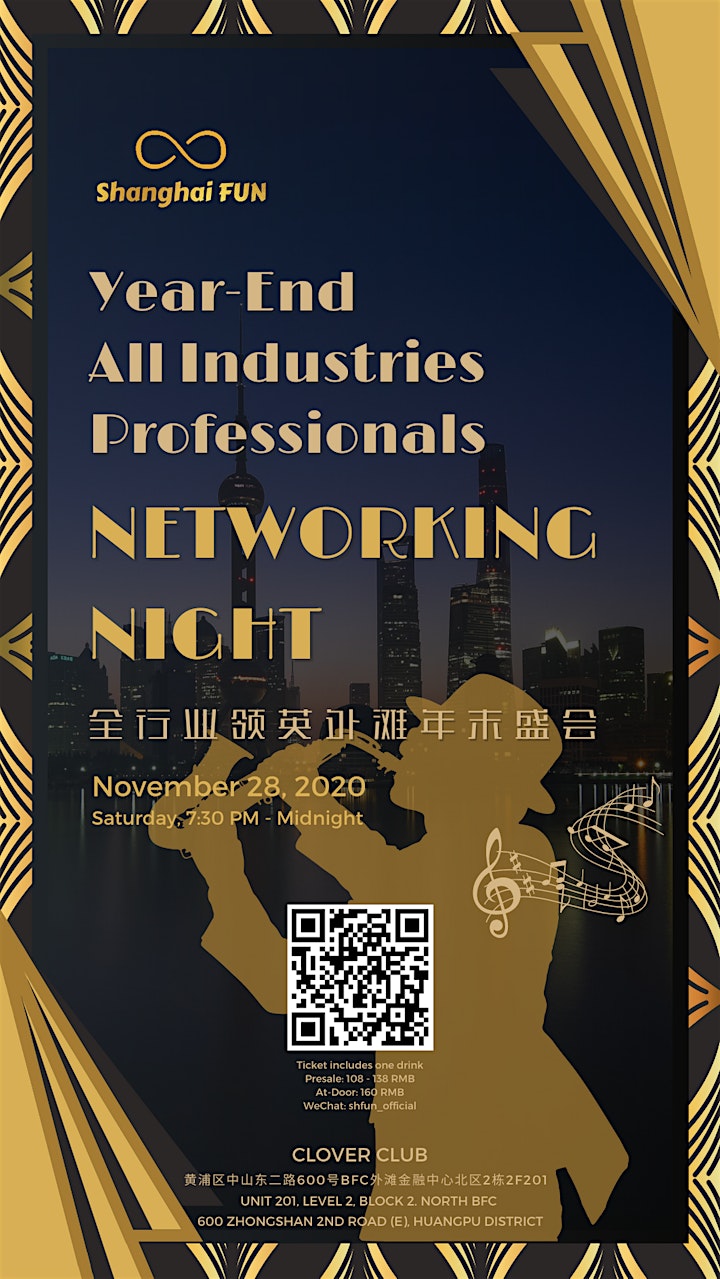 Organiser of Year-End All Industries Professionals Networking Night 全行业领英外滩年末盛会
About Shanghai FUN
We organise parties, networking events, brunch/dinner meetup and after work drink events in Shanghai. 
Join us to make new friends, expand your social circle and take part in fun events! 
Our events attract an international crowd of professionals looking to socialise, network and meet like-minded people.
Invite your friends to follow us and spread the word!
活动组织方
Shanghai FUN立足魔都,每周不定期的组织派对及类型多样的社交活动,参与人群为外国人、海归,及具有国际背景的人士,所选活动场地均为城中品质潮流场所。