Land your dream tech career and hire the best tech talents
About this event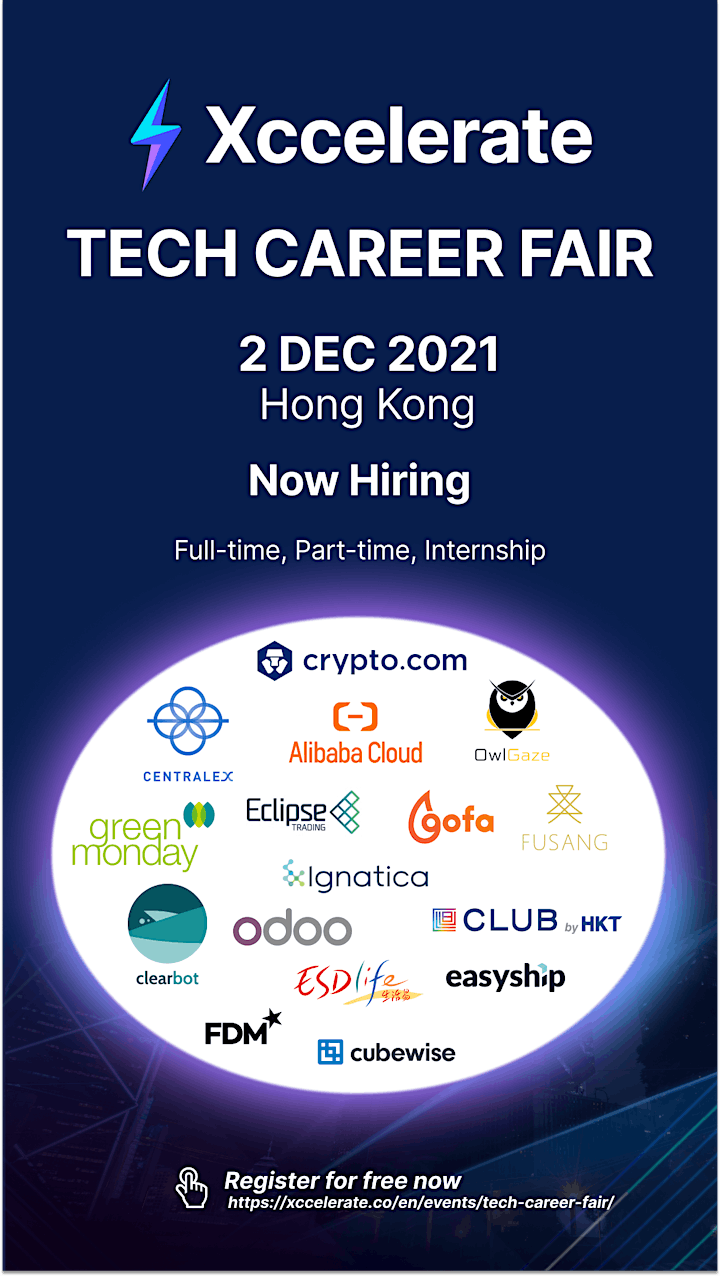 About Xccelerate
Xccelerate was founded in 2017 with the vision of bridging the tech talent gap in Hong Kong. We reinvent education to employment experience to future-proof workforces. Find out how we work.
To accelerate hiring experience for our company partners and learners, we recently launched HK's 1st tech job board.
Xccelerate Tech Career Fair
Xccelerate proudly announce our 1st Tech Career Fair. This is your chance to experience our seamless hiring experience in person.
20 company booths to recruit quality tech candidates
LIVE Fireside Chat Series with Hiring Companies
Mingle and network with hiring managers
Available roles posted by our hiring partners:
Software Engineers (check our Job Market insights!)
Developers
Product Managers
AI/ML Engineers
Cloud Engineers
Blockchain Engineers
many others!
Why attend?
This is the chance for you to learn about the hiring companies - learn about the opportunities available, and gain more information on the tech career landscape in Hong Kong. Most importantly, this event will put you front and center with recruiters who can hire you!
We will be collecting short projects and challenges from participating companies for candidates to complete in order to create a highly relevant and dynamic networking environment during the fair.
Steps:
1. Register here on EventBrite
2. Learn more about the hiring companies by signing up to the job board here.
3. Apply to jobs on the job board prior to the career fair and engage in meaningful related projects. We will notify candidates via email with the addition of new projects and companies joining the career fair.
4. Recruiters will be able to see your application, candidate information, and project submissions in the job board platform prior to the event.
5. Attend the job fair - mingle, impress recruiters with your innovative tech projects and get hired!
Event Details:
Date: 2nd of Dec 2021
Time: 14:00-18:00
Venue: CoCoon, 3/F Citicorp Centre, Tin Hau
*confirmed schedule and list of participating companies to follow-up
For Employers:
If you are an employer looking to have a booth at the job fair or to learn more about our hiring services, kindly message our talent solution team, Sneha at sneha.n@xccelerate.co
Organiser of Xccelerate Tech Career Fair
Founded on the vision that the greatest opportunity for improving lives is education, Xccelerate aspires to reinvent tech education to address the colossal talent challenges in Artificial Intelligence, Software Engineering, Data Science & Machine Learning, Blockchain and UX Design. We drive outcomes for individuals and enterprises by leveraging expert instructors, proprietary curriculum and a unique blended learning pedagogy.
Our campuses pioneer teaching innovation with graduates forming a unique talent pipeline for leading start-ups and MNCs to solve hiring challenges. Our learning and training platform empowers other organisations to keep ahead with technology acceleration.
Till date, Xccelerate has trained 3,500+ professionals and boasts a 91% hiring success rate in our immersive programs. We have powered enterprise training and graduate placements to various industry leaders including IBM, Johnson Electric, CX, AXA, Veolia, Zeroth.ai, Standard Chartered, and ANX.