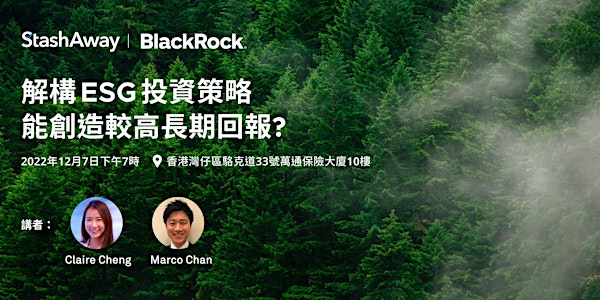 貝萊德 x StashAway:解構 ESG 投資策略,能創造較高長期回報?
深度解構 ESG 投資:參與 BlackRock® x StashAway 的創富研討會,了解 如何ESG 投資策略創造更高的長線回報。
When and where
Location
YF Life Tower 10/F, YF Life Tower, 33 Lockhart Road, Wanchai Wanchai, HKI Hong Kong
About this event
Deep dive into ESG investing: Join BlackRock® & StashAway for a discussion on generating higher returns in the long-term with ESG strategy.
You'll hear from Claire Cheng, Investment Strategist at BlackRock, and Marco Chan, Wealth Advisor and Responsible Officer at StashAway HK. And do join us for a networking session with complimentary wine, drinks, and light refreshments following the event.
深度解構 ESG 投資:參與 BlackRock® x StashAway 的創富研討會,了解 如何ESG 投資策略創造更高的長線回報。
想知著名基金發行商如何將ESG投資策略發揮極致,學會後再幫自己創造長線回報?立即報名讓 BlackRock® 投資策略師 Claire Cheng 與 StashAway 理財顧問 Marco Chan 為你解構 ESG 的可持續價值。透過今次活動,所有參與者可即席與理財專家做投資交流,大會將提供茶酒及小點,你享受美好的一晚。
Date: 7 Dec 2022 (Wednesday)
Time: 7 - 9 PM HKT
Venue: 10/F, YF Life Tower, 33 Lockhart Road, WanChai
Language: Speakers in Cantonese
日期:2022 年 12 月 7 日(星期三)
時間:7 - 9 PM HKT
地點:灣仔駱克道33號萬通保險大廈10樓
語言:粵語講者
About Speaker
Claire Cheng - Investment Strategist, APAC ETF & Index Investments at BlackRock
Claire Cheng is a member of BlackRock's EII APAC Investment Strategy and Product Consulting team in Hong Kong, responsible for delivering trade ideas and market insights to clients. Prior to joining BlackRock, she worked at Goldman Sachs as an Equity Research Analyst covering APAC Real Estate, focused on the Hong Kong property market.
Claire earned a Bachelor's Degree in Commerce with a double major in Finance and Management from the University of Melbourne. She is an advocate for the full participation of women in the workplace and an active member of BlackRock's Women Initiative & Allies Network.
Marco Chan - Wealth Advisor and Responsible Officer at StashAway
Marco is the Wealth Advisor and Responsible Officer at StashAway HK covering Affluent to High-Net-Worth clients. Marco has over 8 years of wealth and relationship management experience, and in empowering clients to build long-term wealth through the right asset allocation cost-effectively. Prior to joining StashAway, he worked as a Premier Relationship Manager at HSBC and provided a range of sales services and advisory covering multi-asset investments, insurance, and borrowing.
He is licensed by the Securities & Futures Commission (SFC) in Hong Kong for Type 1 (dealing in securities), Type 4 (advising on securities), and Type 9 (asset management) regulated activities.
About StashAway
StashAway is a digital wealth manager that offers investment portfolios and wealth management solutions for both retail and accredited investors and operates in Singapore, Malaysia, the Middle East, North Africa, Hong Kong, and Thailand.
As of January 2021, the company surpassed $1 billion USD in assets under management. It achieved this milestone faster than it took the world's largest digital wealth managers, Betterment and Wealthfront, to reach the same milestone. In 2020, StashAway was recognized as a Technology Pioneer by The World Economic Forum and a Top 10 LinkedIn Startup.
By registering for this event, you are deemed to have understood and consented to StashAway collecting your personal data that you directly input into the registration forms and contacting you thereafter in relation to our products, services, and events. We promise to send only the good stuff. However, if you ever wish to opt out, you can easily unsubscribe using the Unsubscribe feature included in the emails. If you wish to know more about our Privacy Policy, you can visit our Privacy Policy page where the policy will apply mutatis mutandis to the event that you have registered for.