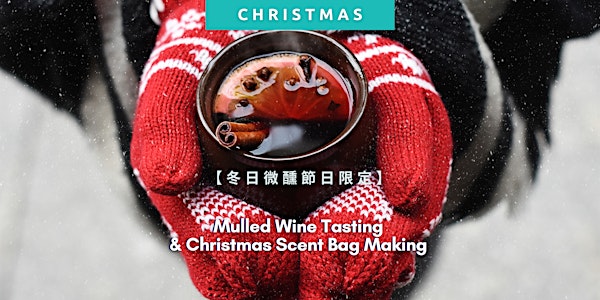 【冬日微醺節日限定】冬日熱紅酒 X 聖誕香薰包 Mulled Wine Tasting & Christmas Scent Bag Making
品嚐由奧地利人親製的 Mulled Wine,更可以了解到 Mulled Wine 歷史和做法,並製作屬於自己的香料包帶回家,做屬於你的Mulled Wine。最後你還有機會做一個屬於自己的節日香薰包呢!
When and where
Location
99COMMONS 杯渡路99號 Tuen Mun Hong Kong, NT Hong Kong
About this event
【冬日微醺節日限定】冬日熱紅酒 X 聖誕香薰包
Mulled Wine Tasting & Christmas Scent Bag Making 【Seasons Edition】
最近開始轉天氣,好快轉眼間又到冬天了,在這個由肉桂,丁香,柑橘這些節日香氣洋溢的季節,最好就當然是來一杯暖笠笠的 Mulled Wine(熱香料紅酒)啦!那甚麽是 Mulled Wine 呢?Mulled Wine 是一款甜美,暖胃而且充滿香氣的紅酒。在寒冷的天氣下享受著熱騰騰的Mulled Wine是歐洲人非常享受的活動。
雖然我們不是在歐洲,而且香港的天氣也不是這麽冷,但這也無阻我們像歐洲人一樣享受和慶祝冬天。在12月的工作坊,你不但會有機會嘗試傳統由奧地利人親製的 Mulled Wine,更可以了解到 Mulled Wine 歷史和做法,並製作屬於自己的香料包帶回家,做屬於你的Mulled Wine。最後你還有機會做一個屬於自己的節日香薰包呢!
Soon it is winter time again and the seasonal fragrance of lovely warming spices, such as cinnamon, cloves and citruses will be filling the air and what better than to warm yourself up with a nice glass of hot mulled wine! So, what is mulled wine? It is a very body warming, aromatic and sweetened red wine, drank hot and enjoyed all over Europe during the cold months.
Although we are not in Europe and the weather is not particularly that cold in Hong Kong, it does not mean we cannot enjoy and celebrate like the Europeans do. Now you will have the chance to not only taste authentic traditional mulled wine made by our Austrian Guest but also have the opportunity to learn a little about its history, its various recipes and take back home a sample of your own custom blend of spices to make your own mulled wine at home.
Last but not least, you will also have the opportunity to make or own a festive season scent bag!
*******************
日期 Date:17/12/2022 (六 Sat)
時間 Time :15:30 - 17:00
地點 Venue : 屯門 Tuen Mun
費用 Fee : $280
名額 Quota:10(未滿18歲需家長陪同 Bring a parent or guardian with you if you are below 18)
除了每人一杯熱紅酒,還可以帶走自製節日香包及熱紅酒香料各一。
Apart from mulled wine tasting, you can bring home a mulled wine sachet (for making your own mulled wine at home) and also a christmas sachet bag.
_________________
By registering for our events on Eventbrite, you agree to our privacy policy (https://icehongkong.com/privacy), and that your personal information will go to our newsletter system, Mailerlite, from which you will receive our newsletters from now on. Should you wish to have your information removed from Mailerlite, please make a direct request to ice@icehongkong.com.
_________________
Organisation Introduction:
We are Inter Cultural Education (ICE), a social enterprise aiming to educate people to appreciate and be able to accept the cultural diversity of the world. ICE has helped more than 30,000 people in Hong Kong to connect and understand the world better through cross-cultural dialogues.
In the past 10 years, ICE has worked with people from more than 85 countries from all walks of life to promote the solidarity of a local community with the international community. Due to the situation under COVID-19, we are offering a special online programme called Explorers' Month, to bring the world to the public without leaving the city through a series of events. Follow our social media to learn more about world cultures: