Description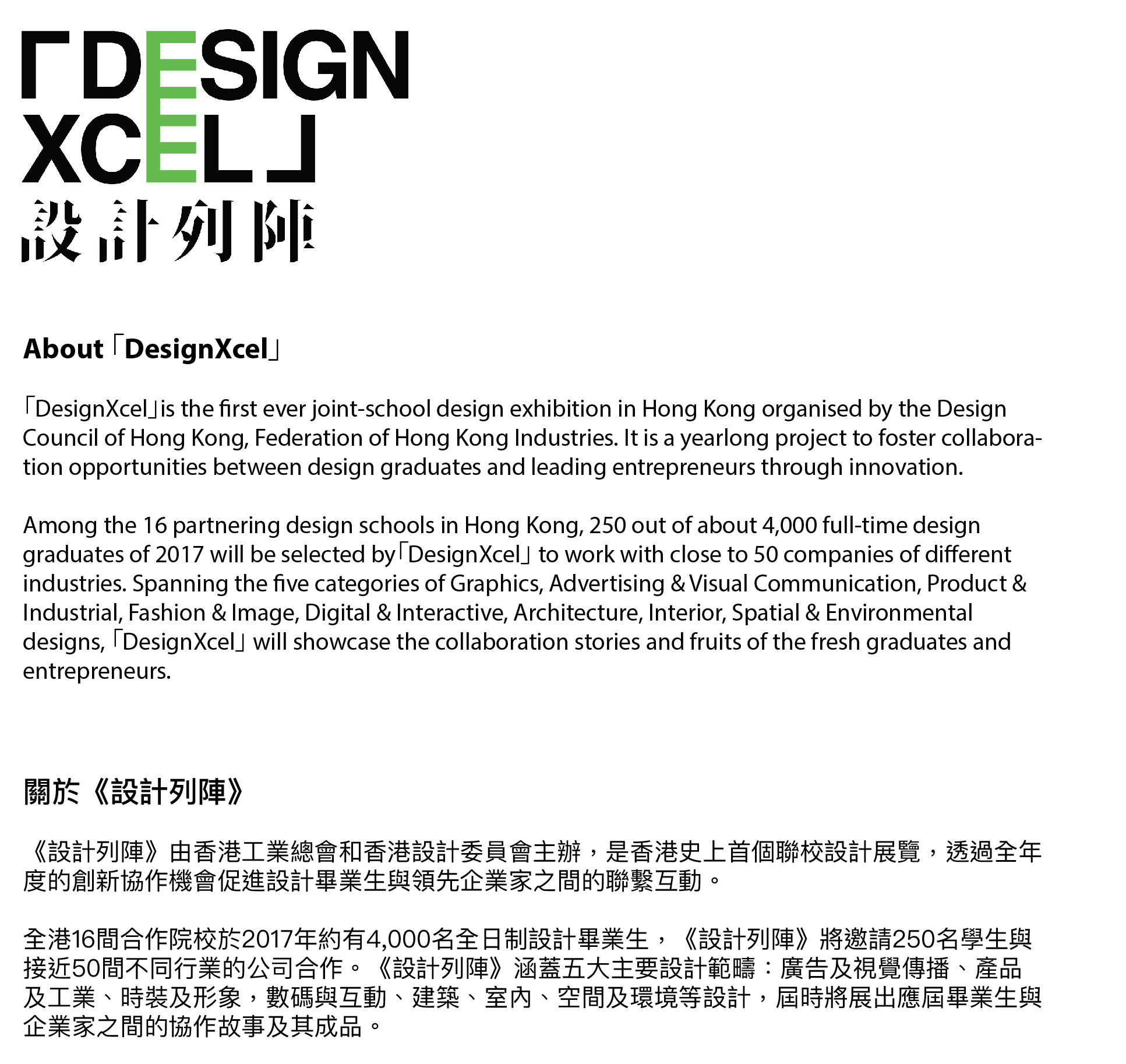 WS10 | Folding Stool Workshop
瓦通紙櫈製作工作坊

Date 日期 | 15 Oct 2017 (Sun 星期日)
Time 時間 | 14:30 - 17:30 (3 hours 小時)
Location 地點 | Hong Kong Central Library Exhibition Gallery
香港中央圖書館展覽館
Language 語言 | Cantonese 粵語
Fee 費用 | Free 免費
No. of Pax 名額 | 25
Instructor 指導員 |
1. Aping Hong 洪曉平 | Design Director 設計總監 | Luk Ka Paper Industrial Limited 力嘉紙品印刷工業有
限公司
2. Alex Ma 馬楚力 | Deputy General Manager 副總經理 | Luk Ka Paper Industrial Limited 力嘉紙品印刷工業有限 公司
Content 內容 |
Furniture design is a professional area for study, a good piece of furniture requires a stable structure and functional satisfaction, as well as a technical solution to design challenges.「DesignXcel」exhibits the furniture pieces designed by a group of design graduates, who not only fulfill the above demands on quality, but they also intensify human connections, promote social care and extend cultural heritage through furniture design.
Through basic design theories, the Folding Stool Workshop has corrugated boards as the main material for the production of a foldable stool for daily applications, come challenge your design DNA! If you are interested in furniture design, do grab this chance to get a seat for the workshop to learn more about its concept and practice!
家俱設計是一門專業的課程,好的家俱要有穩定的結構,符合功能上的需求,以及解決製作上的技術挑戰。《設計列陣》展出多位設計畢業生的家俱設計,除了符合以上質素外,他們更透過家俱設計來加強聯繫、關心社區和傳承文化。
紙皮櫈製作工作坊以瓦通紙為材料,透過基本的設計理論,用瓦通紙摺出一張可以日常用的椅子,挑戰你的設計DNA!對於家俱設計有興趣的你要把握機會參加是次工作坊,了解家俱設計的基本理論和實踐。
The time and content of the 「DesignXcel」 Exhibition Programme are subject to change without prior notice. Please visit the website or Facebook Page of Design Council of Hong Kong for the updated details. All exhibition activities will be conducted in Cantonese and on first-come-first-served basis.
Successful applicants should arrive at the venue no later than five minutes after the programme commences; otherwise, the reserved seats will be released to walk-in visitors waiting for admission.
《設計列陣》展覽活動時間及内容如有任何更改,恕不另行通知。更新詳情請瀏覽香港設計委員會網站或Facebook Page。所有展覽活動皆以粵語和先到先得方式進行。
已成功報名人士如於活動開始後五分鐘仍未進場,已預留名額將開放予即場人士替補。