WS05 | "City Dress Up: Seats.Together" Seminar 「城市藝裳計劃:樂坐其中」研討會
Description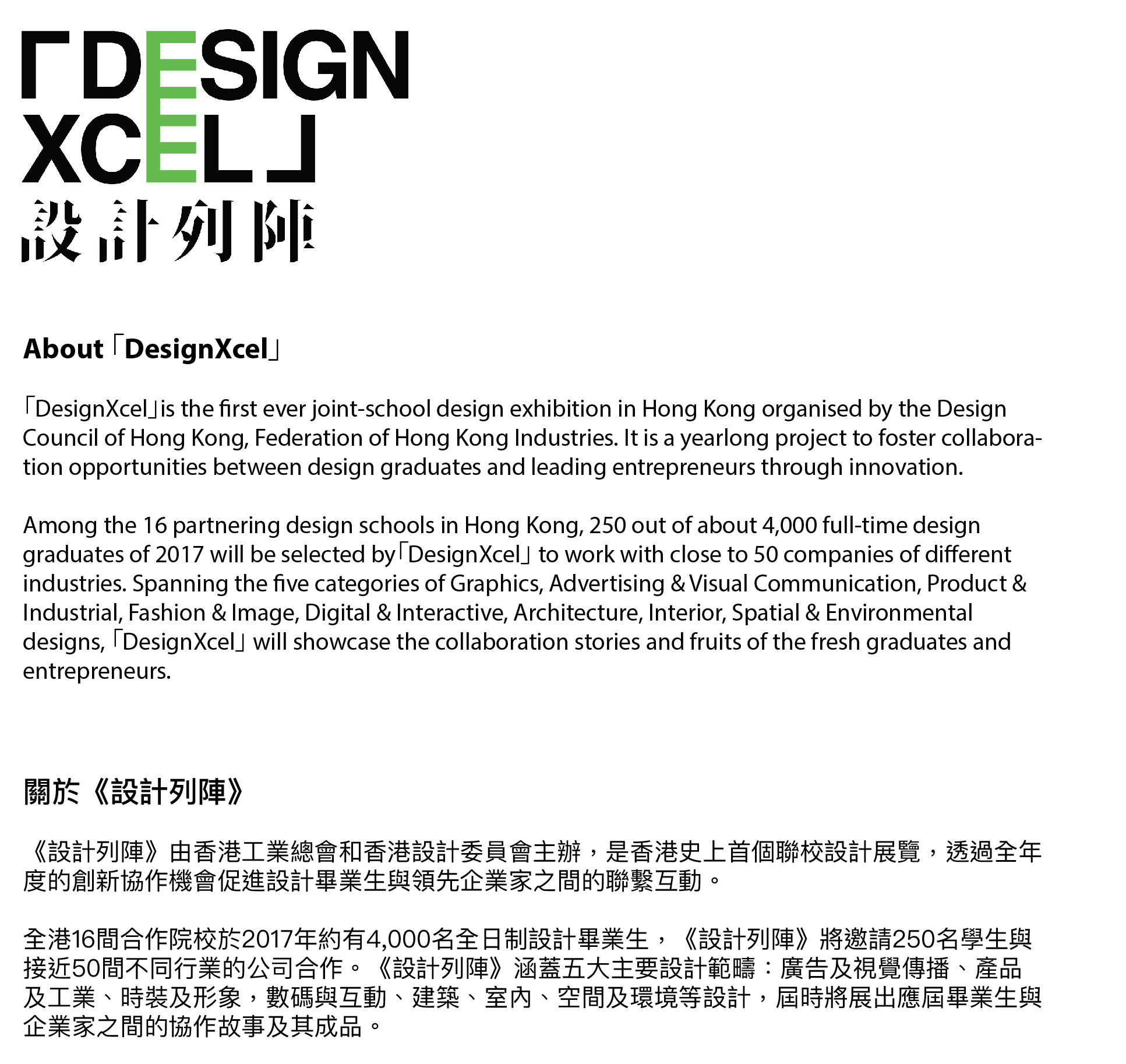 WS05 | "City Dress Up: Seats.Together" Seminar 「城市藝裳計劃:樂坐其中」研討會
Date 日期 | 8 Oct 2017 (Sun 星期日)
Time 時間 | 14:30 - 17:30 (3 hours 小時)
Location 地點 | Hong Kong Central Library Exhibition Gallery
香港中央圖書館展覽館
Language 語言 | Cantonese 粵語
Fee 費用 | Free 免費
No. of Pax 名額 | 70
Moderator 主持人 |
Alvin Yip 葉長安 | Founder & Curator-in-chief 創始人及首席執行官 | CIRCUS Ltd. 文創移動有限公司
Speaker 講者 |
Halima Khan | Interior Design 室內設計 | Raffles International College (Hong Kong)

Jireh Plasus Dagdag | Landscape Architecture 園境建築 | Technological and Higher Education Institute of Hong Kong 香港高等教育科技學院

Wong Pui Sze, Daisy 王珮詩 | Landscape Architecture 園境建築 | Technological and Higher Education Institute of Hong Kong 香港高等教育科技學院


Fung Ching Wai, Wilson 馮政淮 | Architecture 建築 |The Chinese University of Hong Kong 香港中文大學

Tam Dik Yeung, Derek 譚廸洋 | Architecture 建築 | The Chinese University of Hong Kong 香港中文大學

Leung Ka Wai, Eva 梁嘉慧 | Product Design 產品設計 | School of Design 設計學院 | The Hong Kong Polytechnic University 香港理工大學設計學院


Ho Sze Yin, Calvin 何思賢 | Architecture 建築 | The University of Hong Kong 香港大學


Wong Kit Man, Kitty 王潔雯 | Landscape Architecture 園境建築 | The University of Hong Kong 香港大學


Brian Lee & Denise Chan 李宇軒及陳立恆 | Billy Tam 譚漢華 | Yip Chun Hang 葉晉亨 | Guest Curatorial Teams 客席策展人 | "City Dress Up: Seats. Together" 「城市藝裳計劃:樂坐其中」

Dr. Lesley Lau 劉鳳霞博士 | Head of Art Promotion Office, LCSD 康樂及文化事務署藝術推廣辦事處總監



Content 內容 |
How two generations of designers may work together to plan and execute a public project?
Architecture design graduates are very into community projects, their own works pay more and more attention to community care and social ties. To help our design graduates extend their projects to the community, the「DesignXcel」team has invited the four visiting curators of "City Dress Up: Seats.Together" to dialogue with the graduates.
The Arts Development Council has launched the "City Dress Up: Seats.Together" public art project, where they place 20 sets of exceptionally creative urban furniture pieces in a total of 20 parks, promenades, recreation space and playgrounds under LCSD across the 18 districts in Hong Kong.
The programme had the four groups of curators – Billy Tam, Joshua Lau, Brian Lee & Denise Chan and Yip Chun-hang to assist the 20 groups of artists in brainstorming art seats that are both functional and aesthetic. Every furniture set is tailored made for each venue, in accordance with its surroundings and communal characteristics. Through the incorporation of rich artistic elements into the cityscape, the furniture sets are the glue for the community to stay close together.
兩代人如何可以合作,共同策劃並執行公共項目?
建築設計畢業生對社區項目十分感興趣,他們的作品越來越關心社區,與社區的聯繫越趨緊密。為了把我們的畢業生項目伸延到社區,《設計列陣》團隊邀請「城市藝裳計劃:樂坐其中」的四組客席策展人與畢業生對談。
藝術推廣辦事處推出「城市藝裳計劃:樂坐其中」公共藝術項目,在全港十八區共二十個康樂及文化事務署轄下的公園、海濱長廊、休憩用地及遊樂場所,設置二十組別具創意的城市家具。
計劃邀請了四組客席策展人 — 譚漢華、劉栢堅、李宇軒和陳立恆、以及葉晉亨分別協助二十組藝術家團隊構思實用與美感兼備的藝術座椅。每組作品根據各個場地的周邊環境和社區特色而度身設計,為香港的城市面貌注入豐富的藝術元素,以同起共坐的精神凝聚社群。
The time and content of the「DesignXcel」Exhibition Programme are subject to change without prior notice. Please visit the website or Facebook Page of Design Council of Hong Kong for updated details on your own.
《設計列陣》展覽活動時間及内容如有任何更改,恕不另行通知。更新詳情請自行瀏覽香港設計委員會網站或Facebook Page。
Date and Time
Location
Hong Kong Central Library Exhibition Gallery 香港中央圖書館展覽館
66 Causeway Road, Causeway Bay, Hong Kong
香港銅鑼灣高士威道66 號
Hong Kong