Description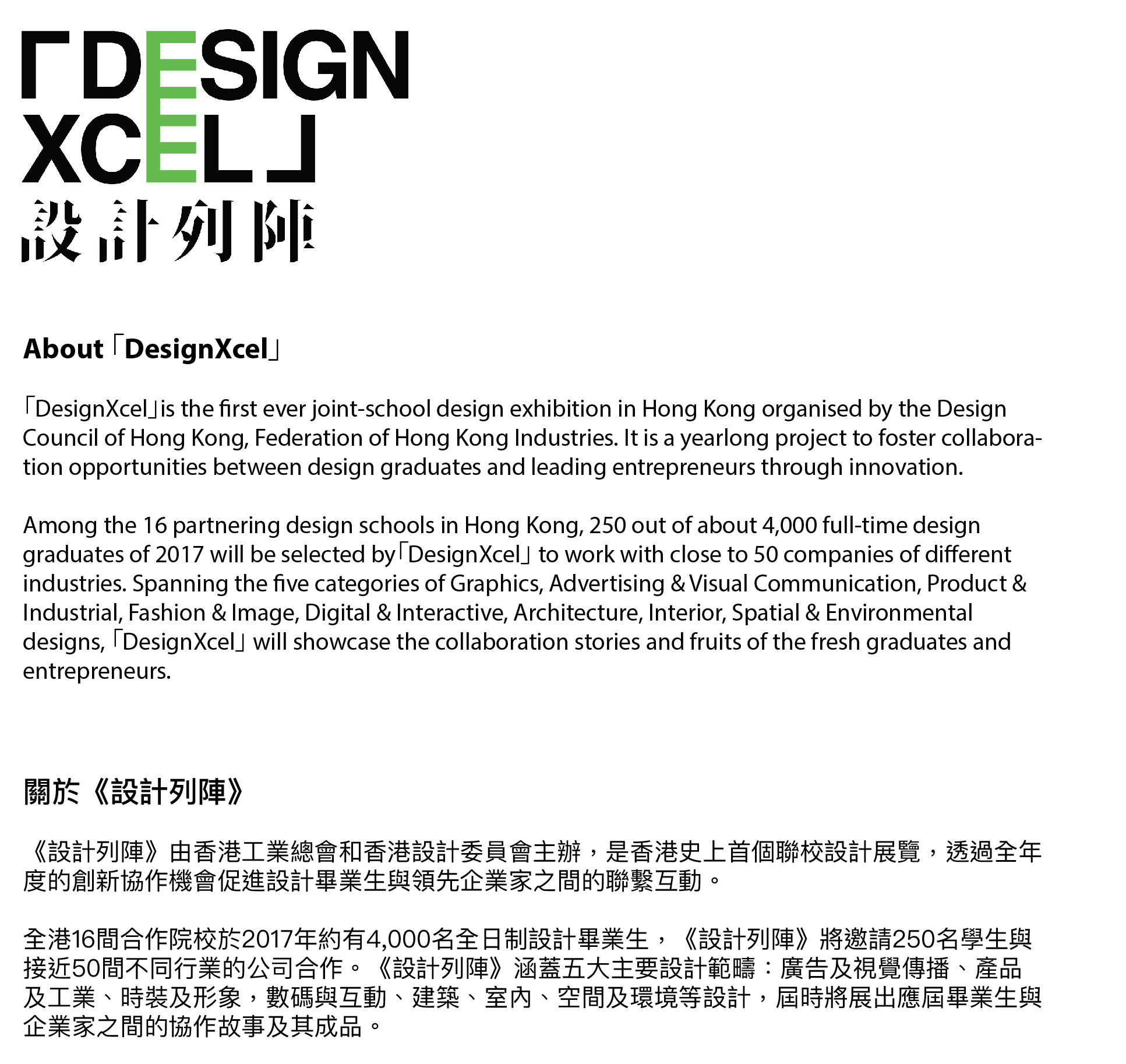 WS03 | 3D Puzzle Workshop 立體拼圖工作坊
Date 日期 | 7 Oct 2017 (Sat 星期六)
Time 時間 | 14:30 - 15:30 (1 hour 小時) | 3D Puzzle Sharing 立體拼圖分享會
15:30 - 17:30 (2 hours 小時) | 3D Puzzle Workshop 立體拼圖工作坊

Location 地點 | Hong Kong Central Library Exhibition Gallery
香港中央圖書館展覽館
Language 語言 | Cantonese 粵語
Fee 費用 | Free 免費
No. of Pax 名額 | 30
Moderator 主持人 |
Joe Wong 黃文翰 | Co-Founder & Creative Director 共同創始人及設計總監 | TAKON Product Development Ltd.
Speaker 講者 |
David Tam 譚炎培 | Graphics, Visual Communication & Advertising Design 平面、視覺傳遞及廣告設計 | HKU School of Professional and Continuing Education 香港大學專業進修學院




Yeung Sin Man 楊倩文 | Graphics, Visual Communication & Advertising Design 平面、視覺傳遞及廣告設計 | The Hong Kong Polytechnic University, Hong Kong Community College 香港專上學院




Ball Cheung 張耀輝 | Assistant Design Manager 設計副經理 | Starlite Visual Communication Ltd. (Team Green) | 星光視覺媒體有限公司(綠團)



Content 內容 |
The 3D puzzles from the local design brand Green Team, through accurate laser cutting and assembling design, can become an artistic décor piece created without any tools or glue but bare hands. Green Team excels in turning graphics design into 3D puzzles, that is why they can collaborate with graphics design graduates to upgrade their works with potential.
In view of the stereotypical international imaginary of Hong Kong as the static Oriental Pearl or Asia's Financial Centre, one of the design graduates of 2017, David Tam, was determined to project a different local cityscape with "Hong Kong Story" through his minimalist graphics. To add more values to David's graphics,「DesignXcel」took it further to introduce him Team Green's 3D wooden puzzles, which brought forth the latter's brand new Hong Kong 3D puzzle series of 18 districts.
Another design graduate Yeung Sin Man created the "Street Monsters" graphic art for the public to download. She hopes that her final-year project can bring happiness to the city, with the help of her "Street Monsters", a positive attitude and a happy environment can be fostered. Team Green worked with her on 3D puzzle chairs, allowing joy to be spread.
If you wish to know more about how local elements attract collaborators, and how they add market value, come join the Team Green Sharing and Workshop!
本土設計品牌綠團(Team Green)的立體拼圖,透過精細切割及組裝設計,不用任何工具或膠水,只靠雙手都可拼砌出如藝術擺設的立體拼圖。綠團擅於把平面設計變成立體拼圖,因此可以與平面設計的畢業生協作,把有潛質的作品優化。
其中一位設計畢業生譚炎培眼見外間對香港的國際想像一直局制於東方之珠或國際金融中心的典型,下定決心要以作品「港故事」及其簡約畫風,投射出截然不同的香港都市風光。為了優化譚同學的作品,《設計列陣》團隊更進一步將綠團的木製立體拼圖介紹予譚,成功造就新穎的十八區香港立體拼圖系列。
另外一位設計畢業生楊倩文創造了「街頭怪獸」的平面圖案,給公眾免費下載。她的這個畢業作品希望可以給予城市快樂,透過「街頭怪獸」傳播開心的態度和氛圍。綠團將會與她合作製作立體拼圖椅子,講快樂在城市傳播。
想了解本土元素如何吸引協作夥伴,如何增加市場價值,歡迎參加綠團分享會兼工作坊。
The time and content of the「DesignXcel」Exhibition Programme are subject to change without prior notice. Please visit the website or Facebook Page of Design Council of Hong Kong for updated details on your own.
《設計列陣》展覽活動時間及内容如有任何更改,恕不另行通知。更新詳情請自行瀏覽香港設計委員會網站或Facebook Page。
Date and Time
Location
Hong Kong Central Library Exhibition Gallery 香港中央圖書館展覽館
66 Causeway Road, Causeway Bay, Hong Kong
香港銅鑼灣高士威道66 號
Hong Kong