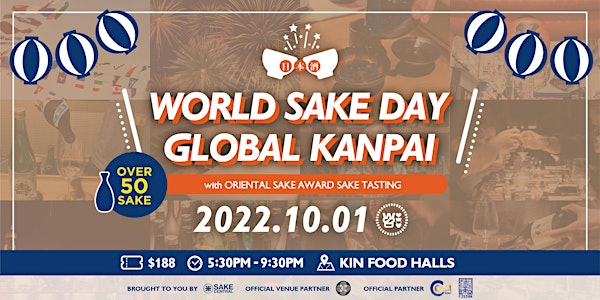 World Sake Day Global Kanpai Event w/ Oriental Sake Award Sake Tasting
Join The World's Largest Kanpai at KIN Food Halls!
When and where
Location
KIN Food Halls 979 King's Road Quarry Bay, HKI Hong Kong
About this event
THE WORLD SAKE DAY GLOBAL KANPAI:
CHEERS TO SAKE LOVERS ALL OVER THE WORLD!
ONLY ON OCTOBER 1ST AT KIN FOOD HALLS
Tickets are limited, hurry and secure yours now!
+ 80 sake available to taste
+Limited edition Ochoko sake cup GIFT
+Limited edition T-shirt GIFT
+Enjoy special offers from the World Sake Day supporters
Tickets to the 2022 World Sake Day Global Kanpai grant you access to KIN Food Halls on October 1st from 17:30. Enjoy an unlimited tasting of over 80 sake! Entry also gives you access to a Speakers Corner where you can video broadcast your sake love and you can even take home the gift of a limited edition Ochoko sake cup made just for this monumental occasion!
At this exclusive sake celebration, you can also download the KIN Food Halls app to order special food items from the KIN kitchen. Select from the most popular KIN Food Hall dishes or select from a special Sake Central menu to find your perfect dish for sake!
Then, at 7:00 pm, you get to raise your sake cup together with the guests at KIN plus countless others over a live big-screen feed featuring up to 300 users!
To attend the experience, you are required to present a proof of your negative RAT test result taken within 24 hours/ PCR test taken within 48 hours of the experience.
You will need to write your name, date and time of test on the RAT kit before taking a photo of the result. The image must be presented to venue staff before your entry is allowed.
10月1日就在Kin Food Halls
門票有限 先到先得
+ 80 款清酒任試
+特別紀念版清酒杯
+ 特別紀念版T-shirt
+由贊助餐廳或酒吧提供的限時優惠
2022 年世界清酒日全球 "Kanpai – 乾杯" 門票,在 10 月 1 日 下午5點30分帶你進入 KIN Food Halls。品嚐超過 80 種清酒!現在設有一個Speaker Corner,在那裡您可以錄制30秒的短片並用QR code下載到你的手機,隨你所想上載到任何社交平台,釋放您對清酒的熱愛!您亦可以得到專為活動製作的限量版 Ochoko 清酒杯的禮物帶回家!
在這個盛大的清酒慶典上,您還可以下載 KIN Food Halls App 來訂購和享受由KIN 提供的各種美食。從 KIN Food Halls 最受歡迎的菜餚或 Sake Central 的特別菜單中選擇,為您找到完美的清酒菜餚!
然後,在晚上 7:00,您可以與 KIN 現埸的客人以及在線上多達 300 組的參加者一起實時以大屏幕直播中舉起您的清酒杯!
想參加體驗,您需要出示在 24 小時內進行的陰性快速抗原檢測結果 / 48 小時內進行的陰性核酸檢測證明。
在拍攝結果照片之前,請確保你的檢測棒上寫下您的姓名、測試日期和時間。在您進入之前,必須將圖像呈現給場地工作人員。