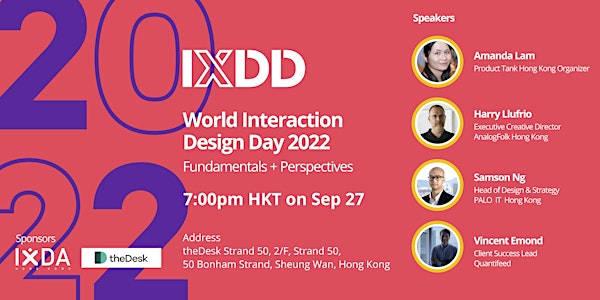 World Interaction  Design Day 2022: Fundamentals + Perspectives
4 speakers will share the current fundamentals of design practice and offer perspectives on how the nature of our work is changing.
When and where
Location
theDesk Strand 50 2/F, Strand 50, 50 Bonham Strand Sheung Wan, HKI Hong Kong
About this event
World Interaction Design Day (IxDD) is an annual event where we come together as a united global community to show how interaction design improves human conditions.
This year's theme is Fundamentals and Perspectives. Our speakers will talk about:
Can decision-makers only focus on the business angles? If the user experience is also essential, what should they do? Understand how people think, ask more profound questions, or what?
Is adopting a user-centric approach just about companies focusing on their customers? What about their designers and other personnel? They also need friendly environments, such as feeling free to express their opinions.
We hope to have a positive and open conversation to support collaboration, dialogue, and outcomes within the practice of creating interactive digital products, environments, and services.
If you're not an interaction designer, you're still very welcome to attend an event; developers, academics, students, and designers from other disciplines will certainly make the event interesting and empowering.
*******
Speakers
********
Sponsors
********
COVID-19 safety measures
Masks required
COVID-19 vaccination required
Event will be indoors
As required by government regulations and the venue, all participants should follow the rules below:
You must scan the LeaveHomeSafe QR code at the entrance of the venue and present your Vaccine Pass as stored in your LeaveHomeSafe app, your vaccination record showing you had received at least two shots of Hong Kong authorized COVID-19 vaccines, or a recovery record valid within 180 days. Learn more at: https://www.coronavirus.gov.hk/eng/vaccine-pass.html