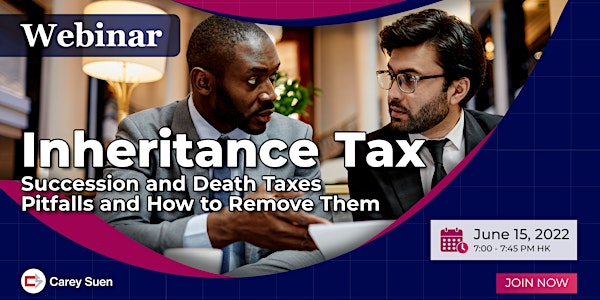 Workshop: Inheritance Tax
Workshop: Inheritance Tax Succession and Death Taxes Pitfalls and How to Remove Them
About this event
Link to live session: https://us06web.zoom.us/j/81961820133
Meeting ID: 819 6182 0133
__________________________________
Behind the rose-tinted views of inheritance lie some ghastly tales, many that involve a multitude of country-specific laws and regulations that heirs are often unaware of.
In this free workshop, we'll discuss:
Real-life tax inheritance challenges and the strategies that effectively solved them.
Expert tips on how to handle inheritance tax with knowledge and peace of mind.
Register now to our workshop to learn key strategies to make your succession plan easy, and remove a nightmare scenario.
_________
About Carey Suen
Carey Suen Services is an established estate planning consultancy company specializing in estate planning, wills and trusts, wealth management, and enduring power of attorney. We provide a range of fully comprehensive and bespoke services that encompass all aspects of estate planning.