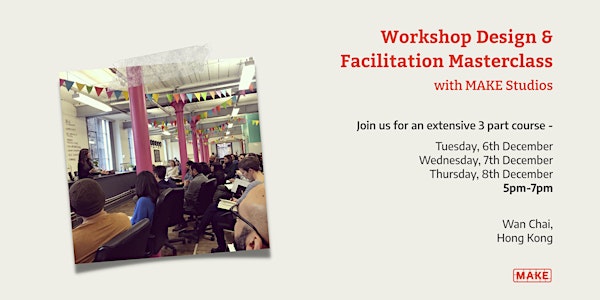 Workshop Design and Facilitation Masterclass
An extensive 3 part workshop series to provide you with skills to design and facilitate effective and engaging workshops and meetings.
When and where
Location
MAKE Studios 145 Hennessy Road Unit 1702 Hong Kong, HKI Hong Kong
Refund Policy
Contact the organiser to request a refund.
About this event
Foundations of Facilitation - Workshop Series
Whether you lead Design Thinking workshops, agile stand-ups, or formal meetings - as the facilitator, your job is to ensure that everyone meets the objectives, contributes in a meaningful way and leaves with what they need (or want) to achieve in the time allowed.
In this 3 part course, we will teach you everything you need to lead engaging and productive sessions and allow you to practise your skills so that you can confidently apply them with your team, organisation or group.
Each part is 2 hours and we will provide you with the frameworks, techniques, tools, and skills you need to design and deliver workshops and meetings.
Day 1 | How to design and create great workshops and meetings
Before we can run a session, we must carefully consider the fundamental structure that will make it successful. In our first session, we will unpack the foundations of workshop design through the Content/Process framework to provide the structure, order and logic to engage and activate your participants over any length or for any desired outcome.
Tuesday, 6th December | 5pm to 7pm
Day 2 | How to apply facilitation techniques to boost session outcomes
The difference between a genuinely impactful workshop and a mediocre one is often someone well-versed in how to bring people together, how to navigate conversations, and how to set goals and next steps. In this workshop, you will understand the principles of facilitating people to get the best out of everyone there. Together we will apply these skills and techniques and develop our confidence with peer-to-peer feedback.
Wednesday, 7th December | 5pm to 7pm
Day 3 | How to find your strengths as a facilitator
With our tools and techniques in hand, we will apply our learning to the challenging situations we all face in our day-to-day environments. Working with real challenges, we will practise, test and learn how to apply our unique strengths to get the best possible outcomes.
Thursday, 8th December | 5pm to 7pm
What will you learn?
Upon completion of this course, you will be able to:
Design and lead meetings efficiently and successfully
Understand how to engage the group, get them to cooperate and productively achieve the goals
Create your own design and facilitation toolbox to empower yourself and your team
Who should attend?
Professionals who are eager to start or have experience in leading meetings or workshops and are looking to deepen their facilitation skills through a deeper understanding of tools, techniques and skills.
Possible roles include agile coaches, team leads, project managers, mid-level managers, designers, strategists, innovators, creatives, coaches and educators.
Cost: $1,975 HKD per person
Discount: 15% for 3+ tickets
Course minimum: 8 people
Course maximum: 12 people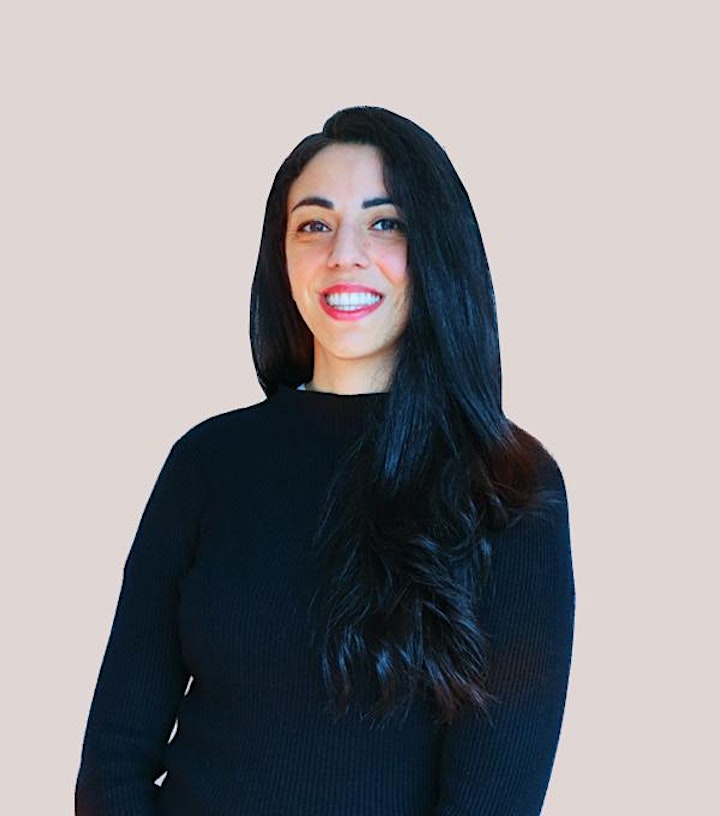 Get to know your facilitator.
Clara Aparisi | Learning and Process Design Lead
Clara is a coach, process and capability designer that builds partnerships between people, teams, and organisations. She has international experience across Europe and Asia building and delivering transformative learning and development initiatives that are both holistic and democratic.
Relevant experience:
Lead facilitator for Social Good Hackathon - London 2020
Lead project facilitator for senior leaders of a media conglomerate to understand how the technologies of the future will affect their business
Guest Lecturer, workshop designer and facilitator of the Design Thinking Programme at Hong Kong University of Science and Technology.