| | |
| --- | --- |
| Wooden Bracelet Design Workshop | |
Event Details
---
Take some time 

this Saturday

 afternoon to make something very different.
No experience is needed, our instructor will guide you from start to finish – you just bring your creativity.
Made of thin wooden sheets, polished and smoothed by hand, these natural wooden bracelets are light, durable and comfortable to wear. Furthermore, each bracelet is unique.
---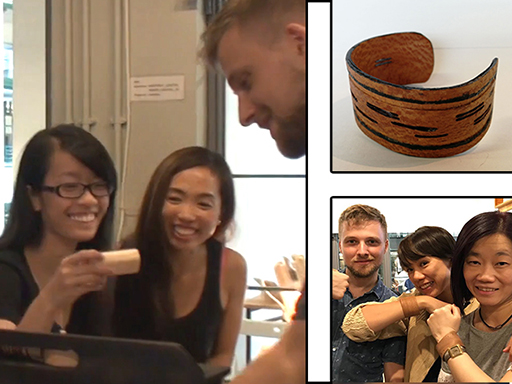 ---
Workshop workflow:
This is a new type of workshop: each step of the creation takes place at a "workstation"
When you complete an activity, you'll move to the next workstation. Each workstation can hold up to 4 people.
A safety briefing and usage demo will be given for relevant activities.
---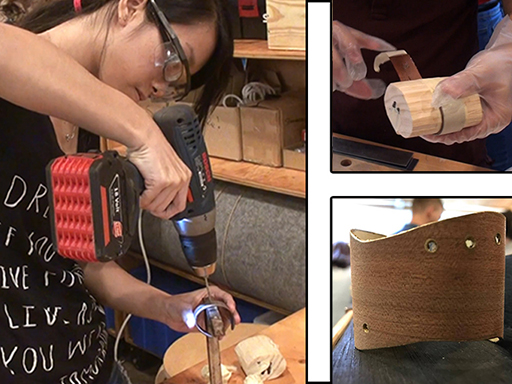 ---
A bracelet takes approximately 2 hours to finish, a new group of 4 people will arrive every hour.
There are 4 workstations: 
1. Cutting station
2. Gluing station
3. Carving and sanding station
4. Spraying station
What's in the shop:
• Several types of wood - choose the grain to suit you
• Power tools - dremels and drills - s
hape your bracelet 
• Woodworking tools – saws, sandpaper, and knives
• Art materials - paints, markers, nail varnish , etc
• Odd things – blow torch - try "shou sugi ban" 
• Surface finishes – Clear spray-paint or beeswax - makes your bracelet durable.

---
---


Class Details:

Location: PMQ, shop H508. [ MakerBay Central ]

Date: 

28 october 2017



Time slots: 

1pm

 | 

2pm

 | 

3pm

 | 

4 pm

 | 

5 pm

 | 

6pm

 

No. of people: groups of 4 people per time slot. 

Price: HKD 250 per person.

Instriction language: English


Dress code: Casual
Casual wear - you will get a little dusty.
Don't wear loose jewelry or clothing- it may get stuck in machines
If you have long hair, tie it up - it may get stuck in machines or get glued together.
Don't wear flip-flops - in case something falls on your toe



Small print:
USE OF IMAGES & VIDEO

Workshop attendees are permitted to film themselves/friends/fellow participants (with permission) during the practical phases of the workshop for their own personal use / social media etc.
MakerBay reserves the right to take photographs or videos during the operation of any workshop or part thereof and to use the resulting photography in whole or in part for promotional purposes, including, but not limited to: advertising and publicity both in print and electronic media. By signing a workshop/class with MakerBay, participants agree to allow their images to be used in such promotions; participants who prefer that their image not be used are asked to identify themselves to the MakerBay at the commencement of the workshop.

Class Cancellations:

For classes cancelled due to unexpected public health warnings, i.e. swine flu, MakerBay will try to accommodate the majority with makeup classes but with no guarantee.
Classes will not be cancelled during AMBER or RED rainstorm signal.
For classes cancelled due to severe weather conditions, such as Typhoon 8 or above, or BLACK rainstorm signal, MakerBay will try to make accommodate the majority with no guarantee.
Classes will not be cancelled if weather signals for Typhoon 8 or Black Rain are lowered four hours before the scheduled start time of the class
When & Where

MakerBay Central
35 Aberdeen Street
PMQ #H508
Central, Hong Kong Island
Hong Kong SAR China

Organiser
Hong Kong MakerSpace for Social and Environmental Impact
We are a cross-sectoral makerspace for innovation. We created MakerBay for makers that range from robotic companies to environmental NGOs, from mechanical engineering to traditional craftspeople, both at the same time, and everything in between. Simultaneously, we have strong focuses on individuals and organisations that are either environmental, social, and/or open-source.