Join us to hear from mental health experts and a Mind HK ambassador on women's mental health.
About this event
This April, Stress Awareness Month, Mind HK in collaboration with Pathfinders' #WorkingMomsHK campaign want to bring to light the importance of work-life balance. We are pleased to invite you to join us for an interactive event on the intersection of women, workplace stress, work-life balance, and mental health.
Join us for a 1-hour interactive session between experts, who will introduce the common issues of work-life balance and workplace mental health faced among women in Hong Kong. A Mind HK  ambassador will also join us and share her own personal story. Topics covered will include workplace stress, post-partum health, work-life balance and mental health, gender equality and mental health and more.
Date: April 23
Time: 1-2pm
Language: English
Cost: Free
Speakers:
Catherine Gurtin, CEO, Pathfinders
Kimberly Ho, Counsellor
Gaelle, Mind HK Ambassador
Why work-life balance?
Hong Kong has one of the longest working weeks in the world. The International Labour Organization (ILO) recommends a 40-hour working week but, according to its statistics, more than a third of employees in Hong Kong worked above 48 hours per week in 2018 (the threshold that the ILO considers "excessive"), and almost one in ten worked more than 60 hours per week. With more of us working from home due to the COVID-19 pandemic, the lines between our work and personal lives have become blurred, and it's become more difficult than ever to "switch off" — literally and figuratively — at the end of the day. In a 2020 survey, 55% of Hong Kong respondents said that working from home had actually made their work day longer, and 72% reported feeling like they were "always on". Learn more about work-life balance and why it is important here: https://medium.com/mindhk/working-to-improve-work-life-balance-why-is-it-important-for-our-mental-health-71d25f8c1f53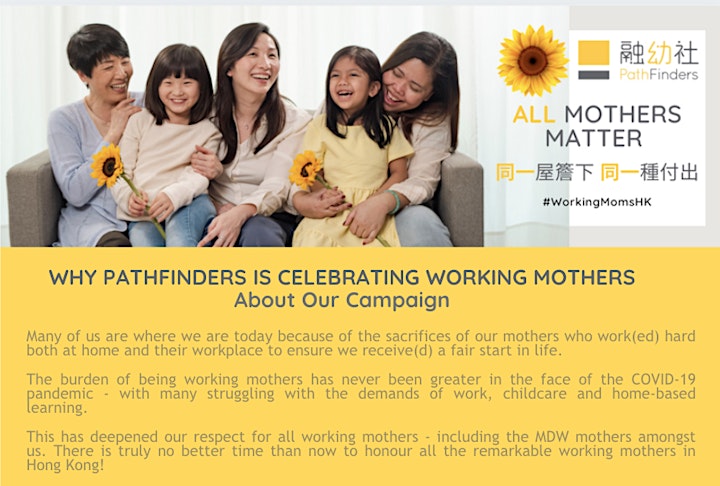 Organiser of Women's Mental Health: Work Life Balance and Mental Health
Mind Hong Kong (Mind HK) is a registered S88 charity (91/16471) committed to improving awareness and understanding of mental health in Hong Kong. They provide online support and training programmes, based on global best practice, to empower anyone experiencing a mental health problem and equip them with the resources they need. Through collaborative research, Mind HK is leading the way in understanding mental health problems in the city and providing its population with the right support and resources.
Visit www.mind.org.hk to learn more.