Learn natural ways to Support Women's Health and Healthy Fertility through our experts.
About this event
WOMEN'S HEALTH & FERTILITY WORKSHOP
At Balance Health, we believe that our bodies are wonderfully and innately designed to heal, repair, and thrive. Learn holistic ways to best support your body, so it can heal, repair itself, and thrive with different healing modalities of Traditional Chinese Medicine, Craniosacral Therapy, Lymphatic Drainage, Energy Healing, and Muscle Therapy.
Through this workshop, you will empower your body to enjoy optimal health by finding the root cause and natural ways to help many health-related issues and fertility.
EVENT DETAILS:
Date: Monday, August 2, 2021
Venue: Balance Health
2705, 27/F, Universal Trade Centre, 3-5 Arbuthnot Road, Central
Registration Fee: HKD500
Inclusive of (2) Workshops & 20-Minute Taster Sessions for just HKD 500!
I. Workshop Schedule
12: 00 - 1:00 PM
Traditional Chinese Medicine & Fertility
Clara Chan - Registered Chinese Medicine Practitioner
1:00 - 2:00 PM
Michelle Zhang - Registered Chinese Medicine Practitioner
II. 20 Minute Treatment Taster Session Schedule
2:00 - 4:00 PM
Energy Healing & Muscle Therapy
Hafsa Khan - Sufi Healer & Bodywork Therapist
For queries, please call 2530 3315 or email appt@balancehealth.com.hk
For more Health & Wellness Updates, follow our Facebook & Instagram!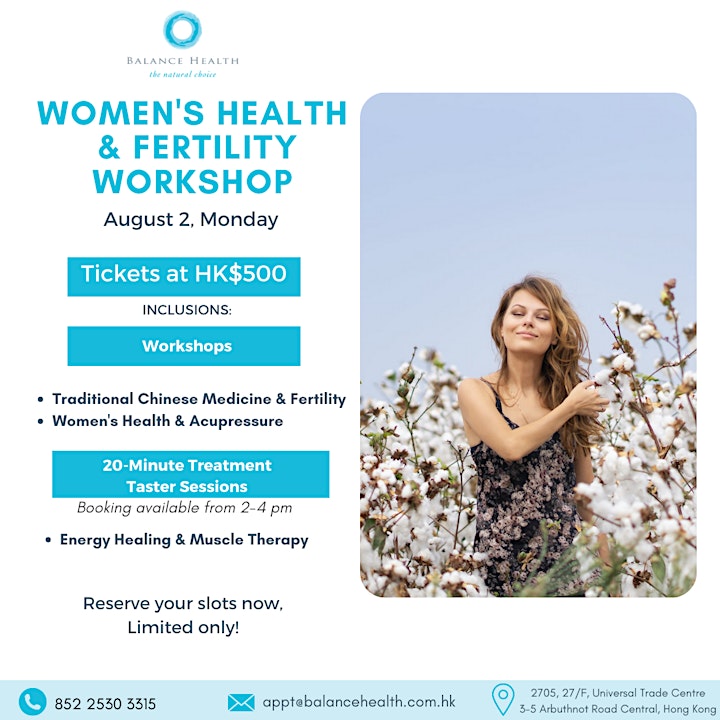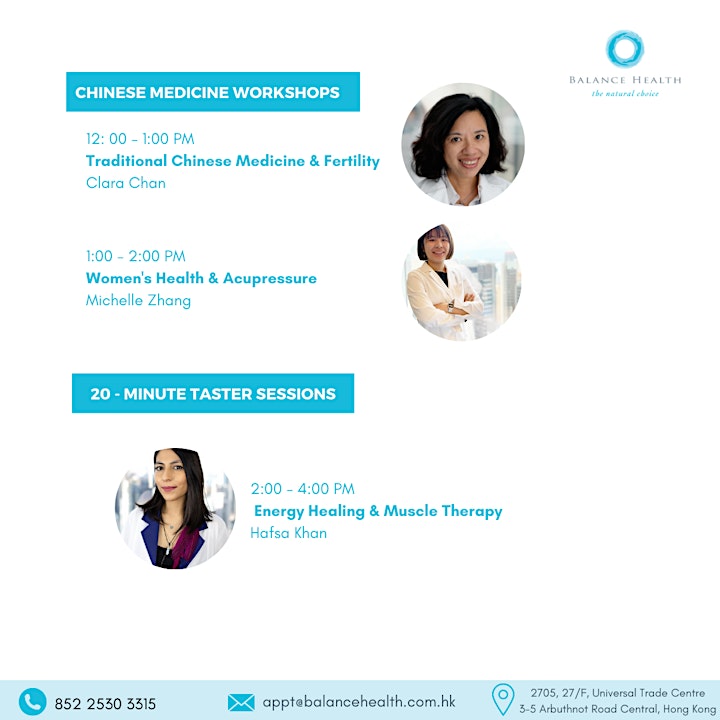 Organiser of Women's Health and Fertility Workshop
Balance Health is a natural health clinic offering an alternative to the conventional treatments, as no single system of medicine has the answers to every medical problem. As one of Hong Kong's earliest natural alternative clinics, Balance Health has supported thousands achieving health and well-being in body, mind, emotions and spirit.
By integrating the principles of conventional and complementary medicine our international team of therapists is able to take a broader view – lifestyle, nutrition, emotions, behaviour patterns, and beliefs. Health and wellness is more than simply the absence of pain. Balance Health offers alternative therapies to provide the body with the opportunity to heal naturally, making it stronger and less susceptible to illness and disease.
Whether you have health issues and want to facilitate your healing process or are just looking for a moment to escape your busy life: We connect you to practitioners to offer treatments tailored to your individual wishes and needs.