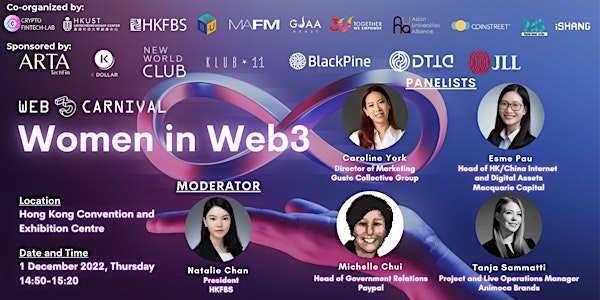 Women in Web3
Empowerment, employment, opportunity, engagement, & education of women in Web3.
When and where
Location
Hong Kong Convention and Exhibition Centre 1 Expo Drive 1 Expo Drive Hong Kong, HKI Hong Kong
About this event
Empowerment, employment, opportunity, engagement, & education of women in Web3
Natalie Chan (HKFBS, President) [moderator]
Caroline York (Gusto Collective)
Esme Pau (Macquarie Bank)
Head of Digital Assets and HK/China Internet)
Michelle Chui (Head of Government Relations, Hong Kong, Taiwan & Korea, PayPal)
Please note that the panel will now take place at our Closing Ceremony at Web3 & TADS Summit 2022.
You may use the promo code "TADS2022" to redeem a complimentary ticket.
https://www.eventbrite.hk/e/web3-tads-summit-2022-tickets-466116034607
Join our community to learn about the event and the latest updates!
Website: web3-hk.xyz
Twitter:@Web3_HKUST
Co-host:
HKUST Entrepreneurship Centre (https://ec.hkust.edu.hk/)
HKUST Crypto-FinTech Lab (http://cryptofintechlabhk.net/)
HKUST Web 3.0 Lab
HKUST DareDevil Lab
Hong Kong Federation of Business Students (HKFBS)
HKUST Graduate Students and Alumni Association (GSAA)
0xU Blockchain Club
Asian Universities Alliance
Carnival Rundow:
Week 1: Carnival kickoff & Web3 landscape
Week 2: How are corporations tapping into Web3?
Week 3: Opportunities lie in web3, metaverse & NFT
Week 4: NFT = jpg?
Week 5: GameFi, SocialFi, and Metaverse
Week 6: Venture investments & Women in Web3
Week 7: Sustainability and Impact in Web3
Week 8: Cryptocurrencies, Tokens, Coins Risks
Week 9: The World in 2030 & Carnival Closing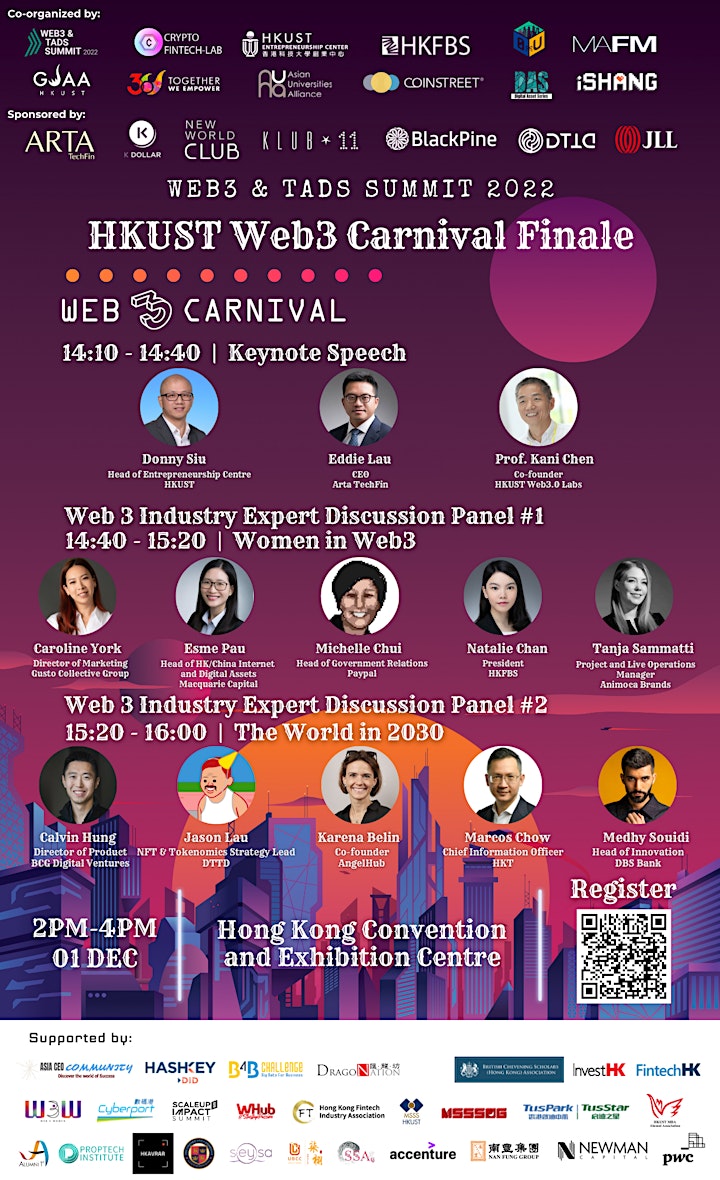 Award:
Participating in more than 80% of the courses, you will receive an exclusive NFT!
NFT Previews: