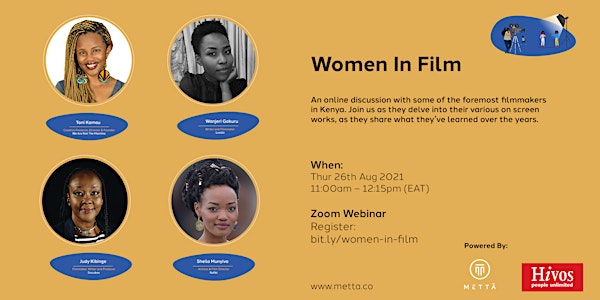 About this event
Register - https://bit.ly/women-in-film
An online discussion with some of the foremost female filmmakers and professionals in Kenya. Join us as we delve into their various exploits as they share what they've learned over the years.
During this particular event (Women In Film), we will be aiming to address some of the following topics (but not limited to):
1. A look at the state of the film industry in Kenya – how it is as compared to other markets in Africa, what's missing in the ecosystem, how can we fill that gap with other key stakeholders?
2. What are some of the barriers/ challenges when it comes to making a film in Kenya?
3. Kenyan filmmakers, the kinds of stories that we tell, and their impact on society.
4. What are the current needs of filmmakers, and are there bodies/ organizations trying to address those needs? Financing the creative arts & local film industry, what needs to be done to attract necessary capital for the sector? and
5. The future - what's next for local filmmakers and the film industry as a whole?
The panel will be comprised of -
Toni Kamau - creative producer, director and founder of "We are not the machine"
Judy Kibinge - filmmaker, writer, and producer / Founder Docubox
Wanjeri Gakuru - freelance journalist, essayist, and filmmaker.
Sign Up Today!
Register - https://bit.ly/women-in-film