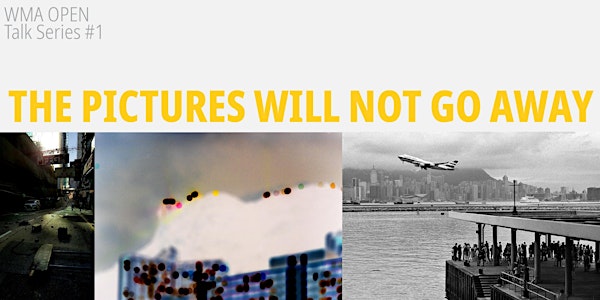 WMA 映香港 講座系列 Talk Series:影像不會被消失 The pictures will not go away
Speaker: 黎加路 Carol Lai, 楊德銘 Paul Yeung, 余偉建 Vincent Yu | Moderator: 鄭秀慧 Vennes Cheng
When and where
Location
WMA Space 8/F 23-29 Wing Wo Street Chun Wo Commercial Centre Central, HKI Hong Kong
About this event
香港正經歷重大的社會變革,每一刻都可以是香港歷史的轉折點。影像可以影響公眾對重大社會事件的看法,並為社會運動定調。新聞攝影與社會運動有著獨特的聯繫,在歷史的發展中起關鍵性的作用。本講座的題目引用自蘇珊.桑塔格,將探討新聞攝影在香港歷史與社會中的角色,它亦是WMA映香港講座系列的首個活動。
Hong Kong is experiencing a major social transformation in 2019. Every moment can be a turning point in Hong Kong history. Images can often set the tone for major events and possibly define a social movement. Photojournalism has a distinct relationship with social movements thus playing a critical role in the making of history. The title of the talk is originated from a quote of Susan Sontag, the talk will explore the role of photojournalism in the context of Hong Kong history and society. This session is the first of the WMA Open Talk series.
主持人 Moderator: 鄭秀慧 Vennes Cheng
講者 Speakers: 黎加路 Carol Lai, 楊德銘 Paul Yeung, 余偉建 Vincent Yu
粵語主講 Conducted in Cantonese
_____________________________________________________________________________________________
關於WMA及WMA會籍
WMA 旨在以一系列從影像出發的非牟利項目,推動公眾對香港社會議題的關注和討論。如欲了解更多WMA項目,請瀏覽wma.hk。
WMA Space由WMA管理及運作,位於香港中環永和街23-29號的俊和商業中心8樓。任何WMA Space的訪客,須成為WMA會員,以享用有關的設施和服務。
有關的詳細資料,請參考WMA會籍和私隱政策。
About WMA and WMA Membership
WMA is a series of non-profit programmes developed to spark discussions of social issues of great importance to Hong Kong through visual images, with a view to fostering positive change. To find out more about WMA programmes, visit wma.hk.
WMA also manages and operates WMA Space, located at 8/F., Chun Wo Commercial Centre, 23-29 Wing Wo Street, Central, Hong Kong. Visitors to the space or participants of programmes held at the WMA Space will have to become WMA Members in order to enjoy the facilities and services at the space.
View WMA Membership and Privacy Policy for details.