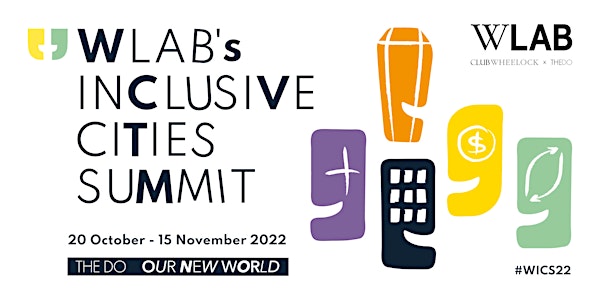 WLAB's Inclusive Cities Summit 2022 #WICS22
With the growing number of people living in cities, let's take action on the urgent challenges cities face, like climate change.
About this event
WLAB's Inclusive Cities Summit promotes and builds momentum for liveable, inclusive, sustainable, equitable, and culturally-vibrant cities. Through honouring and acknowledging global perspectives, the Summit will focus on co-creating a happier and healthier Hong Kong for all of us.
The Summit covers five interconnected themes: sustainability, spatial inclusion, social inclusion, economic inclusion, and cultural inclusion.
Learn more about the summit here: https://thedo.world/do-asia/inclusive-cities-summit/
WHEN: 20 October - 15 November 2022
WHERE: WLAB (Hong Kong) and the world
THEMES: Sustainability, Spatial Inclusion, Social Inclusion, Economic Inclusion, and Cultural Inclusion.
WHAT TO EXPECT: A series of events, happening throughout 5 weeks (20 October - 15 November) at WLAB, within Hong Kong, and virtually, bringing together a global community, around 5 key themes.
Ready to co-create an inclusive city? Join us!