WISE Start With Sports: Mothers and Daughters Sports Day 30 June 2019
Description
2019 FIFA Women's World Cup is on from 7 June to 7 July! To celebrate, we're going to be hosting our own version of the tournament! Join us on 30 June 2019 for our Football-themed WISE Start With Sports: Mothers and Daughters Sports Day!

WISE Start With Sports is our flagship Mothers and Daughters Sports Day where we invite Hong Kong based mothers and daughters to join us for some sporting fun. It's a great way to foster stronger mother and daughters bonds through sports.

On 30 June, we are happy to have coaching support from Standard Perpetual MLFA Women's Squad. There will be games, there will be drills, there will be challenges -- all in a fun setting.

In the past, we have played sports such as American Flag Football, Cricket, Dodgeball, Field Hockey, Football, Handball, Netball, Self-defence, Tag Rugby and Ultimate Frisbee.

Don't miss our football-fun-day on 30 June and sign up to attend today!

Thank you to Hong Kong Observation Wheel and AIA Vitality Park for hosting our event.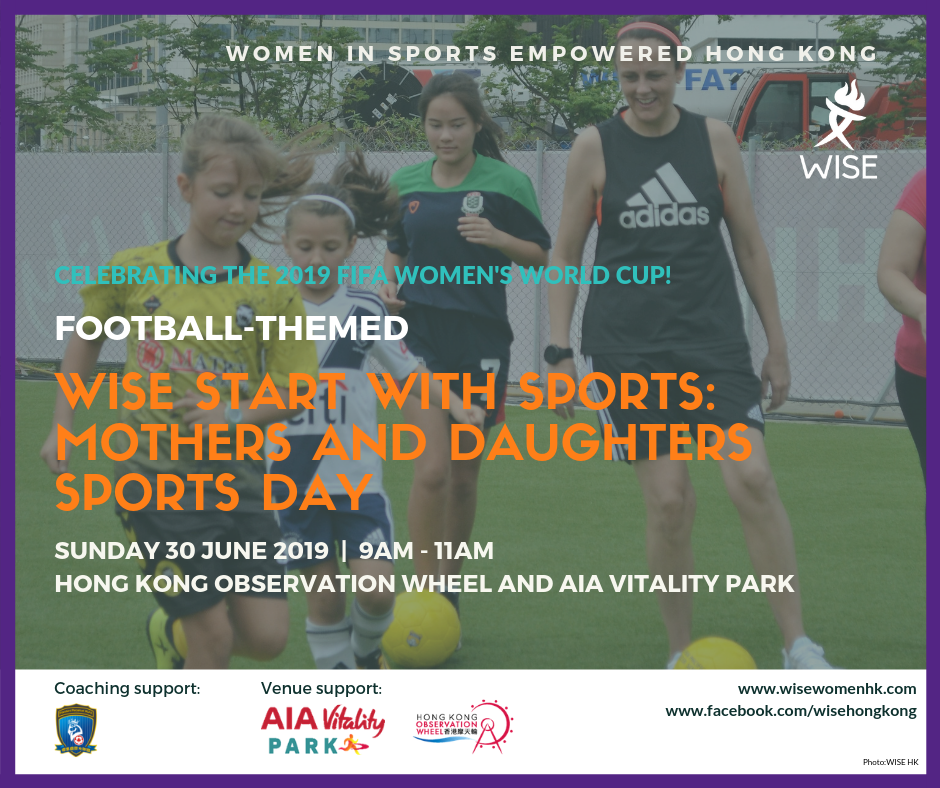 Organiser of WISE Start With Sports: Mothers and Daughters Sports Day 30 June 2019