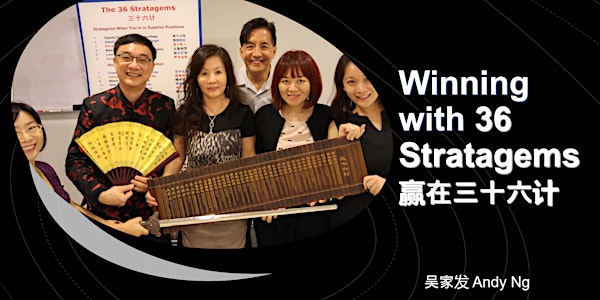 Winning with The Secret Art of War or 36 Stratagems
Now you can win over your boss, spouse, competitors and yourself when you know and apply the Secret Art of War called The 36 Stratagems
About this event
You probably have heard of the Sun Tzu Art of War, where it says all war is based on deception. The 36 Stratagems is another classic that complements the Art of War. Here's what may interest you:
Stratagem no. 31 Beauty Trap 美人计 is NOT about beautiful women reaps the highest profits
It pays to Play Dumb with Stratagem no. 27 假痴不颠 or Play Dumb
If all else fails, Escape is the best 走为上 is the least used stratagem
Using our ACT's 4-Steps method, you can use the 36 Stratagems to solve ALL PROBLEMS IN THE WORLD. Case studies and live demo, and you can get your problem solved here too
USA has been using Stratagem no. 1 'Openly Deceive Under Camouflage 瞒天过海' to win World War 2 and now against China and Russia
Details of the top 6 stratagems
Date: Wed 17 Aug 7.45 to 8.45 pm
Venue: Online at Zoom. Zoom details to give you when you register
Fee: FREE for 1st 31, others $49
Trainer: Andy Ng (CA, MBA), Asia Coaching Training
(Trainer for Art of War & 3 Kingdoms Wisdom for Singapore Police Force (3 rounds), SUSS, ITE, Singapore Customs etc)
Limit to 50 seats. To book, message '1' to Andy at +65 93672286 or click www.asiatrainers.org/longzhong
Our Author Trainer Coach Andy Ng has an MBA from UK. Based in Singapore, Andy is bilingual (can write articles in Chinese) and has, since the age of 5, been involved in China's rich history and culture. Since 1986 Andy's first visit into China, he has cultivated a strong in-depth knowledge about China covering 4,000 years from the pre-historic times to present day.
Andy has delivered countless lectures and training seminars using Sinology and strategies from Sun Tzu Art of War, 36 Stratagems, Yijing and 3 Kingdoms. The recent corporations trained include Singapore Police Force, Singapore University of Social Sciences, Institute of Technical Education, and Singapore Tripartite Alliance. If you too want to plan to succeed and succeed in your plans and turn from losses into profits, invest in this world's first and only 1 hour English course on 3 Kingdoms: From Zero to Emperor. You'll be handsomely rewarded many times over, for this life and beyond.
For Who to Attend:
Managers, leaders and directors that want to achieve breakthroughs in their careers
Professionals, executives, and working people that want to harness the power of winning strategies
Students and retired people that want to be enriched with The 36 Stratagems
Anyone that wants to know Chinese culture and history in the shortest period of time