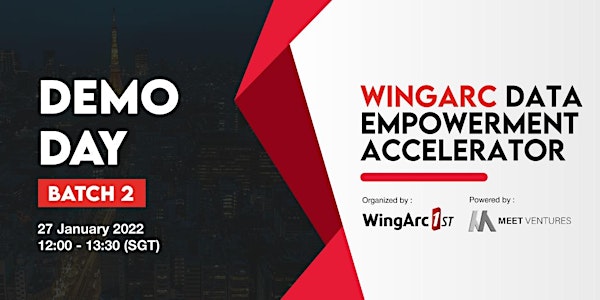 WingArc Accelerator Demo Day Batch 2
We're excited for you to meet 3 startups for the WingArc Data Empowerment Accelerator.
About this event
We would like to invite you to the upcoming Demo Day for WingArc Data Empowerment Accelerator batch 2 organised by WingArc1st and Meet Ventures.
3 outstanding startups will be presenting during the Demo Day. These 3 startups were selected out of more than a hundred applicants with an acceptance rate of 2.4%.
Here are more details about the Demo Day:
Date: 27 January 2022
Time: 12pm to 1:30pm SGT
Venue: Live on Zoom
Demo Day Brochure: https:// https://www.slideshare.net/secret/oLFCfrQERwoPXo
Here are more details about the startups:
1) Trabble's Guest Engagement SaaS platform empowers Travel & Hospitality businesses in adapting to the return of post-covid tourism.
2) Lendor is an on-demand rental platform for consumer products and experiences.
3) HAUZ is a data-driven enterprise solution that manages and monitors remote workforce operations in the service industry.
There will also be a virtual networking opportunity towards the end of the Demo Day where you can mingle with the startup founders and other guests.