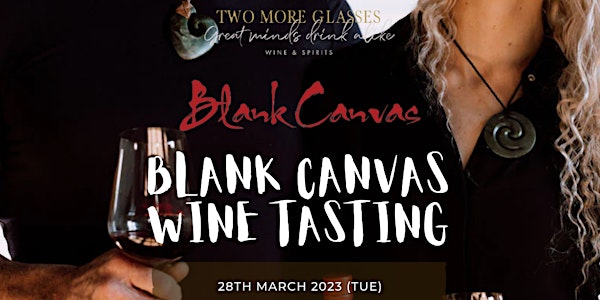 [Wine Tasting] Blank Canvas Wine Tasting (Sheung Wan 28-Mar)
Join TMG featuring Blank Canvas! From the crisp and refreshing Sauvignon Blanc to the rich and velvety Pinot Noir, every sip was a delight
Date and time
Tue, 28 Mar 2023 19:00 - 20:30 HKT
Location
Two More Glasses (Hollywood Road) 185 Hollywood Road #G/F Sheung Wan, HKI Hong Kong
Refund Policy
Contact the organiser to request a refund.
About this event
1 hour 30 minutes

Mobile eTicket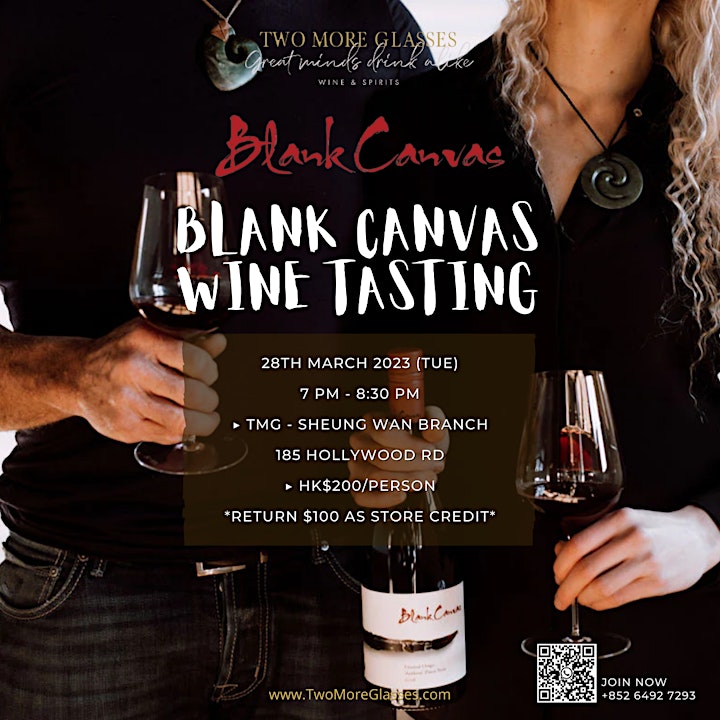 🍷【𝐁𝐥𝐚𝐧𝐤 𝐂𝐚𝐧𝐯𝐚𝐬 𝐖𝐢𝐧𝐞 𝐓𝐚𝐬𝐭𝐢𝐧𝐠 | 𝐒𝐡𝐞𝐮𝐧𝐠 𝐖𝐚𝐧 𝟐𝟖-𝐌𝐚𝐫】
今次Two More Glasses用心地挑選了各款Blank Canvas酒款,展現出每款酒的獨特風味和複雜性。從爽口的Sauvignon Blanc到豐富柔順的Pinot Noir,每口都讓人驚喜不已🍷
Blank Canvas是由夫婦檔Matt Thomson和Sophie Parker-Thomson在新西蘭創立的高端葡萄酒品牌。該品牌專門生產小批量高品質手工製作的葡萄酒,展現出每個葡萄園獨特的土壤特性。Blank Canvas葡萄酒以其優雅、複雜和平衡的口感而聞名,在全球葡萄酒評論家中贏得了無數的好評。
如有任何查詢, 請WhatsApp聯絡+852 6492 7293。
FIVE great Banfi wines from Italy for this special tasting:
🍷Blank Canvas Abstract Sauvignon Blanc 2019
🍷Blank Canvas Escaroth Chardonnay 2021
🍷Blank Canvas Anthem Vineyard Pinot Noir 2018
🍷Blank Canvas Escaroth Pinot Noir 2018
🍷Blank Canvas Element Vineyard Syrah 2018
Join Two More Glasses featuring Blank Canvas wine tasting! From the crisp and refreshing Sauvignon Blanc to the rich and velvety Pinot Noir, every sip was a delight 🍷
𝗕𝗹𝗮𝗻𝗸 𝗖𝗮𝗻𝘃𝗮𝘀 is a premium wine brand founded by husband and wife team Matt Thomson and Sophie Parker-Thomson in New Zealand. The brand specializes in producing small batches of high-quality, handcrafted wines that showcase the unique terroir of each vineyard. Blank Canvas wines are known for their elegance, complexity, and balance, and have received numerous accolades from wine critics around the world.
Get your seats now! See you and your friends soon!
For enquiries, please WhatsApp +852 6492 7293.
▶ Date: 28th March 2023 (Tue)
▶ Time: 7pm-8:30pm
▶ Venue: Two More Glasses, Sheung Wan
G/F, 185 Hollywood Road
▶ HK$200/person (Return $100 as store credit)
We look forward to welcoming you 🥂
𝗙𝗢𝗟𝗟𝗢𝗪 𝗨𝗦:
Two More Glasses
TMG Academy
*Limited seats available
*Booking is on first-pay-first served basis
*No Shows will be charged in full
*All rights are reserved by TMG
𝗞𝗪𝗨𝗡 𝗧𝗢𝗡𝗚 / 𝗦𝗛𝗘𝗨𝗡𝗚 𝗪𝗔𝗡 𝗕𝗥𝗔𝗡𝗖𝗛
𝗖𝗔𝗟𝗟: 35863028
𝗪𝗛𝗔𝗧𝗦𝗔𝗣𝗣: +852 6492 7293
𝗘𝗠𝗔𝗜𝗟: sales@twomoreglasses.com
根據香港法律,不得在業務過程中,向未成年人售賣或供應令人醺醉的酒類。
Under the law of Hong Kong, intoxicating liquor must not be sold or supplied to a minor in the course of business.