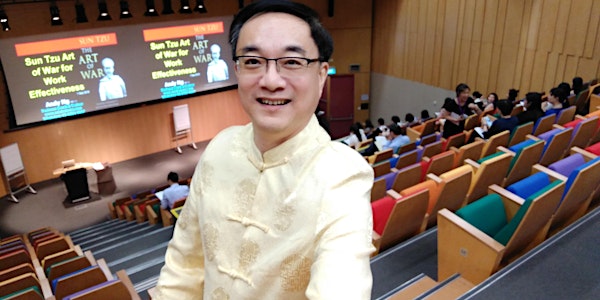 WIN WITHOUT FIGHTING WITH SUN ZI ART OF WAR
Now you can win without fighting using Sun Zi Bingfa, the 2,500 military classic that can be applied to your work and life.
When and where
Location
People's Park Centre 101 Upper Cross St 05-01 People's Park Ctr Singapore, Singapore 058357 Singapore
About this event
Watch the short video at here
WIN WITHOUT FIGHTING with ART OF WAR
Using the Sun Tzu Art of War and other Ancient Oriental Wisdom to Create MASSIVE RESULTS
From young, we have been trained to do well so that we can win. We were taught that life Is not a bed of roses, and we need to fight to win.
Smart people know that the best way is to win without fighting. As mentioned by Sun Tzu in the Art of War, lousy warriors will fight hard to win. Victorious warriors know that key is not losing first before waiting for winning opportunities. He said that those that were skilful in warfare ensure that they would not be defeated and then wait for opportunities to defeat the enemy. In other words, you don't fight to win. You win BEFORE the fight. You WIN TO FIGHT.
Our Author Trainer Coach Andy Ng is a Singapore-trained truly bilingual professional that has since the age of 5, been involved in China's history and its rich culture. Since 1986 Andy's first visit into China, he has cultivated a strong in-depth knowledge about China from the pre-historic times to present day. Andy has delivered countless lectures and training seminars that use strategies from the Art of War, 36 Stratagems, Yijing and 3 Kingdoms. If you too want to plan to succeed and succeed in your plans and turn from losses into profits, invest 1-day in this course on WIN WITHOUT FIGHTING and you'll be handsomely rewarded many times over, guaranteed.
Objective
After learning this one-day power-packed course, participants will be able to:
Know what is win without fighting and the various ways to win without fighting
Know the Sun Art of War and how important is to win without fighting
Apply the various principles in Win Without Fighting to their daily life and work
Know how to apply other winning strategies
Be empowered to take action in their daily life so as to create massive results
Course contents:
Lao Tzu and Sun Tzu philosophy: win without fighting
What is Win to Fight and Win Without Fighting
Sun Tzu Art of War background and track record
Myths and Truths of the Art of War
How to win before the battle
Five Factors that determine the outcome of any battle before the battle
The 7 considerations of any battle
How to Win the 'entire nation' per Sun Tzu to win without fighting
Sun Tzu Win Without Fighting 4 levels
Top 30 Ways to Apply Win Without Fighting in your work and life
Art of War 6 Key Strategies
How to Read a person like a book using Non-action methods
Art of Deception per Art of War to win without fighting
The 36 Stratagems as ways to solve any problem in the world without fighting
Using spies in business to win without fighting
Art of War Attack by Fire to win without fighting
Top 10 Ways to Win the Most with the Least
What to do if others fight against you persistently?
The Ultimate in Win without Fighting: Be a Useful Person
Who should attend
Managers, leaders and directors that want to achieve breakthroughs in their career in 2022 and beyond
Professionals, executives, and working people that want to harness the power of strategies of win without fighting
People that that want to know the gist of rich Chinese culture and history in the shortest period of time so as to win without fighting
Methodology
Dynamic talk with stories and humour
Physical exercises including: cut wood with paper, know another person in 3 seconds, lift a person with just 2 fingers, push and pull and try your best
Use of short movie video clips to illustrate complex concepts
Q & A
Reflection and Action Plan by Trainees
Andy Ng's Profile
Andy Ng graduates from NUS and also holds a MBA from the Heriot-Watt University of UK.
Andy used to be the Director of the world's 5th largest computer networking equipment supplier - Allied Telesyn International. The Group enjoys annual turnover of US$420 million employing 1,300 staff worldwide. Andy's other experiences include banking at Chase Manhattan Bank, consultancy at KPMG Consulting and sales at Vickers Ballas Holdings Limited.
As a trainer, trains companies on marketing, business planning, teambuilding, systematization, financial analysis, investment, human resource management, public speaking, sales, management and personal effectiveness. He used to train for SingTel's on-going training programs, in addition to various other training assignments for companies including Beckon Dickinson Medical, Singapore Recreation Club, C & H Realty, Skyquestcom, NTUC and AIA agencies. The public seminars conducted by Andy are highly popular, and some of them were featured on NewsRadio 938.
Andy is also a Certified Trainer with the American Management Association (AMA), a top notch US management development organization.