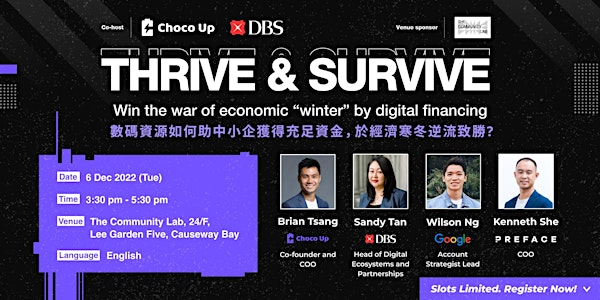 Win the war of economic "winter" by digital financing|數碼資源如何助中小企獲得充足資金 逆流致勝
Insights and case studies shared by experts from DBS, Google, Preface, and Choco Up about how SMEs prepare for business winter and grow.
When and where
Location
The Community Lab, 24/F, Lee Garden Five, 18 Hysan Avenue Causeway Bay, HKI Hong Kong
About this event

THRIVE & SURVIVE: Win the war of economic "winter" by digital financing
數碼資源如何助中小企獲得充足資金,於經濟寒冬逆流致勝
When economic "winter" comes with inflation and interest rate hikes, the business environment has become more challenging to SMEs. How businesses secure enough resources and capital to survive this tough time?
Experts from DBS, Google, Preface Coding, and Choco Up will be speaking about how to use digital resources to uncover the next hidden growth opportunities in business development, working capital and growth funding.
經濟寒冬即將來臨,在通脹加息週期,傳統資金紛紛提高申請門檻,中小企業的生存和發展變得更加艱難。
Choco Up 夥同 DBS星展銀行共同舉辦創新金融研討會,邀請了 Google 和迅速發展的教育初創 Preface Coding的專家,從嶄新角度分享SME如何利用數碼資源,獲得充足資金,以裝備好你的公司面對接下來的種種挑戰。

You will learn about:
1. What are the impacts of this economic winter and the latest SME trends
2. How to survive this challenging time through digital and finance innovations
3. How to secure enough working capital and resources
4. How to drive growth by user acquisitions and entering new markets
5. Learn from Preface, a successful case that continues to grow during a tough environment
You will meet and network with senior / c-level speakers from DBS x Google x Preface Coding x Choco Up
------------------
Event details
Date: 6 December 2022 (Tuesday)
Time: 3:30 - 5:30 pm
Format: Offline panel discussion
Location: The Community Lab, 24/F, Lee Garden Five, 18 Hysan Avenue, Causeway Bay
Language: English
Suitable for: Any c-levels or business owners of SMEs, startups, and e-commerce who want to improve their business and get ready for economic winter
Event rundown
1500 - 1530 | Registration
1530 - 1535 | Choco Up: How to get funded in uncertainty?
1535 - 1540 | DBS: How does a bank help SMEs grow with a brand-new approach?
1540 - 1640 | Panel discussion
1640 - 1700 | Q&A
1700 - 1730 | Networking
About our speakers
Brian Tsang, COO & Co-Founder @Choco Up | LinkedIn
Brian is trained as an engineer with a strong interest in product and technology, Brian began his career in leveraged finance at Deutsche Bank NYC. After that, he joined a global private equity firm. His experience spans credit analysis, mergers & acquisitions, leveraged buyouts, portfolio management, and capital markets and he holds CFA and FRM certifications.
Sandy Tan, Head of Digital Ecosystems and Partnerships @DBS | LinkedIn
Sandy is an INSEAD MBA graduate with 11 years of experience as a banker in DBS. She is in charge of integrating banking with ecosystems and partnerships to facilitate access to funding and developing banking strategies across markets.
Wilson Ng, Account Strategist Lead @Google | LinkedIn
Wilson first started his career as an investment banker and then switched to Google to provide professional help for businesses to grow.
Kenneth She, COO @Preface Coding | LinkedIn
Starting as an investment banker, Kenneth quickly became the c-level of Uber, Humansa, and New World Development Company. Now, he is the COO of Preface Coding, leading the team toward success.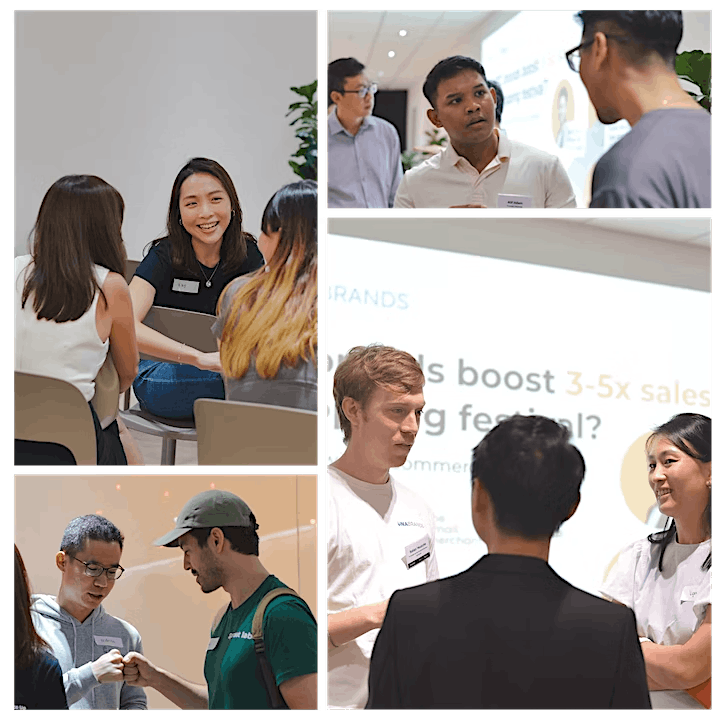 Your safety is our concern!
The Community Lab has been designed to ensure the health and well-being of all our attendees. All participants will be seated and socially distanced. Face masks must be worn in the venue.
Only participants who have (1) 'BLUE CODE' or 'AMBER CODE'* on the Leave Home Safe Vaccination Pass can participate in the event and will be admitted. You are also required to scan the 'Leave Home Safe' app upon entry.
The organizer reserves the right to deny entry to attendees who do not comply with this rule.
*Not applicable to participants who cannot get vaccinated due to medical reasons
------------------
About the Organiser
Choco Up is a global technology and financial service platform, providing e-commerce and startups with revenue-based financing (RBF) and business growth solutions. We were created by founders for founders and hope to invest in companies we believe deserve to thrive with non-dilutive funding and a flexible repayment schedule.