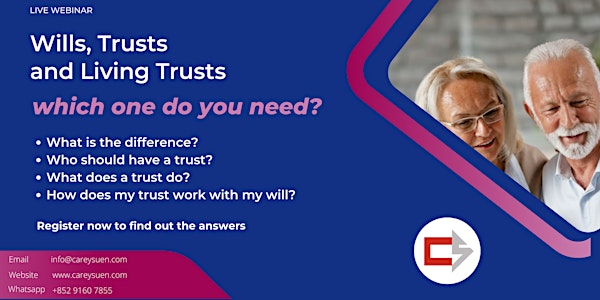 Wills, Trusts and Living Trusts ... which one do you need?
Our webinar will help you understand the difference between a will and a trust and the benefits of both to help your estate planning needs.
About this event
An estate plan should include trusts and wills. How can you choose the best option for you? Despite having one element in common, these legal documents differ greatly.
Learn more about wills, trusts, and living trusts with our complimentary webinar.
Find out everything you need to know by registering today.
Our free webinar covers the following topics:
1. Wills and Trusts - background
2. What does a will do
3. What does a trust do
4. Who should have a will and a trust
5. Case Studies of clever and inefficient Estate Planning
6. How can we help at Carey Suen
Our services cover a wide range – from our standard estate planning solutions to multifaceted strategies tailored for situations involving business assets, marriage outside of your home country, the need for special medical care, and much more.
We take your specific estate planning goals into consideration and use our wealth of knowledge about the processes involved in international estate planning to ensure the results you want are achieved.