Description
************
During the StartMeUp Festival, WHub is excited to host an interactive gathering of like-minded entrepreneurs and professionals to gain practical insights and actionable takeaways.

This is a different type of conference. This is an event for innovators from startups and corporates alike, where people can meet, learn and share ideas. Action as the best type of learning.
**********
WHub is excited to team up with Campfire Collaborative Spaces to give away 2-month hotdesking at one of their locations* to anyone who buys a ticket for the WHub Un-Conference.

If you have already purchased the ticket and are interested in this special promotion, please email us at events@whub.io
*The location (Wong Chuk Hang, Quarry Bay or Kennedy Town) is subject to availability. The start and end date should be 1st February to 31st March 2018.
**********
Un-Conference Agenda:
10:00am - 11:00am Blockchain For All Businesses
Blockchain is described as the most disruptive technology in this decade. In this interactive session, you will learn the basics of digital currency transactions such as bitcoins and the blockchain that fuels the system as well as dive into the diverse applications of this game-changing technology. Identify the industries that it has the potential to disrupt, which organisations are experimenting with the technology and the implications of working with this technology. This session is curated for anyone interested in learning more about blockchain from a business, technical, or purely curious perspective.
Takeaways
Get an overview of the past, present and future of blockchain

Become familiar with the nature of blockchain technology

Understand digital tokens and ways people purchase them

Demystify blockchain and its perceived complications

Practical applications of blockchain in all industries
Joining us on the panel: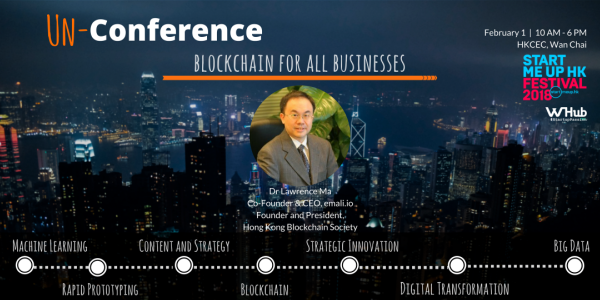 Dr Lawrence Ma, Co-Founder & CEO, emali.io ; Founder and President, Hong Kong Blockchain Society
Lawrence has over 20 years of academics, finance and technology development and business experiences. He is currently the President of Hong Kong Blockchain Society, Committee Member of China's Central University of Finance and Economic's Da Xin Blockchain Research Center Expert Committee Society and founder and CEO of eMALI.IO Limited. Inaugurated in 2017, Hong Kong Blockchain Society is dedicated to take part in building a vibrant blockchain community and ecosystem in Hong Kong.
eMALI, a Hong Kong based blockchain company, is led and founded by Lawrence along with several industry veterans in 2016. The primary focus of eMALI is to develop blockchain applications in Public and Fin/Insur Tech sectors. eMALI has been (Dec 2016) chosen as a winner of AIA Blockchain Global Challenge; a competition with entries from 19 countries.
He received his Bachelor of Arts in Mathematics from Yale University in 1984, Master of Science, Mathematics from Stanford University, and PhD in Mathematics from Cornell University in 1993.
11:10am - 12:10pm Using Data and Machine Learning to Grow Your Business
Regardless of your industry or role, fluency in the languages of data science will allow you to contribute to data-driven decision making. This session is aimed at helping executives experience the process of using data science and machine learning to solve real business problems.
Takeaways
Learn about the process of using data to increase sales solve business problems.

See how data analysts translate their findings into compelling business narratives

Learn how to understand, draw insights from, and leverage your data more effectively.

Get real-world case-studies that will be applicable to your own businesses.
Joining us on the panel: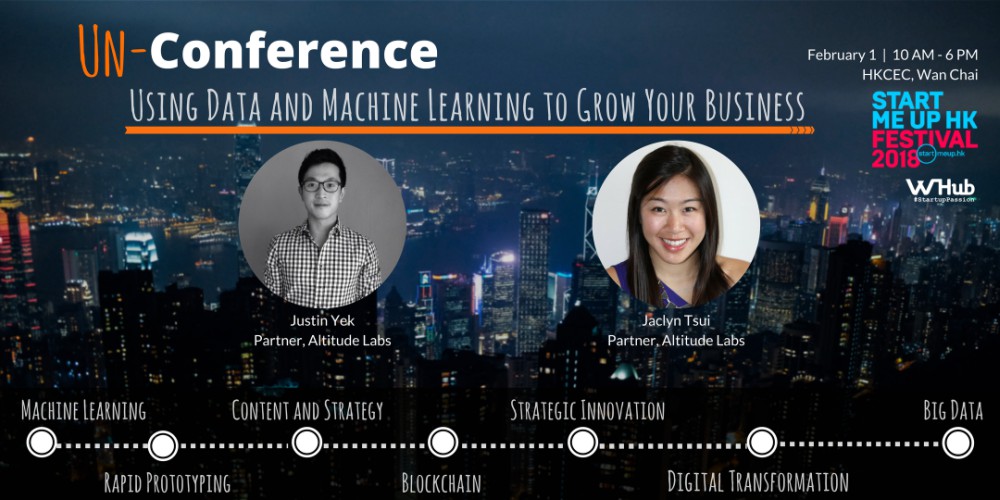 Justin Yek, Partner, Altitude Labs
Justin is a Partner at Altitude Labs. Born and raised in Singapore, Justin graduated with a financial engineering degree from Columbia University and holds an ACCA qualification. He began his career in investment banking in Hong Kong, China and Southeast Asia before teaching himself to code.
Jaclyn Tsui, Partner, Altitude Labs
Jaclyn is a Partner at Altitude Labs. Born and raised in Hong Kong, Jaclyn graduated with a Joint Honors degree at the Imperial College of London and a Master's of Science degree in the University of Hong Kong. She began her career in private equity before becoming a full-stack software engineer. She is passionate about entrepreneurship, youth empowerment, mentorship and is a keen supporter of education scholarships.
12:20pm - 1:20pm Digital Marketing - Content and Strategy
Marketing in the digital age has changed the way audiences see content and interact with businesses. In this session, we will identify a variety of different digital marketing hacks, tips and tricks that cleverly utilise data, technology and behavioural science across acquisition, conversion, retention, advocacy and the product. This session will also teach you how to create a structured marketing framework that focuses these techniques on the areas that will make the biggest difference to your business.
Joining us on the panel: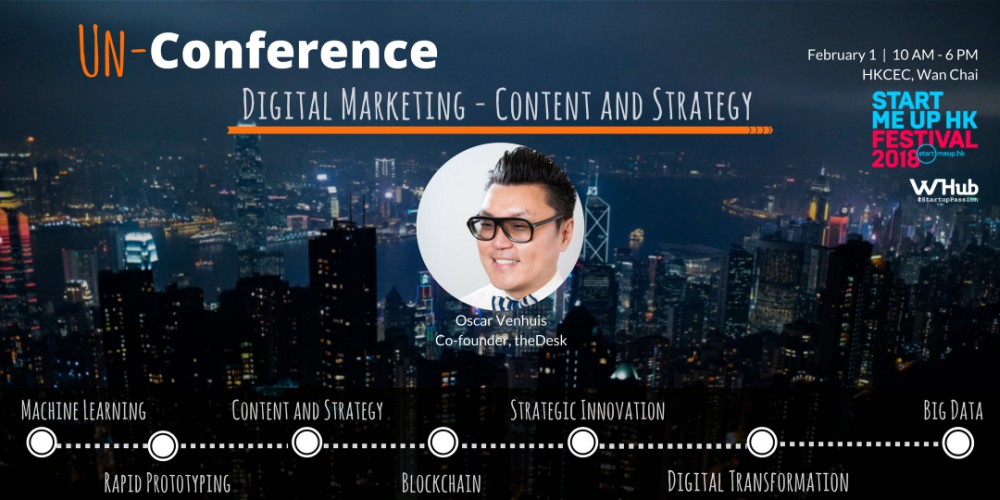 Oscar Venhuis, Co-founder, theDesk
Oscar is co-founder of theDesk. In the last 1.5 year he has opened three co-working spaces and plan to open another 100,000 sqf in 2018. They are changing the way people work and are designing XAAS (Experience-As-A-Service). This is the next generation accelerator for established companies wanting to excel collaborative innovation. Prior to starting theDesk he worked on disruptive digital strategies for UBS, Star Wars, and was instructing digital marketing for General Assembly and Google.

1:20pm - 2:30pm Lunch
2:30pm - 3:30pm Digital Transformation for Corporates - Roundtable discussion
Corporate innovation and digital transformation have become a boardroom discussion. Digital transformation is pushing businesses across multiple business units and business functions to collaborate, innovate, design new business models and processes while innovation has now become the top priority in digital transformation efforts. How can corporate take advantage of these opportunities to innovate and digitally transform themselves to better deliver customer experience? How can digital transformation help improve the competitive landscape?
Key corporates who have been pushing for digital innovation within their companies will share:
Why their business is interested in working with startups

How collaboration between startups and corporates can be beneficial for both sides
Joining us on the panel: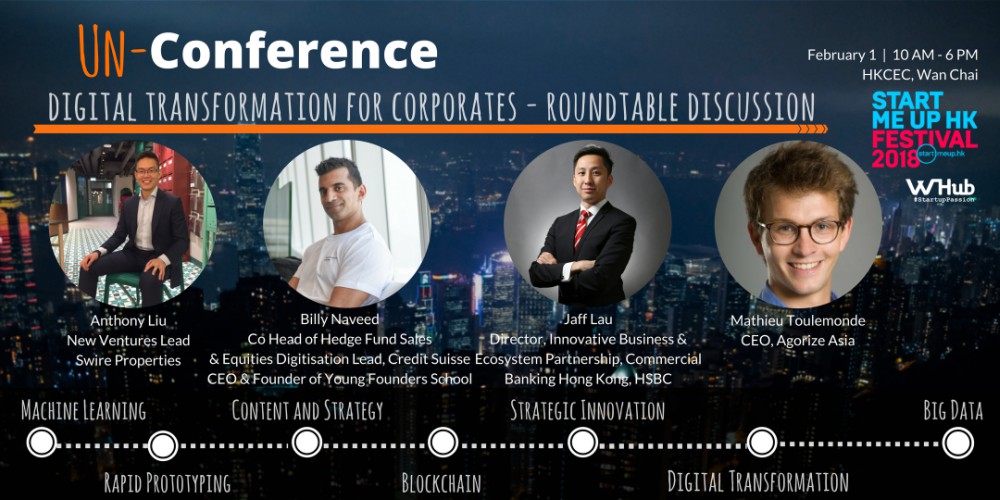 Anthony Liu, New Ventures Lead, Swire Properties
Anthony Liu is the head of blueprint New Ventures, Swire Properties' tech pipeline, which sources and funds innovative solutions to augment Swire Properties' operations. His background is rooted in commercial real estate leasing and management, residential sales and product development, and site acquisition/valuation for a broad variety of Swire projects in Hong Kong and Mainland China.
Billy Naveed, Co-Head of Hedge Fund Sales and Equities Digitisation Lead, Credit Suisse; CEO & Founder of Young Founders School
Billy Naveed is the CEO & Founder of Young Founders School. Currently, he works at Credit Suisse in a dual role, one of which is head of Tech Sales. In this position, he works with startups and VCs from around the Asia region to connect them to Credit Suisse. Before Credit Suisse, he spent 10 years at Morgan Stanley in London and Hong Kong. Prior to the world of finance, Billy founded a couple of small startups in software development and interior design. He is very active in the startup scene in Hong Kong and South-East Asia and has invested in startups around the world.
Billy studied Economics at Warwick University and his MSc in Finance at Economics at Warwick business school under full scholarship.
Jaff Lau - Director, Innovative Business & Ecosystem Partnership, Commercial Banking Hong Kong, HSBC
Jaff's team drives Commercial Banking's proactive engagement with the technology ecosystem builders, with an ultimate goal to help aspiring entrepreneurs and startups to realise their hopes and dreams by offering them with the most suitable banking solutions.
Mathieu Toulemonde, CEO, Agorize Asia
Mathieu is piloting from Hong Kong the expansion of AGORIZE in Asia. This 60-employee startup connects 200+ large corporations (including Google, Valeo, L'Oreal or BNP Paribas) looking for talents & innovation with a global community of 5M innovators (students - startups - employees - IT profiles). After running 200+ online hackathons, Mathieu will be sharing the best practices to ensure a successful collaboration between the corporate world and the innovators ecosystem. www.agorize.com
3:40pm - 4:40pm Steps Towards Strategic Innovation
How should established corporations innovate? This question has become increasingly salient in a Hong Kong where investors and senior executives have increasingly demanded innovation. While many corporations have sought to transform themselves to become more innovative, they have largely found limited success. This session will identify the drivers of successful corporate innovation strategies, conduct case studies of successful corporate innovators, and provide a hands-on workshop to explore how local corporations might transform their innovation strategies.
Takeaways
Identify the skunkworks and incubator-centric approaches towards corporate innovation.

Understand why these approaches tend to be difficult to implement, especially in the Hong Kong corporate environment.

Learn how to overcome these challenges.
Joining us on the panel: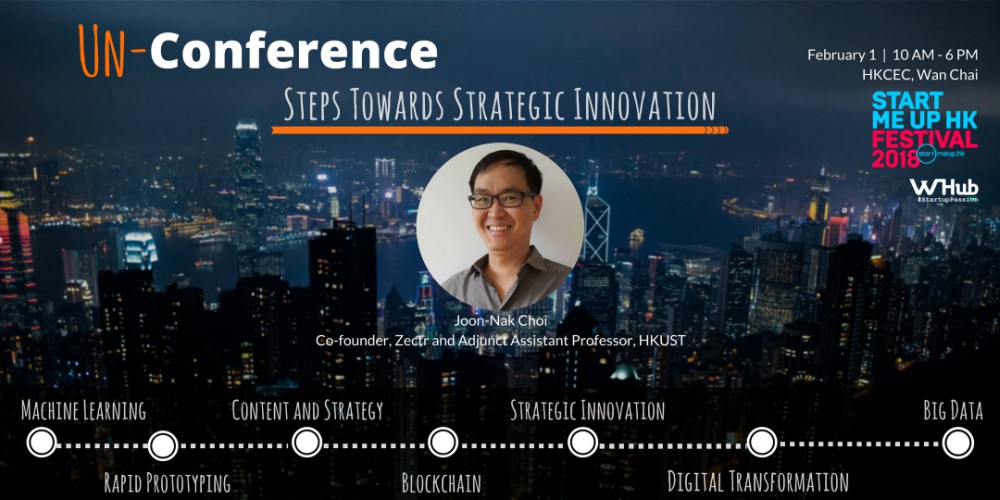 Joon-Nak Choi, Co-founder, Zectr and Adjunct Assistant Professor, HKUST
JC Choi co-founded Zectr after spending seven years as a full-time academic at Stanford and the Hong Kong University of Science and Technology (HKUST). Zectr makes market research faster, easier, and more powerful by leveraging machine learning techniques.
4:50pm-5:50pm Rapid Prototyping for All
Rapid prototyping is an effective technique for testing new ideas and being able to iterate on them. By experimenting and refining concepts, the user's experience of the product is improved. In this session, we will explore the mindset of approaching learning via experience rather than solely research, with action being the best type of learning.
Takeaways
Learn how to build quick prototypes to test product features.

Explore and use different prototyping methods and tools.

Understand the iterative process of product development.
Joining us on the panel: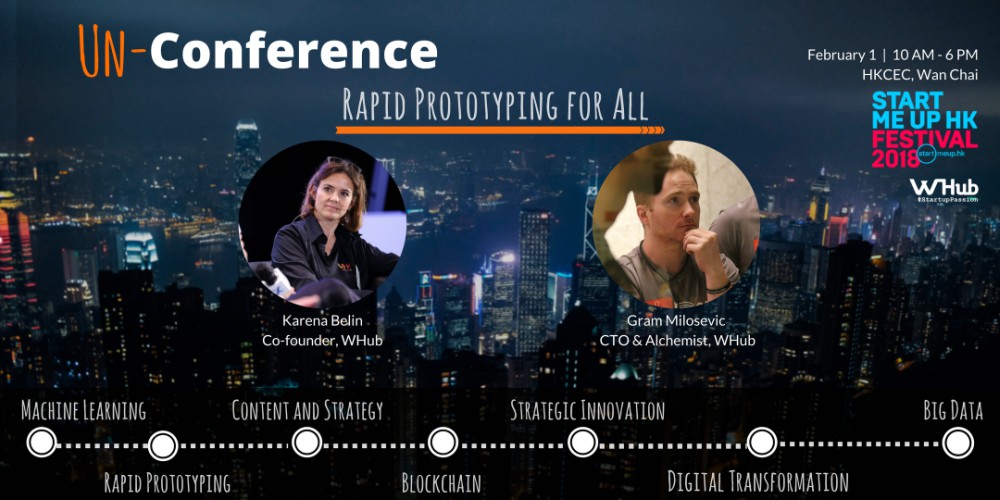 Karena Belin, Co-founder, WHub
Karena is experienced in thought leadership as she was previously the Finance Director of Brand Operations at Procter & Gamble Hong Kong/Taiwan / Macao, a role which included research from focus groups, market knowledge investments and methodology. She manages community outreach as W Hub co-founder which involves directional consultations with fund-raising startups working with incubators/ accelerators such as TechStars, Blueprint, DBS Inifiniti to provide mentorship.
Gram Milosevic, CTO & Alchemist, WHub
Gram is experienced in thought leadership and he is a developer, an entrepreneur, and a hobbyist workshop creator. He has been a developer for more than 17 years in various languages and different domains. Previous instructional experience includes mentorship and coding courses at General Assembly related to web development and digital marketing. Codeaholics organiser and FinHACK facilitator and curator.
For more information, click here to learn more.