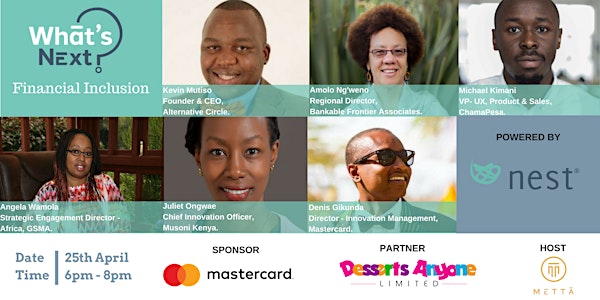 #WhatsNext Financial Inclusion
When and where
Location
Mettā Nairobi 14 Riverside Drive 6F Belgravia building 6A Kenya
Description
DESCRIPTION
Cost
KES 500 for non-members
Mpesa Pay Bill No. 260922 Nest Group Africa
Account No. WNFinancial

Instructions: Go to M-PESA & select Pay Bill
---
At Nest, we run one of the biggest and the most consistent thought-leadership series in the Nairobi Innovation Ecosystem called the #WhatsNext which focuses on up and coming trends in different verticals of the ecosystem. The event brings together some of the brightest minds in a particular sector to have intellectual and communal discussions about various issues affecting an industry and to predict the next big thing in the next 5 years.
Since the series launched we have run over 25 panel discussions across multiple industries consistently attracting key startup founders, government officials, investors, corporate executives and academics.
In March, we will be revisiting the financial sector with a focus of discussing the next wave of financial services in developing regions with a focus on digital identity, the new network effect, going beyond access to usage and collaboration initiatives that include fintech, regtech and mega platforms.
Key Highlights:
1. Future View of Financial Inclusion Report
Denis Gikunda- Director, Innovation Management- Mastercard will be presenting key takeaways from the Financial Inclusion Report highlighting key components such as How FinTech will Drive Financial Inclusion, The Next Wave of Financial Services in Developing Regions, Actions for Banks, Governments and Regulators among other topics.
2. Panelists
Amolo Ng'weno- East Africa Regional Director, Bankable Frontier Associates

Angela Wamola- Strategic Engagement Director- Africa, GSMA

Michael Kimani- VP- UX, Product & Sales, ChamaPesa

Kevin Mutiso- Founder & CEO, Alternative Circle

Juliet Ongwae- Chief Innovation Officer, Musoni
The panel will be moderated by Denis Gikunda
**The #WhatsNext series regularly sells out. Please note:
1. Registration without payment does not guarantee a seat. Therefore please ensure you follow up registration with payment through our Pay Bill number provided above.
2. Video and Audio content may be be recorded by the Mettā team