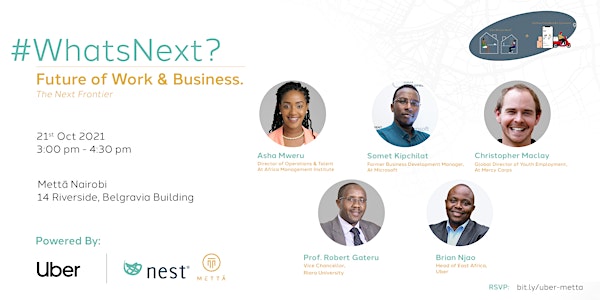 Whats Next: Future of Work & Business
About Event
When and where
Location
Mettā Nairobi 14 Riverside Drive #Suite 6A Nairobi, Nairobi County Kenya
About this event
The pandemic accelerated the shift to remote work and as well as the adoption of e-commerce. This swift change by businesses in an effort to safeguard employees in addition to customers, has led societies all over the world to rethink how work is done, the role offices should play, and how businesses interact with their customers in creative and bold ways. Across a whole swath of industries, many used this large-scale work-from-home experiment to determine what works for them in their specific niches, but 2 years down the line its now time to settle on what models have worked, what hasn't worked, what this all means for businesses, workers and the general public.
So, in this #WhatsNext: Future of Work & Business discussion we sit down with businesses & experts to discuss what worked for them, how the pandemic changed their plans and vision of the future and so much more!
Focus Areas of The Discussion:
The questions we will address include:
1. How the nature of work has changed.
2. Changing demands at the work on what employees' value
3. New styles of management & changing models of operation in businesses (Collaboration & Competition)
4. Redefining what the office is & what work culture
5. How companies are now using data to set themselves apart from competitors
6. Rise of e-commerce
7. Gig work
8. ESG
Panel
Asha Mweru – Director of Operations & Talent (AMI), Founder of WomenWork Ke.
Somet Kipchilat – Former Senior Business Development Manager at Microsoft
Prof. Robert Gateru - Vice-Chancellor, Riara University
Christopher Maclay – Global Director of Youth Employment at Mercy Corps
Moderator: Brian Njao – Head of East Africa, Uber
Doors open at 2:30 pm