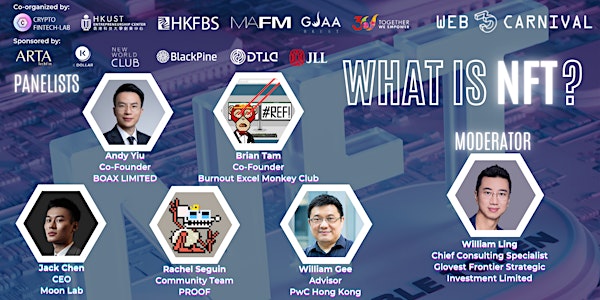 What is NFT?| PwC, BOAX NFT, PROOF, Moon Lab, BEMC
Explains to you what is NFT and its role in Web3 and why it is so viral all of a sudden
About this event
The panel features:
William Ling (Glovest Frontier Strategic Investment Limited, Chief Consulting Specialist) [moderator]:
Andy Yiu (BOAX LIMITED, Co-founder),
Brian Tam (Burnout Excel Monkey Club, Co-founder),
Jack Chen (Moon Lab, Co-founder & CEO),
Rachel Seguin (PROOF, Community Team),
William Gee (PwC Hong Kong, Advisor)
What is NFT?
What's the role of NFT in Web3?
How are NFTs used, are they just profile pics?
What is your NFT project about? What is different than other projects?
What are some interesting NFTs in the market?
How to evaluate the value of NFT?
What's the problem in the space of NFT?
What is NFTfi? What's the future of it?
Sponsored by:
ARTA TechFin (https://www.artatechfin.com/)
New World Klub 11 (https://klub-11.com/)
BlackPine (https://bppe.com/)
DTTD (https://www.dttd.io/)
JLL (https://www.jll.com.hk/)
Join our community to learn about the event and the latest updates!
LinkedIn: https://www.linkedin.com/company/hkust-web-3-0-labs/
Discord: https://discord.gg/PR6pgrfjMb (join now to chat!)
Twitter:@Web3_HKUST
Co-host:
HKUST Entrepreneurship Centre (https://ec.hkust.edu.hk/)
HKUST Crypto-FinTech Lab (http://cryptofintechlabhk.net/)
HKUST Web 3.0 Lab
HKUST DareDevil Lab
Hong Kong Federation of Business Students (HKFBS)
HKUST Graduate Students and Alumni Association (GSAA)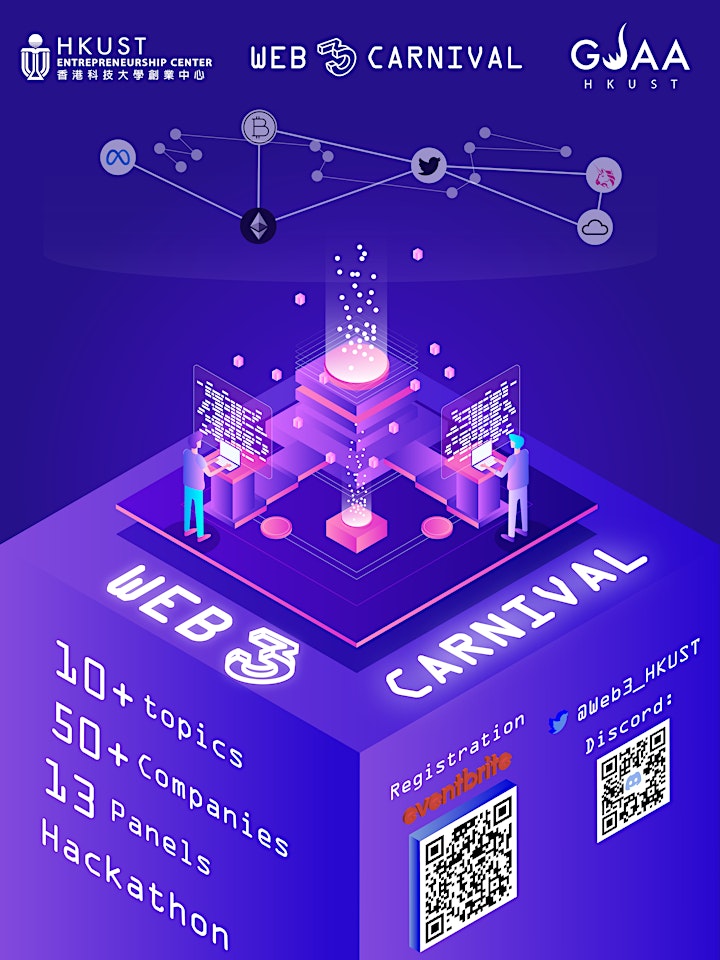 Carnival Rundown:
Week 1: Carnival kickoff & Web3 landscape
Week 2: How are corporations tapping into Web3?
Week 3: Opportunities lie in web3, metaverse & NFT
Week 4: What is NFT?
Week 5: Into the Metaverse
Week 6: Venture Capital in Web3
Week 6.5: Women in Web3
Week 7: Sustainability and Impact in Web3
Week 7.5: How to get a job in Web3?
Week 8: Cryptocurrencies, Tokens, Coins and the Latest Global Trends
Week 8.5: Decentralization 101
Week 9: Risks & Opportunities in Web3
Week 10: The World in 2030 & Carnival Closing
Award:
By participating in more than 3 of the panels, you will receive an exclusive NFT!
NFT Previews: