About this Event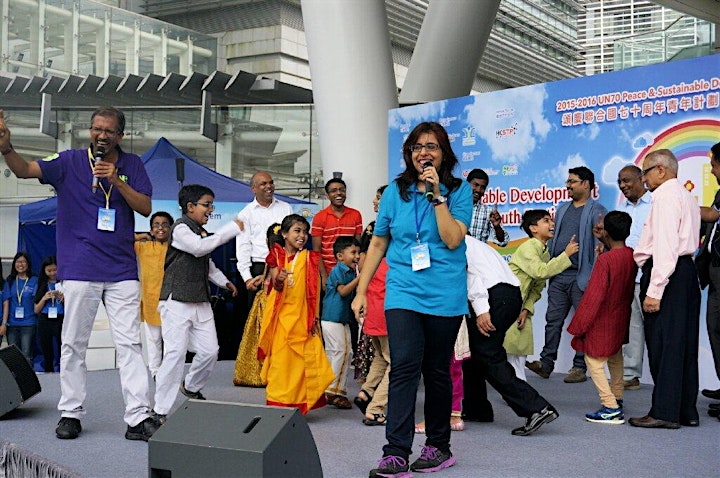 Wellness for Peace 禔身和平
日期 Date : 22/2/2020
地點 Location :
香港科學園12W 大樓 會展中心 3會議廳
Function Hall, Convention Centre 3, 12W Building, Hong Kong Science Park
URL: http://peace.unesco.hk/gpc/en/programmes/wellness-for-peace/
A. 兒童冥想 Children Meditation
時間 Time:
11am - 11:45am
2:30pm-3:00pm
導師 Instructor: Rajayoga Centre HK
每節人數 No. of participants: 30 per session
歡迎大家來到王瑜伽修行的世界,也希望你們藉著這個機會迎接一個新的自己。王瑜伽是一個通過思維訓練喚醒潛藏在我們內在正能量的修行過程,帶領我們進入完美的精神境界。這種修行方式對於小朋友來說也是特別容易掌握和有效果。小朋友可以把修行過程中獲得的強大思維習慣應用在日常生活當中。這種修行方式可以隨時隨地進行,無論在學習時,遊戲時等等,都可以把它融入其中。由香港王瑜伽中心(Rajayoga Centre Hong Kong)籌劃與舉辦。
Welcome to the world of Rajayoga Meditation and through this, welcome your new self.
Rajayoga is a power-mind process of unlocking the dormant positive powers within us, leading to greatness.
For children, this technique is especially easy and useful being a practical form of meditation that empowers them with powerful mind-tools to use in everyday life. This will enable them to meditate anytime, anywhere – while studying or playing. Organised by the Rajayoga Centre Ltd., Hong Kong.
B. 歡笑瑜伽 Laughter Yoga
時間 Time:
12:00pm-12:30pm
4:15pm - 5:00pm
導師 Instructor: Inspire2Aspire Consulting
每節人數 No. of participants: 30 per session
加入我們的活動,一起享受充滿活力30分鐘趣味性和幸福的活動,促進您的身心健康。學習 及使用技巧去創造工作與生活的平衡、減輕壓力、發放積極正面的情緒,令自己更開心,更活力和年青。歡迎你和你的家人、朋友一齊參與、同時認識新的朋友。
Join us for an energizing 30-minute fun & happiness activity to boost your health & wellness. Learn tools & techniques to create work-life balance, reduce stress, generate positive emotions, become more cheerful, energetic & youthful. Bring along your family, friends and make new ones.
C. 微妙瑜伽 Sukshma Yoga
時間 Time:
12:45pm-1:30pm
3:15pm - 4:00pm
導師 Instructor: The Art of Living
每節人數 No. of participants: 30 per session
生活的藝術呈獻「微妙瑜伽」,為你帶來放鬆和更佳的身體協調。透過學習一些簡單,快捷和有效的練習,令你快速得到放鬆。與我們一起參與30分鐘的「微妙瑜伽」。這節課堂會把有趣、簡易的瑜伽動作,融合一些呼吸和專注技巧。這些短短的練習能開啟微妙的能量通道,並能放鬆僵緊的關節,令身體更靈活和強壯。
The Art Of Living presents 'Sukshma Yoga' for relaxation and better coordination. Learn some simple, quick & effective exercises for speedy relaxation. Join us for a 30 min yoga session on 'Sukshma Yoga'. The session will consists of some fun-filled, light yogic asanas with some breathing techniques & mindfulness. These short exercises open up subtle energy channels & relax the stiffness of joints making the body flexible & strong